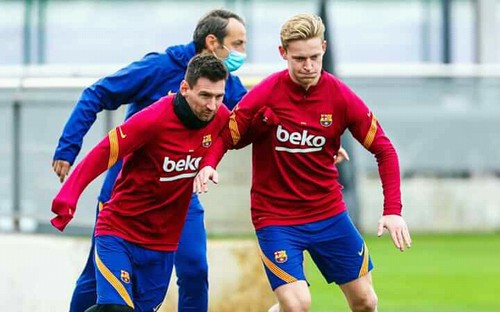 Barcelona coach Ronald Koeman has decided to exclude Lionel Messi, the star and captain of the team, from the list traveling to Ukraine to face Dynamo Kiev, tomorrow, Tuesday, in the fourth round of the group stage of the Champions League.
Barca occupies first place in the group, with 9 points, while Dynamo ranks third, with one point.
And the list of the Blaugrana saw Messi and Frenkie de Jong excluded, although many reports said that Koeman would play his fellow countryman as a second defender alongside Lenglet, in light of Pique's injury.
On the other hand, the presence of Frenchman Osman Dembli on the list, despite news of his injury during the last Atletico Madrid match.
"The situation in the Champions League is somewhat comfortable, Messi and De Jong need to rest," Koeman said during a press conference today, Monday, before entering the fourth round of the group stage.
With this, the two players join the list of absences from the match, which also includes the injured "Gerard Pique, Sergio Busquets, Sergi Roberto, Samuel Umtiti, Ansu Fati, Araujo."
The Barca list is as follows:
"Ter Stegen, Dest, Alenia, Griezmann, Pjanic, Braithwaite, Dembley, Ricky Puig, Neto, Coutinho, Lenglet, Pedri, Trinkau, Alba, Matthews, Junior, Pina, Minguisa, Conrad".
In this way, Barcelona may play with a main team consisting of "Ter Stegen, Dest, Mengueza, Lenglet, Alba, Pjanic, Alenia, Dembele, Coutinho, Pedri, Griezmann".