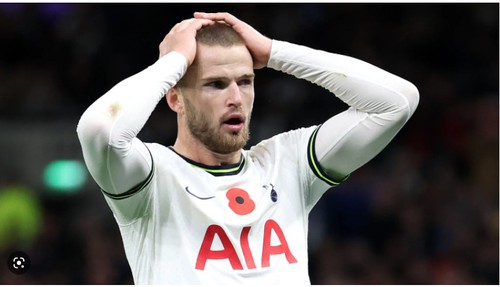 According to some media in England some players complained to Tottenham owner about coach and his methods. They of course didn't put their names which is a pity because we will not know who they are. Despite of that I have some ideas who can be their leader if that actually happen at all. First suspect on my list is Eric Dier or shell I tell ENIC Dier or Tottenham's Mustafi ?
If someone need to go out of our club he is on the top of the list. While fans are talking about tactic, technique, squad selections, formations moaning about Sheffield United, Leicester and Southampton games they miss one very important fact. Eric Dier had hat trick of conceded goal involvements in Leicster, he let ball under him for goal in Sheffield and he abandoned player he should mark on Southampton second goal. He went on goal line and left man he should mark alone and opponent received ball and scored easily. All of that despite Harry Kane was already on line for case of attempt in other corner. I can also remember his hat trick against Leeds United away 2 seasons ago under Mason which ended our CL hopes. Why did he do that ? I let you answer that question.
Then after the game he probably went to owner to complain on coach methods and staff like that and owner will of course prize him with new contract. I mean it's not right that such player earn only 84k pounds per week don't you think ?
This attitude of some players have been seen under various coaches like Poch, Jose and now Conte. A lot of players changed. So coaches change, players change, but who is here all that time except owners ? Kane, Son, Lloris, Davies, Sanchez and Dier and few others. I don't think first two are sabotaging, if I need to bet I put money on last one. I really don't think Kane and Son would do such things. There are two scenarios that Tottenham Mustafi is just not good enough, break under pressure or stress or other that he is doing this deliberately because of some non sport influence. I am not sure it's first thing because same player can play good half of the season or almost entire and then do such things. He has no quality to play against top 7 of course, but against Southampton, Sheffield, Leicester ? Come on I don't think he's that bad player.
Whatever is the case serious club would remove him from the squad and give manager support. Imagine he is in Liverpool doing that! Klopp would eat him alive after the game. He starts to look like Mustafi from Arsenal few years ago. Do you remember that guy ? Where is he now ? Where would Arsenal be if he is in backline instead of Saliba or Gabriel now ? I'll tell you bellow 6th place! Kroenke listened to manager and let him clean his squad from saboteurs or not good enough players. Daniel Levy and ENIC will just sack the manager, reward the player with new contract and start cycle all over again. That's fine difference between teams winning silverware and team which will win nothing.
Why ENIC want to reward Enic Dier with new contract ? I'll let you answer on that question.