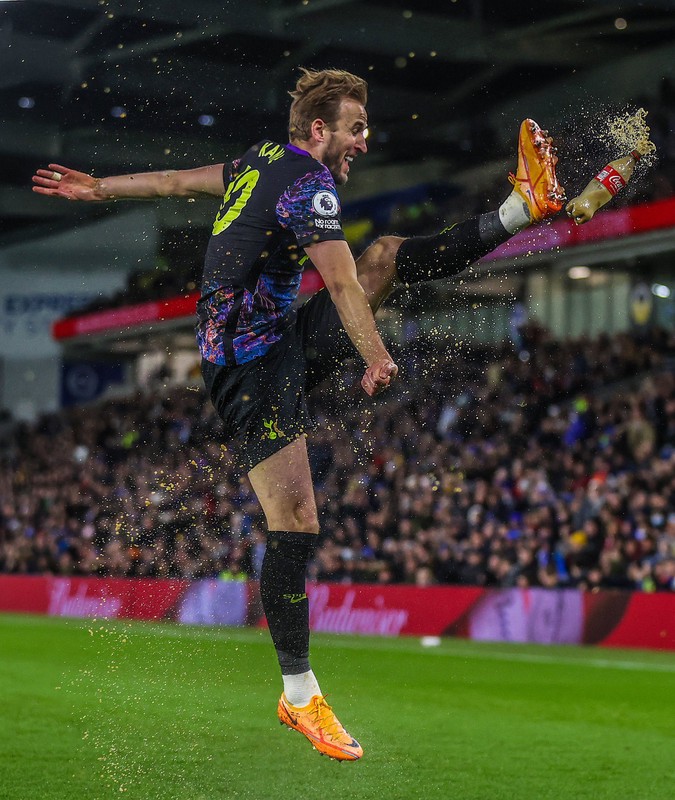 Tottenham continues hot-cold up-down type of form as they beat Brighton on away game. It was not some big cracking performance, but good enough to win hosts. First half showed again all troubles Spurs have when other side deny them space for playing. Yes we created two big chances, but both were gifts after unbelievable mistakes of goalkeeper and full back. Kane and Deki didn't score that. However this game shows up again how important is ability to kick on goal from 20-25 m. Deki kicked the ball but Romero cleverly changed it's direction and it ended up inside goal for 0:1.
This reasult meant that Brighton will go to attack with more players and leave space backward for Spurs. In second half we saw how Tottenham can be dangerous in such situations. Kane rocket passing toward Sergio didn't end up in goal, but Bentancur's intelligent right time pass toward Harry was goal. Spurs made few more dangerous promising situations, but didn't score more.
Harry's goal made him all time Premier League top goal scorer on away games. Kane is also 5th all time goalscorer in Premier League history now. He overthrew Frank Lampard from 5th place. He celebrated this on spectacular way by kicking bottle full of Coke away fans threw in his direction. Well done Harry!
Despite how great goal scorer he is he is still very poor free kick taker. There was free kick from 20m, Dier wanted to kick, but Kane took the ball because foul was on him and sent it over wall and 2 m above goal.
Why Tottenham has troubles against teams that sitting deep ?
First reason is wing backs are not good enough to bombard box with useful crosses. Other necessary skill team must have is ability to dangerously kick on goal from 20-25m. When you can do that opponents will be afraid and run out trying to block you and that will open hole for combination somewhere. When you can't do it like Hojbjerg and Winks can't opponent can just sit inside box and block everything. Midfielders and all attackers should know that, even wing backs should know that. Yes but we scored today from such kick you might say. Yes we did but I feel it's because of a web of happy circumstances. If Romero was not there that kick would be easily saved.
We must be better from direct free kicks because if we are better opponent would be scared of making fouls around box. When you attack it's fair to assume you will have some attacking set pieces or corners. We should also practice that and become dangerous from such situations. If we master all those skills we'll be able to break sitting deep teams and that is only missing link dividing us from ending this up and down form. I hope Antonio will fix this.
Next opponent is West Ham. It's going to be tough game. Opponent will sitting deep waiting for counter attacks. Opponent is very very dangerous from corners and set pieces. They are direct rivals on the table. I hope we can repeat good performance and win this and end up this up down form.
"He scores when he wants, he scores when he wants... Harry Kane he scores when he wants!" COYS!