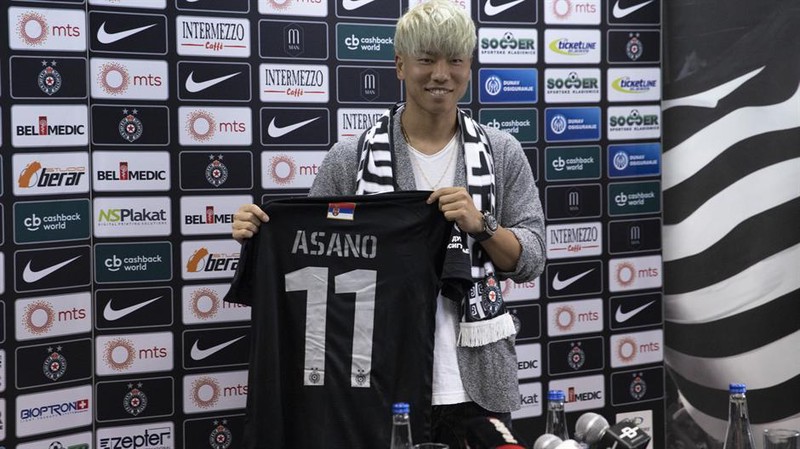 Europa League 4th round is to small for Partizan Belgrade (Serbia) and Malatyaspor (Turkey). There is only one place in next round of this competition for one of those two clubs. They have to resolve question who is going to last qualification stage. First leg is on Thursday in Belgrade and second leg is two weeks later in Turkey.
With Nigerian Umar Sadiq missing a lot of chances Partizan coach, ex Aston Villa striker, Savo Milosevic reached out for new attacker. He made it in unusual way for his club. Savo asked no less than north London (some would say Woolwich) club Arsenal for Japanese player Takuma Asano. Partizan payed unusual high transfer fee of around 1 million Euro and this "Samurai" signed contract on 3 years to "revive his career". As far as I understand Japanese did not play much for Arsenal, but was on loan to Bundesliga clubs like Stuttgart or Hanover. Last season he didn't score a goal from 13 appearances. He played for Japanese national squad too. Twenty four years old scored 3 goals from 18 appearances for Japan. His statistics are not to impressive and I wondered why Savo Milosevic wanted this player so badly. It looks like he wanted one very fast attacker. This lad is very quick. He is slower than Usain Bolt for 0.4 seconds on 50 meter distance. At least that is what measurements in Stuttgart said. Savo has Sadiq which is tall, now he will have one very fast attacker. I hope he will be good like Lamine Diara. :)
Partizan will come in this duel after 4 victories without not conceding goal against not so strong sides. Belgrade side won Indjija 0:1 away, Nomads from Wales 0:1 and 3:0 and Macva 4:0. Umar Sadiq canceled curse Naia and scored goal against Macva last night. This will be very important for his self confidence. Also young 16 years old player Stevanovic impressed in games against Nomads and Macva. Partizan dominated possessions in those games and did not allow other sides to create many chances. Eighteen years old player Pavlovic who did not went to Juventus so far is playing good as central back with experienced team mate Ostojic. Belgrade club has finally good ideas what to do with the ball and how to create chances. They play faster than in previous season. This fast decision making is something Savo Milosevic is insisting on. Other thing he insist on is clean play without many fouls. He wants similar style of play like in England Premier League. If he succeed that would be something people might like to watch. There is progress in that segment. Play-maker Seydouba Soumah is finally on his natural position of number 10 and is playing solid in organisation of attacks. Full backs also look good when attacking, they have penetration skill and can make good crosses for strikers. When we talk about strikers Ozegovic is in good form, Sadiq is struggling with finishing, but I think that is because he didn't play regular. I hope this goal against Macva gave him some more confidence. New and fast "Samurai warrior" from Japan is big enigma. He might be big surprise for Turks.
Partizan played 2 league games, while Turk side played just friendlies and tough Europa League games against Slovenian side Olimipia from Ljubljana. First leg in Turkey was 2:2 and second they won 0:1 in Slovenia. It is worth mentioning that they had extra man in Slovenia because one player from Olimpia received red card in first half. Malatyaspor is private owned club from stronger league than Serbian, but they are not top notch like Fenerbahce, Galatasaray or Besiktas and I hope Serbian team can play against them and might even go to next stage.
I think Partizan Belgrade has good coach who is paying attention on all things, smart one with above average intelligence, who has great flair for young players and big Premier League experience as player. He knows exactly when to push young lad in fire. That is something good, because club like Partizan is living from selling players and if they play a bit in first club and do something good that can influence on their price. It was sad to watch players going out of club straight from youth not playing single minute for Partizan first squad. That is something Savo is going to change. If he succeed to make them playing faster without many fouls that would be something people will like to watch. Qualification to Europa League group stage can bring a lot of money from UEFA which can help survival of club who owe 25 million Euros at the moment.
It is not going to be easy. I think chances are 50/50%. I am sure media will be able to push this game far above sport level to new epic type of "Battle for Kosovo". LoL :)