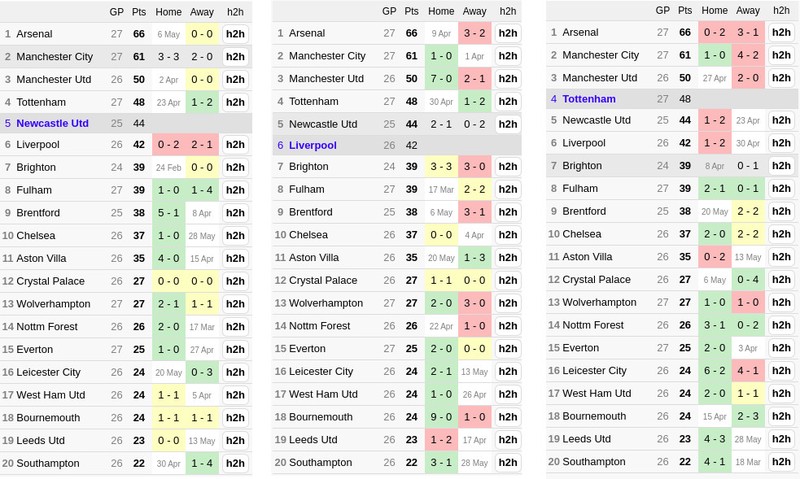 We have no vision, we have no patience, we don't know football, but somehow we are still on 4th place. Our chairman and board of directors are only interested in 4th place because it is bringing money from Champions League. Will we hold that 4th place ? First it's illusion we are 4th because Newcastle have 2 games in hand and can jump to 50 points after playing them. Liverpool is probably on -3 and not -6 because they have game in hand too and we need to travel to both of them and to host Manchester United at home.
Newcastle United
Look at those beauties at the top: Arsenal, Manchester United, Tottenham. There is good chance they will not get 3 points in each of these games especially against title challenging Arsenal and Manchester United. Leicester is easy win, Southampton should be win too like Brighton. Look at those away games Leeds United, West Ham, Everton Nottingham Forest, Chelsea all except Blues relegation candidates the hardest to play away in this part of season. There are Brentford and Aston Villa away too. A lot of lost points if you ask me.
Liverpool
Fulham, Brentford, Nottingham Forest, Aston Villa, Spurs all easy wins at home, but one heavy game against Arsenal. Away they have Manchester City (!!), Chelsea and also relegation candidates like Southampton, Leeds, West Ham. Only easy win will be Leicester. I see good possibility of losing points against Arsenal or on at least couple of away games.
Tottenham
Brentford, Crystal Palace, Bournemouth at home should be wins while Manchester United will be easy loss. Away Newcastle, Liverpool like derbies, relegation candidates Southampton, Leeds, Everton and mid table Aston Villa which won us at home. Plenty of possibilities to lose points too with 3 almost sure not winnable games like Manchester United, Liverpool and Newcastle. But like Conte said if you can't win try not to lose at least... Any point against Liverpool and Newcastle would be massive or miracle.
What do I think ? I think it will be Liverpool because only they can connect a lot of wins. Newcastle are hardly losing, but hardly winning too, while Tottenham have ups and downs and you never know will they show up on the match day or not. I have no clue, I feel like Tottenham board member. LoL. :)
There is one thing I know that every relegation candidate away will be hard to beat like derby against other top 7 clubs. Yes I count Newcastle like top club too, they are if you look owners and strength of team and support at home already above us.
So players please give me a favor will you ? Don't go on away games like you are going on picnic because hungry sharks are waiting everywhere. Did you see all those posts, crossbars of Southampton against Manchester United ? I know Manchester United was man down in second half, but you must agree they showed a lot more there than we did. About Everton at Goodison just ask Arsenal how it went. Leeds almost won us at home, remember ? Aston Villa I will not mention that. I know you are not competitive to play against Liverpool, Manchester United and maybe Newcastle, but if you can win those other games you could have chance to grab 4th place and fill out dreams of board and majority of fans to get big money again and to listen Champions League music at Hotspur Way again.
What do you think who will get 4th place ?