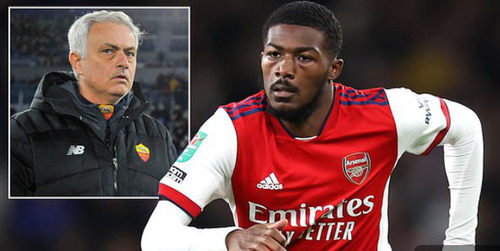 Niles Portuguese tactician Jose Mourinho has shared his thoughts on new recruitment made by AS Roma. The Italian side have now secured a loan service for Arsenal's utility player Ainsley Maitland Niles. The English forward is one who can play as a right-back, a defensive midfielder and a center back option. On the completion of the deal, Mourinho has gone on to insist that Maitland Niles is one player he knows very well. Hence the interest from AS Roma.
The offer for the English man is a loan deal. In other words, a temporary exit from the Emirates. Arsenal can hope he comes back ripe for them, provided he does not have plans to remain in Italy.
Mourinho's statement perception towards Ainsley
After highlighting that Ainsley Maitland Niles was one man he knew very well, Mourinho went on to speak of the initial time Maitland Niles caught his attention. From his statement, he had been a huge admirer of the player even during his time at Chelsea and Tottenham. Highlighting that he had always dreamed of having Maitland under his watch.
No doubt, Maitland Niles would serve as a beautiful addition to the AS Roma side. Some undeniable skills at his disposal are his strength on the tackle and his penalty-taking ability. Fingers-crossed to see how he thrives under Jose Mourinho.