"Once is happenstance. Twice is coincidence. Three times is enemy action".
― Ian Fleming

The referees and VAR officials of The Premier League are in danger of killing their golden goose as they are collectively destroying the competitiveness at the top of the table that makes England's top flight so thrilling.
Again today at Arsenal, Pep Guardiola's men were struggling and second best at The Emirates Stadium yet came out on top with all three points due to clear and obvious biased refereeing decisions in their favour that swung the match.
Today's inexplicable decisions were the third favouring Man City in their last six Premier League games that is causing football fans, journalists and pundits to question the integrity of The Premier League officials and even some to stop watching the beautiful game they love as a close title race has been artificially turned into a boring predictable procession. To wit:
Mikel Arteta's men raced out of the blocks today and were dominating the encounter pressing Man City into errors and having the better attacking chances and should have had a clear penalty kick and the chance to make the game 1-0 but somehow VAR didn't award the clear penalty for Ederson fouling Odegaard:
Arsenal took a deserved lead through Bukayo Saka's goal later in the first half:
To compound the refereeing error of the first half, Arsenal defender Gabriel was booked twice in three minutes in the 56th and 59th minute and sent off to give Man City a man advantage in remarkably similar circumstances to the double-booking and red card that Wolves striker Raul Jimenez received in 35 seconds at The Etihad six games ago.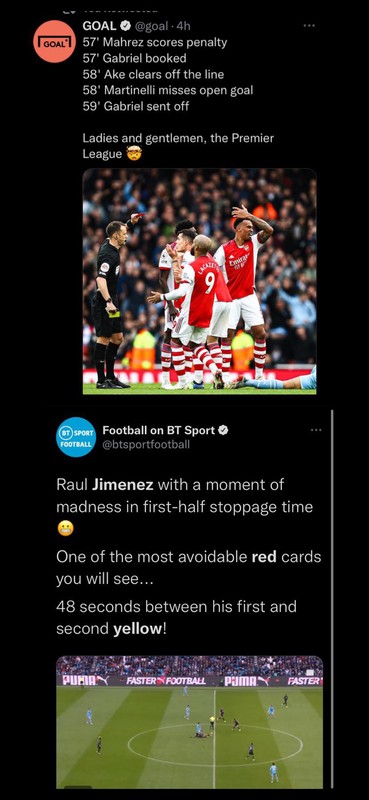 Man City were awarded a penalty of their own after VAR official Jared Gillett instructs referee Stuart Atwell to look at the monitor and award - correctly this time - a penalty for Man City after Granit Xhaka clearly pulled Bernardo Silva's shirt with the forward falling looking for a penalty.
Arsenal's Assistant Manager Albert Stuivenberg, standing in for Arteta, isolating after testing positive for Covid-19, spoke of The Gunners frustration & also called for "consistency" from officials rather than what is clearly and obviously the case at the moment - one rule for Manchester City and another for the rest of The Premier League:
It is the third match artificially swung directly from referees in The Citizen's favour in the last six games having been gifted a penalty that should have been clearly overturned by VAR in an extremely tight game at 0-0 against Wolves on the 11th of December 2021:
That was the most crucial of all of the decisions being directly responsible for 3 Premier League points heading to Manchester instead of a fair draw for an excellent away performance by Bruno Lage's men even down to 10-men after Jonathan Moss sent off Raul Jimenez for two yellow cards to the letter of the law but like Gabriel's yellow cards today for the kind of fouls and infractions that Man City players routinely go unpunished in every game as was in evidence at both St James' Park and at The Emirates today with Arsenal fans responding angrily: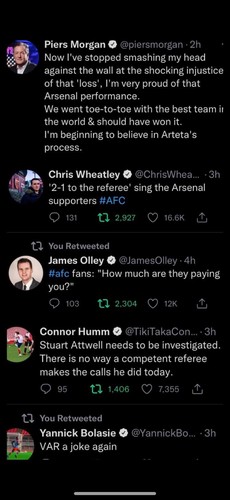 On Sunday December 19th, Man City were the visitors to Newcastle, who were denied the most blatant penalty of The Premier League this season when Brazilian goalkeeper Ederson completely wiped out Ryan Fraser in front of 52,000 people & if on-pitch referee Martin Atkinson somehow missed the incident then VAR Craig Pawson should have overturned the clear & obvious error by his colleague as all refereeing pundits, journalists & fans knew and agreed as one:
Man City were leading that game 2-0 but a penalty and a goal would have whipped the St James' Park crowd - who have seen comeback miracles like 0-4 down to Arsenal to draw 4-4 before - into a frenzy and made it game-on for the neutral but The Magpies were denied any decision, goal, hope or chance to get back in the game & build momentum and its a facet of almost every Man City game that is making a mockery of The Premier League as a supposedly competitive sport played on a level playing field.
The collective result of those three big decisions is Man City are now 11 points clear of Chelsea and 12 of Liverpool who have games in hand at the top of The Premier League whereas before the last six games, just two points separated Man City on 38, Liverpool second on 37 and Chelsea had 36 with 16 games played by all three sides creating an intriguing title race not the predictable procession which looks to be on the cards now.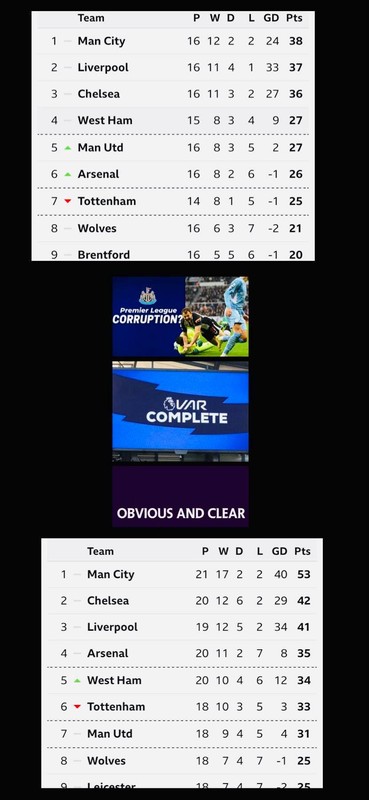 It is an ultimately counter-productive bias because the refereeing advantage doesn't extend beyond the shores of The UK & Premier League which is why Chelsea beat Man City in last year's Champions League Final on a level playing field and why Liverpool have also won it recently while Man City have failed to capture Europe's biggest prize having been artificially-enhanced in the Premier League but ordinary when it matters.
There was an excellent discussion on BT Sports after the game by Jake Humphrey with former referee Peter Walton and ex-player pundits Rio Ferdinand and Joleon Lescott, who reflected the clear exasperation of fans everywhere with the refereeing and VAR decisions and use of the technology which they rightly stated works far better in other countries and at major football tournaments as well as seamlessly in other sports.
Walton's explanation of the inconsistency and discrepancy between the decisions is as totally unsatisfactory as the decisions and outcome themselves and The PGMOL (Professional Game Match Officials Limited) needs investigated as the clear bias towards Man City - who always benefit each week from this 'inconsistency' - is totally unacceptable. Its clear and obvious Premier League officials are ruining the game & it must change immediately or risk bringing the beautiful game in the country which invented it into disrepute.