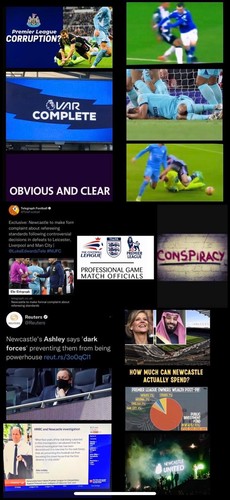 "VAR is not the problem. Its the people that are running it & using it that are the problem."

Alan Shearer, Match of the Day, Sunday December 19th, 2021
Geordie Legend Alan Shearer cut an angry figure on Match of the Day on Sunday night as he voiced the fury of 50,000 Newcastle fans who pay good money to go to St James' Park and travel the length & breadth of Britain following and supporting their team spending thousands of pounds a year only to get routinely ripped off by the officials of The Premier League, who time and time again make decisions so shocking and so wrong even with video replay technology at their disposal that the only explanation is that they are actively working against the football club. It is nothing less than a national scandal that is besmirching the beautiful game.
Football results don't just affect football clubs but the people and cities they are in and Newcastle United are lodging a formal complaint to The Premier League about the standard of refereeing in the top flight of English football following repeated game-changing decisions against the club in each of the Leicester, Liverpool & Man City games that exposed beyond doubt The Magpies' status as the unwanted guest at football's party.
Big decisions in each of the last three Premier League matches have all gone against Newcastle completely flouting the football rules which should not be able to happen in the era of VAR and Video Replay Technology that was literally designed to stop glaring refereeing errors like the kind witnessed last week which mean Newcastle are not playing on a level playing field ripping off not just the football club & its new owners but 50,000 hard-working, paying Geordies who support their club fervently and financially.
"Mr Bond, they have a saying in Chicago: 'Once is happenstance. Twice is coincidence. The third time it's enemy action'."
Ian Fleming, creator of 007
Anyone who has been watching Newcastle games seriously and soberly knows this has been happening for years if not decades but these last three games are the undeniable tip of the iceberg of Premier League officials making biased decisions against The Magpies that former Premier League referees like Dermot Gallagher and Keith Hackett have called out as wrong in agreement with all football journalists and pundits:
Wrongly-Given Penalty At 0-0 - Leicester vs Newcastle - Sunday, December 12th The first wrong call in this latest series was to award a penalty for James Maddison's dive for Leicester by referee Peter Bankes, a clear act of simulation looking for a penalty illegally against new directives in the summer not corrected by VAR Paul Tierney when the game was evenly poised at 0-0:
Leicester City had endured a bad week of injury, Covid & two defeats crashing out of the Europa League on the Thursday night in Italy against Napoli while Newcastle were on a high from the Burnley win & the first goal of the game was going to be crucial as normal - Newcastle got it last season at The King Power Stadium & were 4-0 up after 73 minutes & won 4-2.
Towards the end of an even, end-to-end first half Leicester were awarded a penalty in the 38th minute that never was and should have been overturned by the VAR as a clear and obvious refereeing error buying the dive but wasn't so The Foxes went in at half-time a goal to the good which Maddison suspiciously thanks the referee for as the pair exit the pitch:
2. Play Not Stopped For Isaac Hayden Head Injury with Newcastle leading 1-0 - Liverpool vs Newcastle - Thursday December 16th, 2021
That first game-changing decision in The Midlands was quickly followed up by another four days later by Merseyside-based referee Mike Dean to allow Liverpool to play on and equalise with Newcastle leading 1-0 at Anfield despite Newcastle midfielder Isaac Hayden holding his head on the ground following a corner:
Normally in nine out of 10 cases, referees stop the game immediately especially in the current concussion and head injury climate and again pundits are very surprised:
There was also a good shout of a penalty by Ryan Fraser that Mo Salah would almost certainly have been awarded at the other end of the pitch and its unimaginable to think the game wouldn't have been stopped if Jordan Henderson was down with a head injury.
3) Ryan Fraser StoneWall Penalty Not Given - Newcastle vs Man City - Sunday, December 19th, 2021
Against Man City, referee Martin Atkinson didn't award Ryan Fraser as blatant a penalty shout as you'll ever see in professional football when The Citizens keeper Ederson clattered into him bringing him to the ground, a clear and obvious error of judgement by the referee that equally bizarrely was not corrected by the VAR official, Craig Pawson:
Unfortunately, this type of inexplicable decision has become par for the course for Newcastle against Man City and in the last decade or so, Newcastle have seen Hatem Ben Arfa's leg broken in two places by Nigel De Jong without being awarded a free-kick by the same referee, Martin Atkinson in 2010 plus a wrong penalty decision at each end; Cheick Tiote's Goal of the Season 25-yard volley disgustingly ruled out in January 2014; a second Aleksandar Mitrovic goal disallowed at The Eithad that would have given The Magpies a 2-0 lead in 2015 and Sergio Aguero being allowed to score despite being clearly and obviously one metre offside in a crucial relegation game under Rafa in 2016.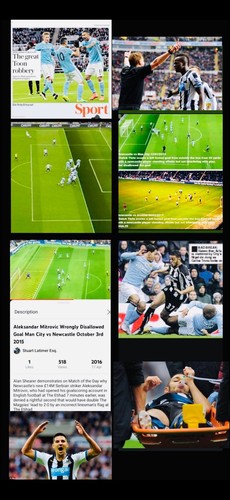 And not just against Man City because Newcastle United have been systematically blacklisted by the referees for at least the last decade, borne out statistically by ludicrously going an entire calendar year in 2015 without winning a penalty kick and FIVE YEARS and 155 Premier League games without seeing an opposing player sent off from February 2014 to February 2019 when finally Tommy Smith of already-doomed Huddersfield was dismissed for chopping down Miguel Almiron in full flight.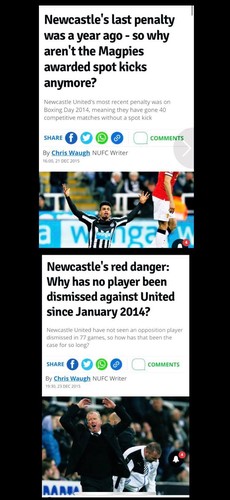 Newcastle United are currently compiling clips of the decisions from the past week to send to Premier League chiefs and I could make an hour-long special on the penalties and men who should have been sent off against us that The Magpies should have benefitted from in the last decade alone.
Back to the here and now and to have three huge calls go against Newcastle in a week is bad enough but these recent decisions are just the continuation of a pattern of the refereeing deck being stacked against The Magpies all season from the very outset of the campaign which is surely linked to Newcastle, then under the control of former owner Mike Ashley, launching legal action to take The Premier League to a UK Competition Appeal Tribunal (CAT) that eventually forced through the blocked Saudi Arabian PIF-backed takeover in October.
At the time of beginning the legal action immediately following a HMRC investigation into the club being dropped after no wrongdoing by Newcastle was found, Ashley said:
"After four years of the club being subjected to this investigation, I am pleased it has now been discontinued.
"It is now time for the dark forces that are preventing this football club from becoming the power house that the fans deserve, to step aside."
Despite The Premier League's prolonged delay of the takeover from when it was first agreed in 2020 which at one point saw the Saudi consortium leave the negotiation table at The Owners and Director's Test stage, Ashley's legal action worked & the takeover was passed through a week after the preliminary CAT meeting terrified the Premier League's lawyers.
Clearly, this hasn't gone down well at Premier League HQ nor among the other clubs, who immediately convened an emergency meeting to oppose the Newcastle deal and have since brought in temporary rule-changes to prevent the club striking lucrative deals with Saudi Arabian firms and are attempting to rig new sponsorship rules and doing anything they can to put a spanner in the works to prevent the club from growing back into the football giant it truly is.
Former Northern Rock chief Gary Hoffman, an executive who was ostensibly brought in by The Premier League to block the Newcastle takeover, was the first high-profile casualty of the League's failure to do exactly that when he left his post in disgrace in November:
Yet the dark forces, who begun their campaign to see The Magpies relegated from The Premier League are still very much in evidence and have been in operation since the very start of the season in a co-ordinated, organised campaign to demote Newcastle.
On the opening day of the 2021/2 season after a perfectly good ball-winning Jacob Murphy tackle, a penalty was wrongly awarded to West Ham by Yorkshire's Martin Atkinson again at a critical juncture in the match at 2-2 which Michail Antonio missed but the rebound was scored by Thomas Soucek giving an unfair advantage and lead to West Ham against a Newcastle side who had beaten The Hammers four times out of the previous five meetings - drawing the other - and altering the pattern of the match.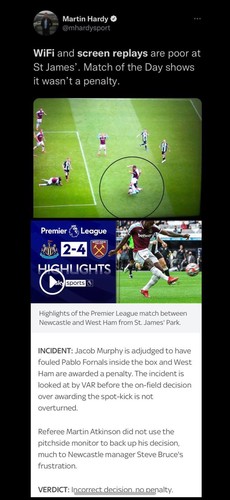 The plot thickens here in light of December's decisions as the referee who awarded that penalty wrongly was Martin Atkinson, who was the same official who waved away Ederson's rugby tackle on Fraser and the VAR official in the West Ham game was none other than Peter Bankes, who gave James Maddison that dodgy penalty at 0-0 vs Leicester to gift The Foxes a lead just before half-time before Maddison & Bankes were back-slapping as they left the pitch.
Is this a normal relationship between a Premier League player and a referee and almost an acknowledgement of a favour minutes after the incident? And the fact that both Martin Atkinson and Peter Bankes have been centre stage twice each at Newcastle's most controversial incidents of the season is something very worthy of investigation.
As is the strange repetition of officials overseeing Newcastle's games in quick succession - for example Lee Mason was the VAR of BOTH crucial games against Norwich & Burnley; Paul Tierney, the referee against Burnley who gave every 50-50 decision to the visitors was then the VAR against Leicester who failed to overturn referee Bankes' clear and obvious error and this week, Bankes is the VAR official overseeing Newcastle's game against Man United with, unbelievably, Craig Pawson the referee, the very VAR who failed to overturn Martin Atkinson's clear and obvious error against Man City, an incestuous overlapping of officials that clearly could facilitate collusion and conspiracy.
Should Newcastle expect another Bankes robbery?
After Newcastle's first win of the season against Burnley on December 4th was celebrated by the club as one from Newcastle with a photograph of new Head Coach Eddie Howe and the entire squad in the dressing room at St James' Park all the way to Saudi Arabia with the Saudi Arabian Public Investment Fund Tweeting congratulations, there has been a clear attempt to stop the club continuing any momentum on the pitch just as the referees did to ensure Newcastle didn't get off to a good start to the season.
At the beginning of the campaign, that wrongly-given penalty in the first game against West Ham was backed up by dodgy officiating in the second versus Aston Villa, when Callum Wilson's head was subject to a flying challenge by goalkeeper Emiliano Martinez that could have seriously injured him but instead of a red card, the referee awarded a yellow and instead of a definite penalty, the VAR Jarred Gillett brought the game back for offside despite Wilson being as exactly marginally on/offside as Bruno Fernandez had been for Man United against Leeds the day before with The Red Devils being given the attacker's advantage Newcastle were denied prompting Richard Keys to Tweet:
"I knew it wouldn't last. What a joke at Villa. Newcastle definitely should've had a pen after an assault by Martinez on Wilson but they took it back for a toe nail off-side. Why? Why? Exactly what they said they wouldn't be doing."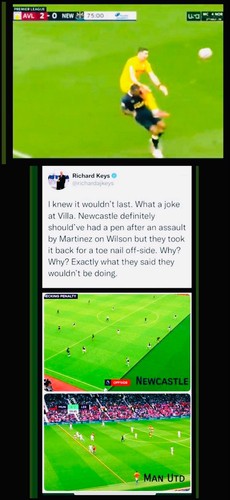 There were big incidents in other games - Danny Rose should have been dismissed for bringing down Miguel Almiron when one-on-one against Watford (Referee Jarred Gillett, VAR Craig Pawson) & where the officials found 7 minutes of injury time enabling Southampton's 97th minute penalty equaliser is anyone's guess (Paul Tierney referee) for example but there's been a general pattern as well as the big decisions against of Newcastle not getting any 50-50 decisions in matches. Watch the first half of Newcastle - Burnley for clear evidence of refereeing bias (Tierney).
More recently, the referees and VAR turned blind eyes to good penalty shouts at Arsenal when Fabian Schar was pulled down by Martin Odegaard and Callum Wilson was pushed over by Nuno Tavares, a challenge Micah Richards deemed a penalty kick on Match of the Day:
Daily Mirror journalist Darren Lewis viewed these decision as suspicious calls believing Newcastle were robbed and fuelled the fire of Newcastle fans speculating there is a conspiracy at play alluding to one discussing the incidents on Sky Sports News:
Newcastle are two pens clear on top of The Premier League Conceded Table but at least two of those kicks - West Ham & Leicester - should categorically not have been awarded as per refereeing experts Dermot Gallagher & Keith Hackett: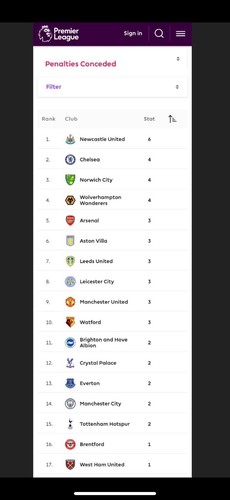 while The Magpies are bottom of ESPN's VAR Table for how many VAR decisions have affected each Premier League club positively or negatively over the course of the season and unsurprisingly Newcastle boast the unenviable stat of being on the receiving end of most VAR calls against: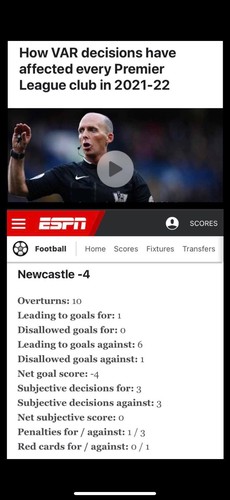 After Sunday's refereeing debacle at St James' Park and other clearly wrong and unfair refereeing decisions which are spoiling people's enjoyment of the Premier League, an angry Alan Shearer and Jermaine Jenas spoke on Match of the Day to voice their concerns about the decline of refereeing standards and prevalance of dodgy decisions:
Yet Jenas' theory that refs change their decision-making criteria after receiving feedback from those in the game and media falls down with the fact that Man City benefitted both weeks in question from the wrong decisions, as they have consistently since Abu Dhabi took control of the club in 2008 making them the richest until Newcastle's takeover, which will be the subject of another blog or chapter in a book in due course but Shearer speaks for everyone when he hits the nail on the head saying:
"VAR is not the problem. Its the people that are running it & using it that are the problem."
With a different set of officials operating the VAR and the idea that the VAR officials should be independent of the referees is an interesting one being mooted at the moment in some quarters, the season would be completely different and its the consistency or total lack of it that has infuriated people all season in The Premier League but rather than ensuring a more level playing field as it clearly should do and actually did for a short period of time when it was first introduced in 2019/20, the Premier League's VAR now seems a clear and obvious tool of corruption & match-fixing wielded by the Top 6 cartel as was spectacularly in evidence in Gameweek 17:
It was a weekend of matches that raised eyebrows across the football world & beyond for a clear and obvious pattern of dodgy decisions benefitting the recently-established Top 6 clubs when Man City got a dodgy penalty to beat Wolves, who had already had a man sent off softly; Chelsea got two penalties against Leeds and Liverpool benefitted from a pen against Villa who didn't receive an equally good shout of their own while Top 4- chasing West Ham were denied a stonewall one penalty at Burnley, which is doubly significant as it helped the Big Six retain their dominance and helped Burnley in the relegation fight against Newcastle.

Perhaps the secretive six clubs who were all prepared to jump ship to The Super League have been promised favours from The Premier League to ensure the Top 6 spots to qualify back into the money-spinning European competitions to overcome lost income due to Covid as it certainly seems that any team like West Ham or Wolves encroaching the top spots get a raw deal from refs as Arsenal's penalty against West Ham showed.
Then there's the special case of Newcastle United, the most hated team in the Premier League since becoming the planet's richest club, who at the moment are lucky to be awarded a corner kick never mind a penalty kick and something has to give.
The new owners of the club stretching all the way to Saudi Arabia are angry at recent events plus Eddie Howe and Jason Tindall and the coaching staff and players are as incensed as the fans at the clear injustices they are facing and witnessing on the Premier League pitches every single game and while a good English football man like Howe remains dignified and says he will seek clarification the matter through "the correct channels", it might very well be time for some extraordinary action to correct a football industry that seems incapable of policing itself like Newcastle were forced to take to ensure the takeover went through.
Eddie Howe isn't the first Newcastle manager who has been burnt by the anti-Newcastle clear and obvious corruption but if another visit to the CAT courts is necessary to level the Premier League playing field, he may very well be the last.