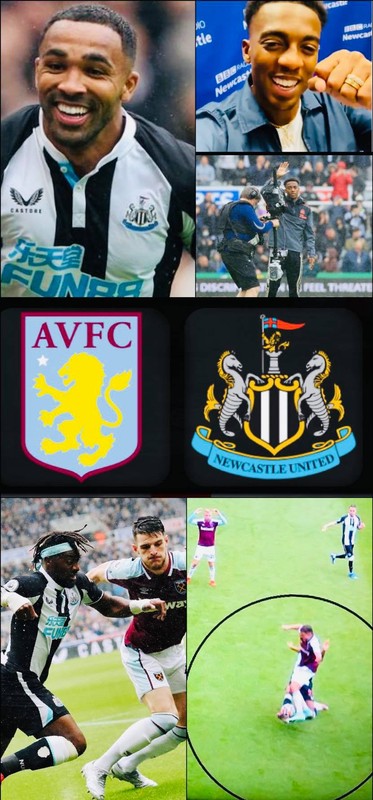 Newcastle United travel to Villa Park on Saturday to play Aston Villa with both teams looking for their first points of the new campaign after a Jack Grealish-less Villains side lost 3-2 to Premier League new boys Watford at Vicarage Road & Newcastle lost 4-2 to West Ham in highly controversial circumstances especially with VAR which I addressed in my blog - "NUFC Bankes Robbery - No Excuses For "Criminal" Decision In VAR Era."
The Magpies started the game very well and took an early lead in the 5th minute through Callum Wilson's 9th goal against West Ham and his first wearing the hallowed no. 9 shirt of Newcastle after Allan Saint-Maximum had bamboozled Declan Rice & went in a half-time 2-1 up thanks to Jacob Murphy's first goal at St. James' Park for NUFC.
Yet after West Ham equalised for a second time, a horrendous refereeing decision that awarded The Hammers a game-changing penalty that never was a spot-kick at 2-2 cruelly shifted momentum away from The Magpies who had twice taken the lead up to that point and seemed on course for a fourth win over The Hammers in 5 games.
West Ham took the lead and with Newcastle chasing the game added a fourth through Michel Antonio with NUFC fans apoplectic at the decision, not least Murphy himself:
Newcastle's new £25M man Joe Willock could only look on at St. James Park as a spectator as his new club lost to West Ham but he enjoyed a stirring reception and welcome to Tyneside from the 50,000 mostly Geordie fans packed into the stadium:

In a special interview with BBC Newcastle on Wednesday night, Willock revealed he was raring to go and play for Newcastle this season to pick up where he left off last season and hopefully that midfield dynamism, energy, pace & goals he brings will be evident on Saturday against Aston Villa whether off the bench or actually starting the match:
In a very upbeat, positive interview during which he fielded questions from Matthew 'Razor' Raisbeck, former United star John Anderson and Newcastle fans - one who even sang a Joe, Joe Willock song to the tune of 2 Unlimited's dance classic, 'No Limits' - Willock expressed an unequivocal desire to play at the weekend against Aston Villa:
"I just want to put the shirt back on and give my all for Newcastle United.
Whether it's at the weekend or the following weekend, I feel like there's a time where I'm going to need to step up and go out on the pitch.
I want to play on the weekend, hopefully I can get my opportunity whether it's from the bench or from the start."
Steve Bruce was also interviewed on the Total Sport radio show on BBC Newcastle on Thursday night with former NUFC Entertainers defender Steve Howey on the show and he faced some tough questions from Newcastle fans answering them honestly:
After expressing his love for the club and "dream job" as Newcastle manager:
"I am a fan myself. I want the best for this great club, which is to try and win something.
"I was like a kid in a sweet shop when I was offered it. It is my dream job."
Bruce hinted Willock is a player he would love to have fully fit & in the team for the full 90 minutes on Saturday after admitting the midfield 'vacated' the pitch on Sunday:
"We vacated the middle of the pitch too quickly...we were caught and its something we have to address...we were too open in the middle of the pitch...its that balance of trying to create more and score a goal, getting your attacking players up the pitch..."
Willock transformed the Newcastle midfield & side overall from his electric debut & goal against Southampton last season to the final day & his 7th goal in seven games as a genuine box-to-box midfielder whose running power will plug that gap when in the team.
In his pre-match press conference, Bruce said of Saturday's match:
"We did very, very well for an hour, I was delighted with the way we played but for me, the penalty incident changes everything and then we went chasing the game."
& addressed the serious issues of Covid-19 affecting players like Karl Darlow, who was hospitalized by it & still cannot play meaning Freddie Woodman will continue in goal as Martin Dubravka is also still injured, & urged everyone to have a vaccination and also, social media abuse after Joe Willock revealed he regularly suffers racial abuse online:
Bruce revealed JonJo Shelvey is out of Saturday's match with a calf injury which could open the door for Sean Longstaff, who dovetailed well with Willock when in the same side, if the Head Coaches rang the changes after last week although a straight swap for the 'naturally fit' Joe Willock is highly likely with Hayden keeping his place.
Aston Villa have the problem of filling the gap left by star Jack Grealish, who left to join Man City for £100M in the summer, and have splashed out heavily in the transfer market in the shape of striker Danny Ings from Southampton, winger Emiliano Buendia from Norwich, Leon Bailey from Bayer Leverkusen & Ashley Young from Inter to assuage the loss of a player in Grealish whose impact on their side when playing or or absent was the difference between relegation or Europe form.
Villains boss Dean Smith gave Newcastle a real boost when he revealed that last year's star striker Olly Watkins, who scored against Newcastle at Villa Park last season will miss the game with an injury and looked forward to welcoming 40,000 fans back to a stadium named the best in football yesterday(!) in a poll based on Trip Advisor reviews.
Prediction - Newcastle 2 Aston Villa 1
Potential Team Line-Ups: