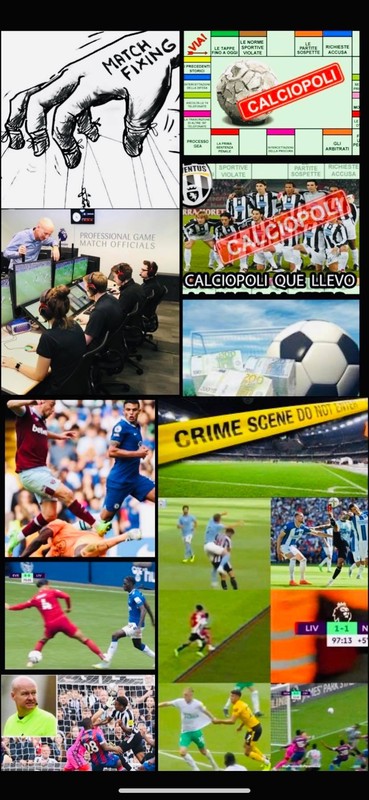 The Premier League returns to action this weekend after being cancelled last week as a mark of respect to the late Queen Elizabeth II, whose life as the world's longest-serving monarch will be remembered at grounds across the country this weekend with black armbands, minute's silences & minute's applauses on minute 70 - the length of her reign on the throne - allowing British football fans to mourn their Queen.
May Her Majesty rest in peace & Long Live the King, Charles III, pictured here knighting one of the realm's great football heroes, Sir Bobby Robson, when the former was Prince of Wales in 2002 and the latter Manager of Newcastle United, for services to football.
Yet Sir Bobby, whose proud and distinguished career at both major club and international level was robbed of its highest accolade by the handball goal of Diego Maradona at the Mexico World Cup in 1986 - when video replay technology should have been ushered into soccer as it was in the USA's National Football League for American football - will have been turning in his grave at the machinations of The Premier League, whose referee and VAR officials are robbing his beloved Newcastle blind every week.
When Tunisian referee Ai Bennaceur and Bulgarian linesman Bogdan Dochev failed to disallow Maradon's disgraceful use of the hand to score in 1986, football authorities and supporters, even the cruelly affected England players alike can forgive them knowing that it happens so fast & they only saw it once so may not have seen what happened.
Yet when week in, week out, game in, game out, The Premier League's Video Assistant Referees constantly made clearly wrong calls despite having the benefit of video replays to make their decision then there is something rotten in the state of Stockley Park.
And these wrong decisions are all-too-predictable as are the teams favoured - the likes of Liverpool and Manchester United whom both have earned the monikers LiVARpool and VARchester United in the football fan lexicon, as well as Chelsea, Arsenal, Spurs and Man City, the member of the so-called Big Six, Top Six, Cartel Six as they are variously known.
As was seen in stark evidence of the last weekend of Premier League football - games played on Saturday, September 3rd to Sunday September 4th - two of those teams above benefitted from ludicrous decisions, Liverpool and Chelsea, demonstrating that the refereeing playing field of England's top flight is not level, instead weighted towards the Super League 6, those clubs named above who attempted to breakaway from The Premier League to attempt to establish a closed shop European Super League in 2021:
and the scandalously wrong decisions showed clearly that calls are weighted against teams like Newcastle and West Ham who dare to show football ambition and aspire to actually strive to compete with the Big Six and break into the lucrative European places above them.
So the closed shop European Super League that the Greedy Six nakedly attempted to join - a proposed League without promotion and relegation just the same teams playing each other in a pointless carousel - selling their soul in the process to an anti-football elitism is now in place and in evidence within The Premier League, aided and abetted by the officials of the PGMOL - the Premier League and FA's Refereeing group, who constantly favour Man United, Liverpool, Man City, Arsenal, Spurs and Chelsea rather than allow the most popular football League in the world to be a fair football competition and its an unjust, untenable situation that must be stopped NOW.
The Decisions and Matches That Caused A Howl of Protest From Football Fans:
Chelsea - West Ham United at Stamford Bridge - Final Score 2-1 to Chelsea
Dodgy Decision 1 - Maxwel Cornet's late equaliser is ruled out by VAR due to Jarrod Bowen's supposed foul on Blues goalkeeper Benjamin Mendy yet the same video replays that VAR Jarred Gillet was watching in Stockley Park showed the England attacker's momentum carry him into an accidental collision with the Chelsea keeper with nowhere else to go after a defensive and goalkeeping mix-up:
Everton 0 Liverpool 0 on Sunday, September 4th, 2022
Dodgy Decision 2 - Virgil Van Dyk Should Have Been Sent Off For Foul on Onana:
In an increasingly developing pattern in The Premier League this season (and others) that the normal football rules don't apply to Liverpool as the Dutch defender isn't shown a red card for this late, high, studs up challenge on Everton's Amadou Onana:
Everton manager Frank Lampard said after the game:
"I love Virgil van Dijk as a player, he's fantastic.
"Sometimes you mistime tackles and they look bad or they potentially are bad, if you look at the moment he connects with Amadou (Onana) up on his shin and Amadou's foot is planted on the ground, then I'm surprised it hasn't gone to VAR and the referee hasn't looked at it and made, what I think, is the right decision.
"I haven't been asked that much about it in the media, it doesn't matter now, but for me it was a red card and of course that changes the face of the last 20 minutes."
and watching football fans were left scratching their heads about why certain teams and even certain players within those teams get an extra level of protection from referees eg Van Dijk or Man Utd's Scott McTominay compared to others whom the officials crack down on eg Arsenals' Granit Xhaka or Newcastle's Jonjo Shelvey:
Not for the first time this season, Liverpool benefitted from refereeing favours just as they did against Newcastle, who were denied a second Alexander Isak goal at Anfield by what looked an errant offside flag and VAR call especially when the new directive this season was to give attackers "the benefit of the doubt" as Marcus Rashford had enjoyed when he scored the winning goal for Man United vs Liverpool at Old Trafford recently: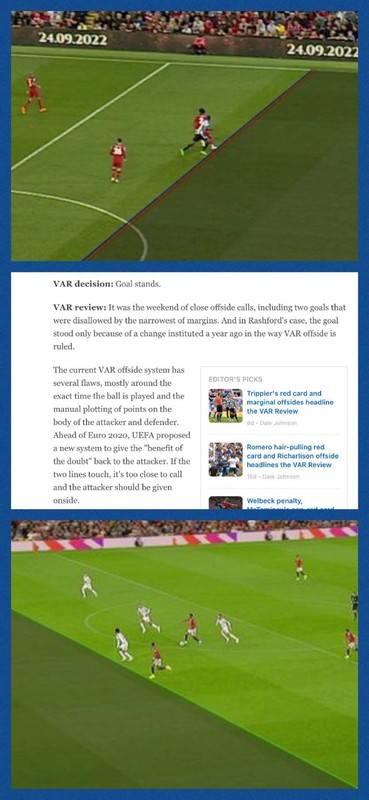 Yet Newcastle were denied the advantage and a second goal that would surely have led to all three points but runaway momentum from The Magpies' new debutant was halted, Liverpool pulled one back and then - in the eighth minute of a five minutes additional time - scored a controversial winner that led to touchline trouble between the benches.
Liverpool would get some karmic comeuppance from officials in Naples, when Napoli were awarded two penalties in the first half of a 4-1 demolition job yet that was scant consolation to Newcastle who are seeing their season wrecked by bad decisions:
Newcastle 0 Crystal Palace 0 - St. James' Park - Saturday, September 3rd, 2022
Dodgy Decision 3 - VAR Lee Mason's Decision To Disallow Newcastle's Rightful Goal
Dodgy decisions happen every week to nullify Newcastle and the last game that Newcastle played before the enforced season stoppage due to the Queen's death saw a perfectly good goal against Crystal Palace be ruled out by a VAR official Lee Mason who incorrectly overrode on pitch referee Michael Salisbury's decision to award this goal:
When the goal is replayed as it would have been in front of Lee Mason's eyes on the monitors at Stockley Park, its clear there's a push on Joe Willock by Palace defender Tyrick Mitchell into Palace keeper Vincente Guaita and Mitchell then ends up heading the ball into his own net, a calamity that ought to have benefitted Newcastle with the game's opening and likely winning goal due to the nature of the tight games between the two sides. Alan Shearer led calls for refereeing change on Match of the Day:
Predictable Biased Decisions By Predictable Villains
The most worrying aspect of the dodgy decisions against Newcastle and others and for the Big Six is how entirely predictable it all is even down to the officials themselves.
I predicted on August 25th before Newcastle played Wolves and Crystal Palace when I realised Lee Mason was the VAR therefore the key decision maker in both games that Newcastle would get screwed over by his officiating and sadly he didn't disappoint although I'm glad I tagged the club's owners & the police authorities in my tweets as its organised, premeditated behaviour that is robbing 50,000 Newcastle fans of fair results.
Lee Mason has a history of actively refereeing against Newcastle going back years and bias and preferences for or against teams cannot be tolerated in the Premier League and what should be a fair sporting competition for all 20 teams yet someone - Mike Riley at the moment - is picking him twice in quick succession to oversee Newcastle and Mason is certainly not alone among officials that constantly screw Newcastle suggesting a League-wide directive from above.
Mason was duly suspended by the PGMOL and stood down from football for the week's games that were cancelled due to the sad death of the Queen and football observers on Twitter have also noticed highly suspicious patterns surrounding Lee Mason's officiating, which must have alarm bells ringing in not just Premier League Head Quarters but higher authorities as well:
After unprecedented protest from fans and widespread condemnation from pundits from Alan Shearer and Gary Lineker in the BBC Match of the Day studios to Gary Neville and Jamie Carragher on SKY and every sensible football viewer, The Premier League took the unprecedented step of asking the PGMOL to review the incidents.

and the result of that internal investigation was for the PGMOL to admit both the West Ham disallowed goal and Newcastle disallowed goals were wrong:
Yet admitting mistakes doesn't help clubs that have lost a point, two or three from bad decisions and Newcastle have been ripped off by wrong decisions in almost every game so far this season as detailed in this tweet and I would add Alexander Isak's second goal to the list of injustices due to the new directive to give attacker's the benefit of the doubt this season which the Sweden international didn't get.
With a couple of extra crucial penalties and goals in games so far, Newcastle could and probably should have at least six more Premier League points and be maintaining into the new campaign the Champions League form and points accumulation the club demonstrated in the second half of the 2021/22 season yet that momentum on the pitch is being curtailed by a clear conspiracy by referee and VAR officials with a directive to slow The Magpies' upward momentum and surge towards success.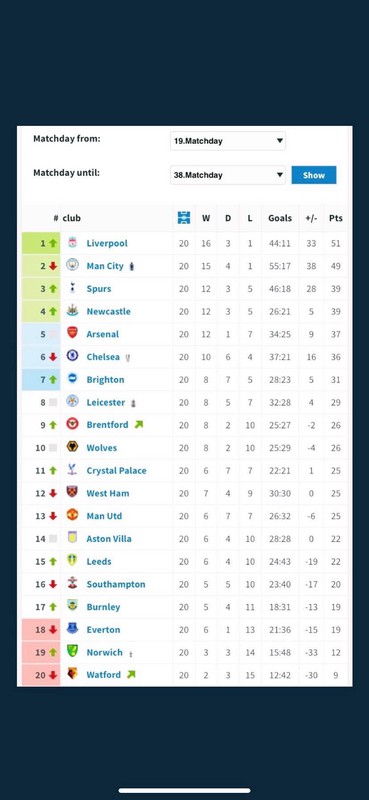 That much is clear and obvious and the level playing field across professional football is repeatedly being shown not to exist every week of games even when the Premer League is cancelled with Erling Haaland's 'Karate Kick' goal for Man City against Borussia Dortmund in The Champions League being hailed a wonder goal despite his high foot raised while Callum Wilson's safely raised boot against Brighton saw the whistle blown before he put the ball in the net for dangerous play but what is the difference?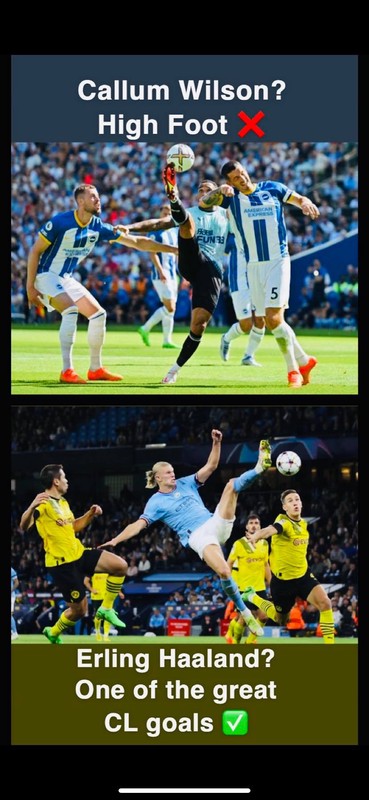 As well as The Champions League having the best players in the football world starring in its competition, it also benefits on the whole from having the best referee officials and its no coincidence that its most controversial calls and decisions are usually made by the refereeing teams from The Premier League as happened this week in the Leverkusen - Atletico Madrid game when the Spanish were denied a clear penalty:
Naturally, the VAR Stuart Atwell who made that strange call is the VAR decision maker when Newcastle play Bournemouth on Saturday but after the recent horrendous officiating that left Newcastle co-owner Amanda Staveley with sleepless nights and Magpies manager Eddie Howe calling for 'balance' in meetings with the PGMOL, something must change immediately and permanently in a refereeing system that is heavily weighted towards the recently-made 'Big Six' teams - who are staying artificially big by being protected from losses by dodgy referees and dodgy decisions - and the so-called "best League in the world" is in danger of losing its sheen and popularity if people believe it is as predictable & scripted as wrestling or fixed like Italy's Calciopoli scandal:
While serious law enforcement investigation is happening already behind the scenes, pressure on The Premier League to change, become more transparent & fair is being led by fans and fan-power which stopped both the European Super League and Premier League Pay Per View can stop the ugly stain of VARce on the beautiful game in England so sign this petition and help bring the situation glaringly into the public spotlight: