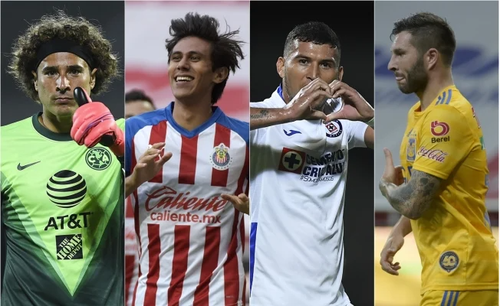 It has been a long time since professional football is played in Mexico but now, the waiting is over as the Copa por Mexico hits its final stages.
The Semi-finals
Cruz Azul v Tigres
First of we have Cruz Azul, one of Mexico's so called "Cuatro Grandes", faces of Tigres, the team named by many journalists in the country "The Team of the Decade" (2010-2020).
This will be a very interesting matchup to be played in the Estadio Olimpico Universitario.
Cruz azul with players like Igor Lichnovsky, Elias Hernandez and Jonathan Rodriguez will try and get a win against Tigres which have selected Nahuel Guzman, Guido Pizarro and Andre-Pierre Gignac in their starting XI for the face off this Wednesday 15.
Cruz Azul has been really consistent in the cup but, with a squad this strong on the opposite side, you can never let yourself get too confident because, it is well known that the french man (Gignac) will not let you get away with it.
I believe this game will be mostly disputed in the center of the field, expect many transitions in this part of the pitch.
Club America v Club Deportivo Guadalajara
El CLASICO
Two of Mexico's most popular teams face off in this leg of the cup, two members of the "Cuatro Grandes", the oldest clasico played in the country with both teams looking to dispute another final.
This is undoubtedly the game to watch in the semi-finals. Everything is at stake in this game.
History beteween this two is so big it can not be told in one post.
On one hand we have Club America, the team with the most titles in the Mexican League with over 13 league titles in its trophy shelf against Guadalajara's 12 League titles.
Guadalajara or "Chivas" have the history of the playing ONLY with players born in Mexico so, if you are reading this and you were not born in mexican territory tradition says you are not able to play for this club, sorry.
With players like Jesus Molina, Isaac Brizela and Jose Macias the Chivas will face off Guillermo Ochoa, Giovanni Dos Santos and Federico Viñas in Club America´s Starting XI. The Game will be played Thursday 16, in the Estadio Olimpico Universitario.
I believe this game will be mostly disputed outside of the boxes of each team as everyone wants to win this game.
PS. Guadalajara has Tequila and so I believe they have already won, Cheers!
I hate to lose more than I love to win.
- Jimmy Connors
.