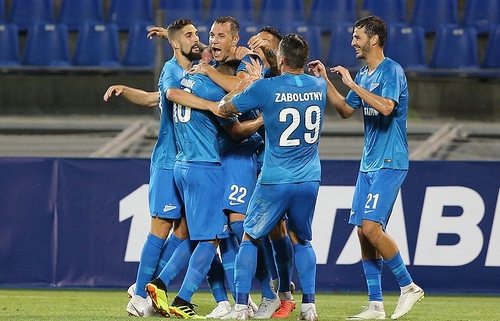 History was written in the Krestovsky Stadium yesterday, where Zenit managed to beat Dynamo Minsk with a monster score of 8-1 during a thrilling battle for entering Europa League play-offs.
After having lost the first match with 1-4, Zenit was tasked with the seemingly impossible quest to score at least 5 goals to make it to the play-offs.
In the 22nd minute, Leandro Paredes opened the score for the home team and in the second half Christian Noboa doubled the score in the 66th minute.
With less than half an hour to play things didn't look bright for Zenit, even though they had some fine chances to increase their lead. On top of this, goalscorer Leandro Paredes receives his second yellow card and got sent off in the 72th minute.
When things looked hopeless for Zenit, the man of the match Artem Dzyuba took his team by the hand and managed to score two goals in a timeframe of just 4 minutes!!!

The stadium went out of his mind and the game was taken into extra time. For a moment Zenit supports had to hold their breath, when Dynamo player Seidu Yahaya scored; forcing Zenit to make at least two more goals.
But Zenit was on fire and unstoppable, through goals from Sebastian Driussi, Robert Mak and (again) Artem Dzyuba they won the match with a monster score of 8-1.