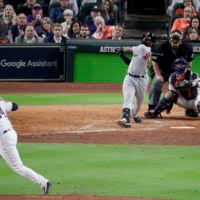 The Boston Red Sox and Houston Astros will play Game Five tonight in Houston. David Price will take the ball for the Red Sox and the setup can't be better for the nerve racking pitcher. We all know how Price is in the postseason. Alex Cora had to take him out of the game in Game Two so he wouldn't give up the lead in the fourth inning. Now with the Sox up 3-1 in the series and the pressure on the Astors this sets up perfectly for Price to get his first postseason win as a starter.
The pitching for the Astros has been awful throughout this whole series. The Sox and Astros have switched bullpens lately it seems. The Astros bullpen is giving up all the runs while the Sox bullpen is shutting the Astros down. Also, how about Jackie Bradley Jr. Absolutely coming up big in clutch moments. Nathan Eovaldi has been the best starting pitcher so far in this series. With Chris Sale their ace not healthy and their starter who can't close the ninth inning they are finding ways to win anyway. They believe that they can win which is something we haven't seen the last two postseasons. Which makes this postseason different form the previous two.
Tonight the Sox look to close the series out. If they lose tonight they will play a Game Six in Boston on Saturday night. Either way Boston wins they would have to lose three straight to lose the series. I really don't see that happening. The team finds ways to win ballgames and that's great. Kimbrel almost blew the game last night in the ninth inning. If it wasn't for Benintendi's catch the Sox would've lost the game. The defense, the bullpen besides Kimbrel, and the offense won them the game. Tonight they need to score first and set the tone which is what I've been saying all series.