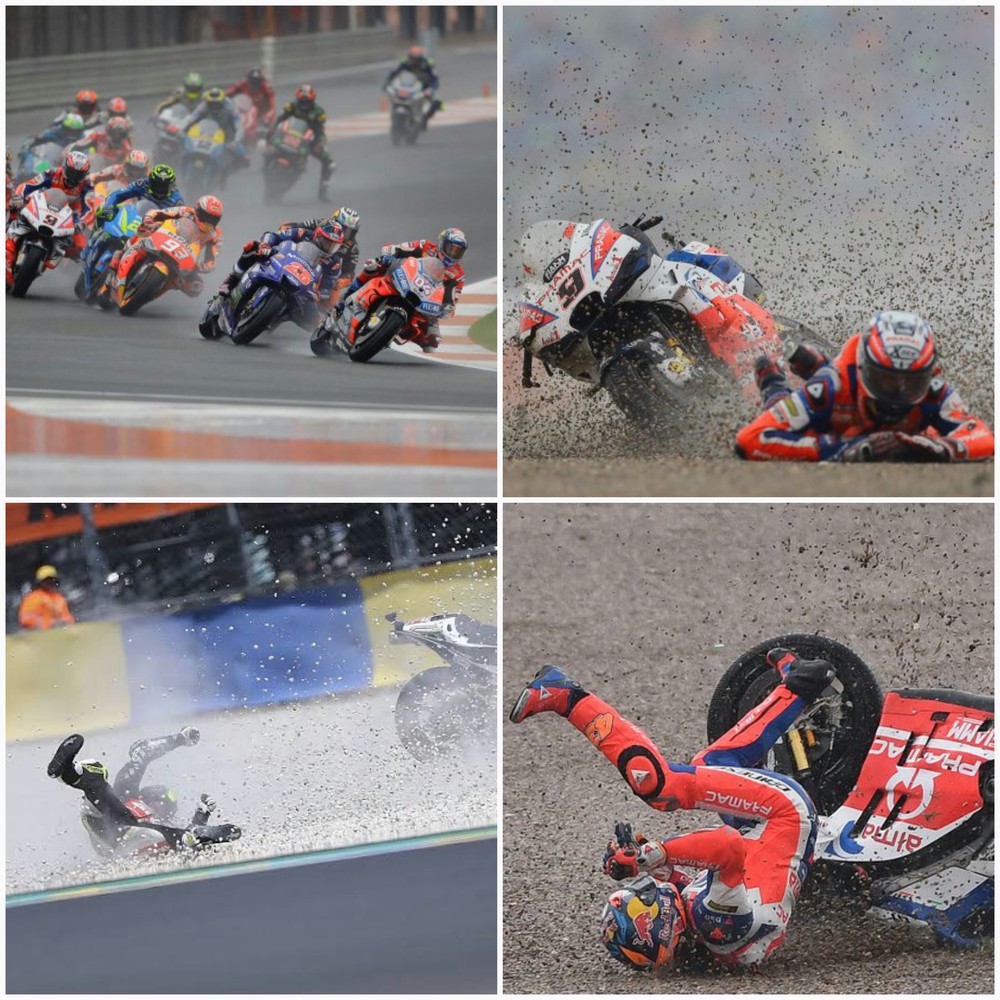 It was 2018 MotoGP's season-ending race at Valencia on Sunday 18th Nov, as 24 riders rivaled each other for a place on the podium, riders include reigning champion, Spaniard and Honda's Marc Marquez, 7-time champion and Italian Valentino Ross, Yamaha's teammate and Spaniard Maverick Vinales, 3-time champion Spaniard and Ducati's Jorge Lorenzo.
It was a race with a lot to ride for as the championship 2nd and 3rd places were yet to be decided, though Spaniard Marc Marquez already retained his title yet again when he won the Japan Grand Prix to make it 3 championships a row for him and 5 careers overall.
The race started as planned but nature had other ideas as the heavens were opened for a downpour, and it wasn't long before the imminent effects of the slippery tracks began to manifest, and the falls and crashes kept piling up and just won't stop. Eventually, the organizers succumb to the will of nature, and flagged the race red for 30 minutes, as the tracks became unsafe for riders.
Here are the highlights of a wet Valencia MotoGP race
This is my entry post to the weekly Happy Moanday contest hosted by @pete , check it out and be part of it.
It was a 27-lap race which had to be restarted at 13th lap, by which time only 15 riders were able to put their bikes back on track out of 24 riders that started the race. Thank goodnessthere were no serious injuries except for minor bruises here and there.
The race was won by Italian and Ducati's Andrea Dovizioso closely followed by Spaniard and Suzuki's Alex Rius, with another Spaniard and KTM's Pol Espargano coming in 3rd, after notably names that include Marc Marquez, Valentino Rossi, and even Jorge Lorenzo had slipped and fallen by wayside so to say. It was Ruiz that led for the majority of the race before been overtaken by Dovizioso. It was the Italian 4th win of the season that ultimately made him championship 2nd, with Rossi who finished the race a distance 13th coming overall 3rd.
If there is anybody wondering what MotoGP season is?
Grand Prix Motorcycle racing season better known as MotoGP season is the road racing world championship - Wikipedia.
Series of road races are being hosted across the world, and the rider that accumulated the highest wins and points wins the championship.
A wise man was quoted saying;
Study nature, love nature, stay close to nature. It will never fail you. - Frank Lloyd Wright
I guess the organizers failed to study the weather that day or they underestimated the weather, and it sure failed a handful riders. I believe we should all pay attention to weather forecasts.
I appreciate all supports, thank you all.