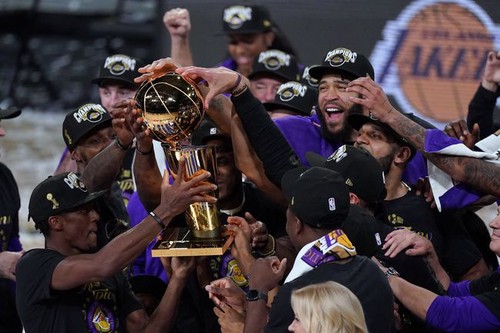 The Los Angeles (LA) Lakers defeated the Miami Heat with a score of 106-93 in the 2019-2020 NBA sixth game final, which just ended on Monday (12/10/2020) morning WIB. With this result, the Lakers have now won 4-2 over the Heat and secured the NBA title this season. The Lakers managed to become the 2019-2020 NBA champion after struggling to beat the Heat in the final of the sixth game.
The Lakers' advantage over the Heat has been very visible in the first half of the game or from the first two quarters. Because in the first two quarters, the Lakers managed to gain a lot of points and hold the Heat to score. As in the first quarter, the Lakers managed to score far enough, namely 28-20 over the Heat.
Then after that the Lakers went crazy in the second quarter, where LeBron James and his friends beat the Heat with a very landslide score of 36-16. The huge difference in points made the Lakers completely unrivaled in the first half of the 2019-2020 NBA sixth game final.
Heat actually got up in the third quarter. Jimmy Butler and colleagues were able to fight back and put pressure on the Lakers until the team seemed struggling to get a lot of points in the third quarter, the score was 23-22 and the Lakers were only narrowly ahead.
Entering the fourth quarter, the Lakers again received stiff resistance from the Heat. The Lakers, who were already far superior, slowly began to be approached by Erik Spoelstra's basketball club.
The Lakers were finally 16 points behind the Heat after the fourth quarter ended. However, because the Lakers had saved a lot of points at the start, they still came out as winners with a final score of 106-93. The victory over the Heat made the Lakers eventually become NBA champions again. Because it has been almost 10 years since the Lakers have never won the NBA again. The last time the Lakers won was back in 2010 when Kobe Bryant was still in charge.
The title of the 17th NBA champion is also dedicated to the late Kobe Bryant and his daughter Gianna Bryant, who died in January 2020 due to a helicopter crash. So, this year's title means a lot to the Lakers.
Thus information may be useful.
# @aronexxon