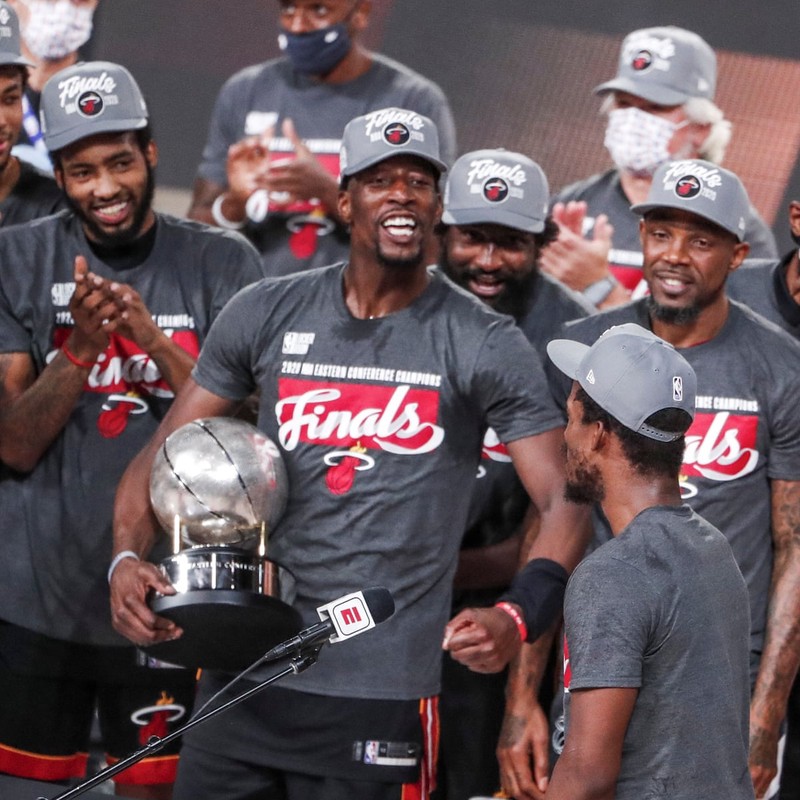 Hello everyone, i wish you the greatest day..

Miami Heat.. They became Easter Conference Champion last night by beating Boston Celtics in Game 6.. And i believe we can this a bit of surprise.. Remember, they have played with Indiana Pacers for the first round of playoffs and they have the sweet sweep.. No one was expecting that.. Pacers(45/28) was strong and solid in regular season and they have got more winnings then Heat(44/29).. They had some unlucky injuries but still it would be very very difficult to beat Pacers 4-0 in any playoffs and in any circumstances..
After they surpassed Pacers, their new opponent was Milwaukee Bucks and they were one of the biggest candidate for East championship this season.. They had hell of a season and finished with 56W/17L.. I believe Bucks is one the strongest team in NBA and they have the deepest bench power.. But lots of us including me never realized that they haven't got much experience.. If you know NBA you would know that playoff basketball is something different.. You must have experience and you must have some veterans who played many important games.. Ok they have Giannis Antetokounmpo, who has won the NBA MVP award in last two years.. Is it something? Hell yes! Okay, he is great player but does he have enough experience? I would say no.. He played 43 playoff games in his career so far.. If we check LeBron James, this number goes 254.. You do the experience math..
If we check Jimmy Butler we saw that he has played 70 playoff games in his career.. And another important name Goran Dragic we see that he had 50 of them.. I also believe that Bam Adebayo is the biggest factor for the Heat in this playoffs, he is just killing it.. And he only played 20 playoff games.. They have Andre Iguodala but he has limited minutes because he is now 36 years old.. They have Udonis Haslem with 3 rings but he never played in this playoffs.. So how could Miami Heat have reached the NBA Finals? Who has the experience? My answer would be; "The players don't have it but their coach?" I was never fan of Eric Spoelstra before, who is Heat's head coach since 2008.. When he had Big3, LeBron, Wade and Bosh, i thought that was too easy to have success.. They have won Eastern Conference championships 4 times in a row and they have became NBA champion in two of them.. I believe i got my answer from Spoelstra this season.. With their limited and young rosters he has achieved this East championship.. I strongly believe he is one of the best coach in NBA right now.. Pat Riley made the right decision about him in 2008 while Spoelstra was 37 years old..
Anyways, lets get back to Bucks series, Heat has passed them 4-1.. That wasn't so hard for them.. They only lost 1 game and that was in Over-Time..
In Conference Final they have got the hardest opponent as all we have watched.. Before the Game 1 Celtics were the favorite team but they couldn't fight harder than Heat.. I have watched Game 6 last night and i believe they knew how to win.. I can easily say that Heat always played good at the last quarters in playoffs and it would say to us; "They want to win and they know how to do it"..
Also special respect to Bam Adebayo, he is playing amazing basketball in this year and he seems to become a new NBA superstar soon.. Love to watch him, he is every where and every part of the game.. Great rebounder and he dishes amazing assists.. If you check Heat's stats in this playoffs:

I also want you to know this: When they got their Eastern Championship cup last night, Jimmy Butler has asked about the NBA Finals and he answered simple and quick: There is LeBron James and he is a "TEST".. You need to pass that test if you really want to have NBA championship.. So we should fight hard and play our best..
I believe this conversation means that Butler respects LeBron in big time but at the same time he wants to win badly and he will fight with his everything.. Butler and LeBron matchup will be too harsh and can't wait to watch their big battle!
Thank you for reading..
Image Credit: https://bit.ly/3n0ib8j