VENICE, CA - Not all Lakers fans are welcoming King James to his new throne in Los Angeles.
A new larger-than-life LeBron James mural in Venice, CA on Lincoln Blvd. painted by local artists Jonas Never and Fernando Valdez has brought out the best and worst out of Lakers fans.
The wall was found vandalized Sunday morning - less than a day after completion - with markings that read "We Don't Want You," "LeFraud," "No King," and "3-6," in reference to his NBA Finals record. James' mouth was also painted over with yellow graffiti.

The original painting located 15 miles west of Staples Center at the Baby Blues BBQ restaurant features a crowned LeBron sporting his new yellow Lakers jersey surrounded by the words "The King of L.A." The painting was finished Saturday and featured on ESPN's SportsCenter before being defaced.

A Twitter account with the name, "Lakers Fanbase" (@BenOsaze), tweeted Saturday an offer of $300 for anyone to destroy the mural and post a video. The tweet has since been deleted and the account deactivated.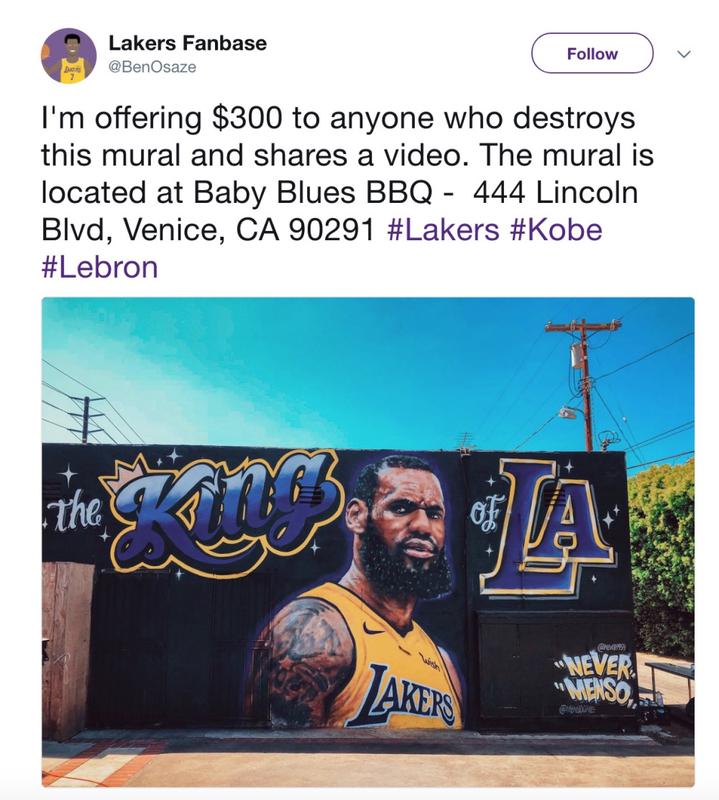 Never quickly repaired the mural, and also removed "of" so it reads "The King" and "L.A.," separately. He jokingly captioned a picture of the fixed mural on his Instagram, "Considering how tall the scribbles were I almost feel like Kobe did it."
There is no word on if the vandal has been identified.

The incident sheds a shameful light on Lakers fans that aren't fully embracing the James acquisition in defense of Kobe Bryant's legacy. These Kobe fans (or "stans" as social media would call them, in reference to rapper Eminem's song, "Stan," about a stalker fan) have debated with LeBron fans on who's the greater player, but LeBron's move to Kobe's former team has generated some incredible memes.
Unlike some of his fans, Kobe reacted to LeBron's decision with full support telling ESPN's Stephen A. Smith, "Anything that I can do whatsoever to help LeBron bring a championship back to the city of L.A., I am all for it."

Never isn't a stranger to the street art scene, especially for Lakers fans. His masterpieces include an adidas collaboration featuring Lakers forward Brandon Ingram, a Lonzo Ball mural for the Lakers television network, Spectrum SportsNet, and a Kobe Bryant wall across the street from Staples Center dedicated to the Laker great for his retirement.