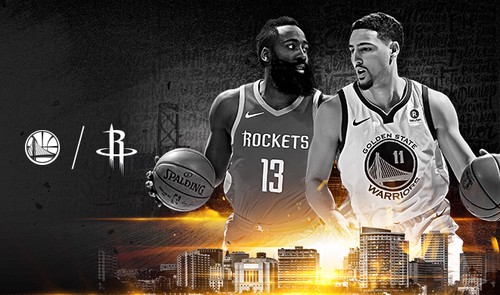 Big match in the Western Conference NBA when second place the Golden State Warriors hosted fourth place Houston Rockets at Oracle Arena.
The Warriors have begun to take steps after all the internal and external dramas they have to bear several times. They sit second in the Western Conference today, behind the Denver Nuggets.
The Rockets also returned to winning ways. James Harden has started giving MVP shows, and they have risen to fourth place in the West.
GSW
The Warriors have now won two matches in a row and will try to keep their momentum alive while fighting the Rockets.
The Warriors visited Phoenix on Tuesday at the start of the new year and won the match with a score of 132-109. Stephen Curry scored 34 points, grabbed nine rebounds and provided four assists, while his colleague Kevin Durant contributed 25 points and four assists.
As a team, GSW averaged 115.8 points and fired almost 48% from the field this season. They won 46 rebounds per game and shot 38.1% from outside the three-point line.
Houston Rockets
Rocket has been on fire in December. They have won 5 matches in a row and are determined to target the sixth consecutive morning.
Rocket hosted the Grizzlies on Tuesday (1/1) and beat them 113-101. And of course James Harden became a star at that time.
Harden scored 43 points, produced 13 assists and won 10 rebounds, recording another triple-double for his name. Harden is one of the best iso players in the NBA now. No other player has more than 20 points in that match.
As a team, the average Rockets scored 109.9 points and fired almost 45% of the field this season. They won almost 42 rebounds per game and shot 35% from outside the three-point line.
Team Warriors vs Rockets News
James Ennis III (hamstring) Doubtful, Eric Gordon (knee) Absent, Chris Paul (hamstring) Absent and Carmelo Anthony (sick) Absent for the Rockets.
DeMarcus Cousins ​​(Achilles) Absent and Damian Jones (chest) Absent for the Warriors.
Head to Head
11/16/18 Houston Rockets 107: 86 Golden State Warriors
07-09-18 Houston Rockets 87:81 Golden State Warriors
05/29/18 Houston Rockets 92: 101 Golden State Warriors
5/27/18 Golden State Warriors 115: 86 Houston Rockets
05/25/18 Houston Rockets 98:94 Golden State Warriors
The last five Golden State Warriors matches
01/01/19 Phoenix Suns 109: 132 Golden State Warriors
12/30/18 Portland Trail Blazers 105: 115 Golden State Warriors
12/28/18 Golden State Warriors 109: 110 Portland Trail Blazers
12/26/18 Golden State Warriors 101: 127 Los Angeles Lakers
12/24/18 Golden State Warriors 129: 127 Los Angeles Clippers
Five Houston Rockets Last Matches
01/01/19 Houston Rockets 113: 101 Memphis Grizzlies
12/30/18 New Orleans Pelicans 104: 108 Houston Rockets
12/28/18 Houston Rockets 127: 113 Boston Celtics
12/26/18 Houston Rockets 113: 109 Oklahoma City Thunder
12/23/18 Houston Rockets 108: 101 San Antonio Spurs
Prediction
Houston Rockets +8.5
Under: 226