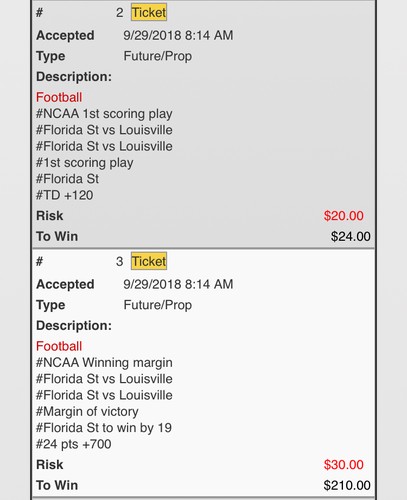 Normally I NEVER do prop bets but today just felt like a fun way to test the waters. If i win the first with TD itll pay for the 2nd one no worries, win or lose. Rolling the fun dice on the Noles today to score first.
Not much confidence in my alma matter here with FSU but I decided to do a few prop fun bets today. The first is just dumb luck but i think Francois comes out firing a TD to get the Noles fired up this morning.
As for the Spread victory bet, i know Louisville is struggling at QB which makes me think there will be some serious spread going on. Taking a hunch on FSU today to win by 19-24 for $30
Taking First TD prop bet FSU
Taking Margin of Victory FSU 19 - 24 points.
Sports Picker: MLB 5-8 (62%)NFL 7-13 (54%) NCAA 11-16 (68%)

I keep a running picks list of my accuracy since I began my scorum here. Feel free to check out the old posts as needed. I seem to be really firing on NCAA this year, NFL not so much, and MLB i was doing great. Now we have playoff games coming and that gets harder to pick winners.
How to find me
Steemit: www.steemit.com/@theUXyeti
Steemit: www.steemit.com/@sugarsteem
Discord SugarSteem: https://discord.gg/WspdjKQ
Discord: TheUXyeti or TheUXyeti#5698
Dlive Channel: https://dlive.io/@theuxyeti
IG: thetravelyeti
Twitter: www.twitter.com/@zachsbb8
Scorum: https://scorum.com/en-us/profile/@theuxyeti