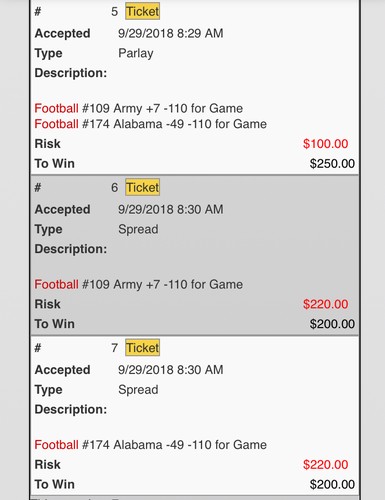 Taking a Parlay today for Army +7 and Alabama -49. Then taking each ATS to hedge the bets. Looking at the westgate for this one as well as i've been following the 2 teams as well. I see bama covering easy here i think, and army although playing a great buffalo's team i think lights it up here as well, without the 7 points, just taking as a buffer.
Taking *** 3 stars of 5 confidence level today on these morning picks
As Always If you question my Accuracy Stats you can either review each post here, I don't erase any picks wins or losses, or just go to my BIO to see my Stats. I update them after each game in completed.
Sports Picker: MLB 5-8 (62%)NFL 7-13 (54%) NCAA 11-16 (68%)
How to find me
Steemit: www.steemit.com/@theUXyeti
Steemit: www.steemit.com/@sugarsteem
Discord SugarSteem: https://discord.gg/WspdjKQ
Discord: TheUXyeti or TheUXyeti#5698
Dlive Channel: https://dlive.io/@theuxyeti
IG: thetravelyeti
Twitter: www.twitter.com/@zachsbb8
Scorum: https://scorum.com/en-us/profile/@theuxyeti