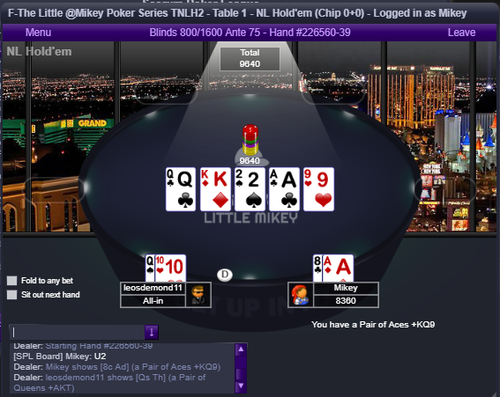 Better late than never, right?
It's been a wild past month but I'm hoping to spend more time with my friends here on Scorum. I'm here today with last week's results from the Little @Mikey Poker Series. I'm throwing in a bonus 5 SCR to the winner (no, it wasn't me) due to my tardiness.
The tournament series is still going strong and we have a lot of additional action going on in the Scorum Poker League with new tournaments, test games from the BRO Network, and much more. If you haven't yet, please head down to ScorumPoker.com to create an account and then join the Scorum Poker/Bro Sports Discord channel.
Here's a quick recap of last week in the Little @Mikey Poker Series.
This Week's Winners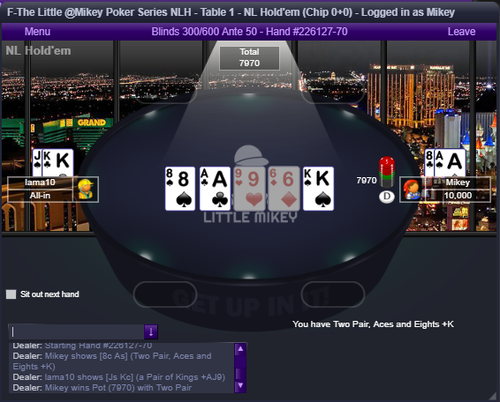 This week, we had two players win multiple tournaments as @lama10 and I traded off victories from Tuesday to Friday. As you can see from the results, he had the overall better week and placed in each of the five tournaments.
Monday: Kryptokeeper
Best Losers: Tadas (2nd), Lama10 (3rd)
Tuesday: Lama10
Best Losers: Goldhunter1 (2nd), Mikey (3rd), Tadas (4th)
Wednesday: Mikey
Best Losers: Lama10 (2nd), Kryptokeeper (3rd), Thebull (4th)
Thursday: Lama10
Best Losers: Thebull (2nd), Mikey (3rd)
Friday: Mikey
Best Losers: Leosdemond11 (2nd), Lama10 (3rd), Potplucker (4th)
Final Point Standings
Congratulations to every player who earned points this week and thank you. The Player of the Week Award was all @lama10 who was able to prevent me from winning it two weeks in a row. He had a great week of poker.
YOU can win it this week, I believe in you. You just have to come out and play!
@Potplucker (1)
@Leosdemond11 (6)
@Goldhunter1 (6)
@Tadas (7)
@Thebull (7)
@Kryptokeeper (14)
@Mikey (28)
@Lama10 (39)*
Each player that plays in all five weekly tournaments earns an extra 5 points. Lama10's bonus five points just made him a little bit more impressive of a winner against me this week. Congrats @lama10!
Support Scorum Poker
Support this amazing poker community by following ScorumPoker on Scorum, by playing in tournaments, by giving a vote to Scorum Poker now and then (or every day :-)), and by considering hosting your own tournament on Scorum Poker.
Play THIS Week in the Little @Mikey!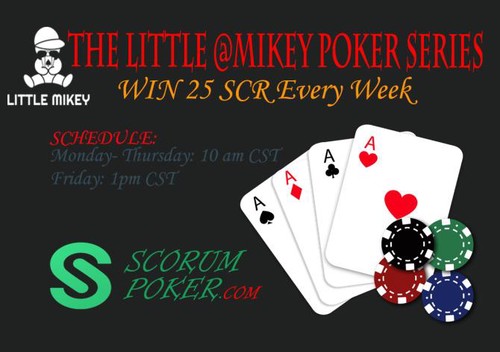 550 SCR has now been awarded over the past 1a weeks and we'll go through another 450 during the next 9 weeks. We've already started playing this week but it's not too late to join in. Come out Tuesday at 10 AM for the next tournament. Good luck!