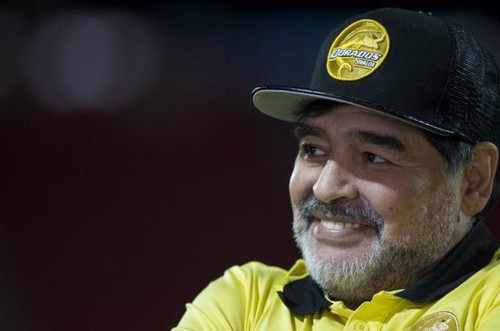 Diageo Maradona suffers to have legs The cartilage of his two legs was lost. Doctor's claim, surgery will be done as soon as possible
Diego Maradona is in charge of the Mexican club Dorados de Sinalla There was a video of a practice session watching the rowdy eyes of the royalties. Argentine legends can not walk! Slowly grinded and knocked down. The magic witch is a problem or a problem? Maradona's surgeon German Ochoa has said a lot about anxiety. The cartilage of the patient's two knees has completely eroded. Surgery is important.
The name of the disease is osteoarthritis - bone arthritis. Ochoa told the media that since 2004, Maradona suffers from this disease. Never cared like that. But the disease will have to be done as soon as possible to get the surgery done. Maradona had a great deal of difficulty walking during the last week of Dourados de Sinhalas practice field. It was being loaded, getting severe pain.Ochoa opened the mouth after the video was spread, "Maradona suffers from acute gout in two knees. Cartilage of two knees has been lost. Two bones of knee are being rubbed-Tibiah and Fibulla with Femar It's a serious problem. There is tremendous pain and inflammation. Walking is very inconvenient. '

Ochoa commented on the treatment of the familial knee disease in the 1986 World Cup, "Maradona himself knows - the solution is the surgery. Artificial cartilage is to be installed in the knee. Otherwise, the situation will get worse. It can not be stopped. That is why he needs to have his foot. '57-year-old Maradona, who is also a minor for this surgery, thinks this Colombian doctor But there are no alternative routes without surgery. The question arises, if the situation is serious, then what can Recipe be able to walk? Ochoa said, there is nothing to worry about, 'There is no such risk. The technology is much improved now. Surgery is going to be intelligent. But Diego should be careful about walking at the moment. Do not run. '

Maradona, who has played the entire football world in the game of cricket, is now in his poor condition. Although the fans were worried, the media could not confirm how quickly Maradona would be operated. 'AS' has said that the surgery is now quite inconvenient for its coaching career, the Argentine's former attacking midfielder believes that the attacking midfielder Because the means of getting the surgery should be out of the field to recover. Football fan like Maradona will like it?