Hey guys, I'm back with a big boom. Read further on how I found 1800+ multi-account abuser on Scorum platform.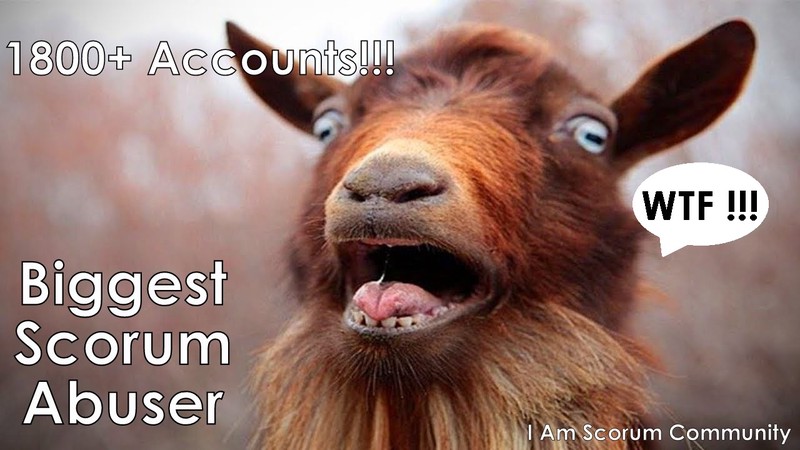 So lets start from the beginning, around 2 days ago while I was just usually wondering and exploring the Scorum platform and learning new things about it, I came across a big multi-account ring, most probably the biggest I have ever seen on the Scorum platform, maybe on Steemit platform too.
I was looking at the blocks that were produced by the blockchain and I noticed some highly suspicious transactions happening. Around 0.1 SCR being transferred to many accounts in a very short period of time. I knew something was going on, it doesn't look like its just a usual transfer between friends or a community or just helping a few people by welcoming them with the amount.
So I tried to dig in a little bit more. I went on 10+ accounts I can say out of all and I can see nothing. No post, no comments since the accounts started, I mean if a new user is trying to get noticed most probably he will post at the least a comment. That was the red flag for me. But before saying anything about it to the Scorum team or my friends at the "Scorum Abusers" discord server, I needed some damn proof and links. So I sat down got a cup of coffee and started going through each and every account and Eureka!, I found the biggest abuser over here.
With over 1600+ accounts, to be specific its 1800+ but I only have the list of 1600 accounts as of now, and over 5K+ SP in their holding I can say they are abusing the Scorum platform at a massive scale. Use of bots, and scripts is what they are doing.
Now lets go into more statistics and let me introduce you all to these guys.
Abuser Details:
Total accounts used - 1608[in the list below] / 1800+ [assumed]
Total amount of SCR withdrawn from Scorum platform - 453 SCR

Withdrawn to Openledger - 239.00 SCR
Withdrawn to Hotbitex - 214.00 SCR
What are the main accounts used to withdraw?

Usernames @agoman, and @alisanizina.
How much stake they are holding right now?

On average they have around 4.6-4.8 SP and a balance of 0.35-0.38 SCR.
In total, 9000+ SP and 600+ SCR.
Are they active now or not?

YES!, they are active, every day they are increasing their stake by self upvoting their shitty comments and making those damn money.
With an upvote of around $9-$10 they are making $36-$40 per day. In other words, 0.44% per day increment on the amount of SP holding.
What would be the case if they are not stopped?

If they continue at the same pace of 0.44% per day increment, by the end of 180 days the total stake holding of SP will be 19,835.81 SP. More than double of what they are holding right now. Assuming the compound method for calculation.
Can they be stopped?

Of Course! like every other abuser these accounts can also be stopped. For which the work is going on but we need the same amount of SP as them to fight against them. I mean bow and arrows can never defeat the automatic rifles, right. So me and my friends who take this kind of matter seriously are currently working on it and if you would like to join me in this little thing that I am doing to make the Scorum platform a better place you can meet me in my discord server 'I Am Scorum' here.
I don't believe you where are those accounts, I want to see them with my own eyes.

To not make these post a hell of a long, I am just posting a few usernames here and some post links so that you can see it for yourself. The rest of it is in the google spreadsheet over here, or in my discord server whose link is given above.

These are only 100 accounts:
kazuan

byger

mstermanwatts

watts

baggys

gilliom

bardert

mounts

rpridd

olena2

shcore

hakoto

morenosoni

erwino

pollye

bostu

somurs

kuzyk

ballers

wattert

kauloji

montass

vitorio

balister

jokk

dokkers

bartos

boyan

kerb

mord

bubas

polderann

muntre

pliu

zawelli

maynal

hersten

sooner

librell

milgor

shader

pikforin

booblon

litrium

montelli

sodrell

beterry

joddy

feltons

gekert

wandert

wenfrei

banredo

neziro

rossz

baberton

podd

chaseos

wikrem

wurted

frendou

motlew

neuman

fotond

obinna

mustafino

gaffle

streff

lodertus

treamon

gogg

lonher

donner

lestred

goor

llos

noon

wings

nolson

balgu

blossom

lorgoni

maluda

moos

losso

mader

pawn

guna

irtos

legends

henn

lotrul

kegh

woody

moniadesdend

dendsomnia

somniatalust

talustlaster

laster

Links to some of the post are given as below:

https://scorum.com/en-us/scorum/@bojancurovic/gaj-apulej-diokom-best-paid-athlete-of-all-time

https://scorum.com/en-us/football/@bojancurovic/top-20-fastest-players-in-the-season-2018-2019

https://scorum.com/en-us/scorum/@bojancurovic/a-few-interesting-facts-about-swimming

https://scorum.com/en-us/football/@bojancurovic/all-previous-winners-of-the-champions-league
So how are they doing this?

They are smart, instead of making post and upvoting it, which can easily be found on the platform, they go for the post that are 2-3 months old usually, and comment on those post many times and upvote it.
Unlike Steemit, Scorum doesn't have a steemd kind of version where you can see the blockchain more clearly. So these abusers are taking advantage of this vulnerability and hiding from the eyes of all. I request @vlad and Scorum team to develop a kind of site or tool through which people will be able to see the upvotes and comments that are being made. I can understand that Scorum might not have given this tool out considering privacy of the people, but abusers like these are using it for contaminating and reward raping the Scorum platform.
So how are you keeping the track of it?

Currently me and my friends are keeping an eye on all of these accounts for any activity they make. As soon as we find the trace of them as where they are commenting and which of these 1800+ accounts is being used to post the comment we save the link in our log and than try to flag it down.
I would like to mention a few those who are helping flagging them down are @philnewton, @nhl, @equalizer, @marcbrom and many more.
As for me, I daily check these accounts few at a time and measure their VP and any new post made by them and just usual tracking on them and inform others about it.
So who do you think is behind this?

My first suspect is @frenkiavv, I would say that because most of these accounts have only one follower and that is @frenkiavv. So typically I would say for them to easily access these accounts or maybe scripts they need their accounts link I guess, maybe I am wrong who knows its just an assumption.
My second suspect is, @agoman, as you know it is one of the main account that is holding the SCR that are being withdrawn. All of these 1800+ accounts sends money to this account and the other one and from their it is being withdrawn our of Scorum using Hotbitex.

My third suspect is @alisanizina, it is one of the other account that handles the cashing out system. Part of these whole ring sends the tiny amount of SCR to this account where it all gets collected and when it reaches a certain level it is withdrawn from there to Openledger.

If Scorum team or anyone else who need to help or need more details on these they can contact me in discord, my username is Rouge BOT#8768, or else contact me on telegram where my username is @sighanchi.
As I have said in my first post, I won't let Scorum turn into the same platform as Steemit and let the money greedy abusers take over the entire platform and make it a trash, I will keep on fighting against it. Even though I have no SP at all, still I will do whatever possible on my side and I just hope that after reading this post you will try to make the platform better and help us all get rid of these abusers.
Also I will keep on updating what I do regularly and also you can chat with me in my server "I Am Scorum" where I have all these things already posted. So hope to see you on the other side.
Lets Go Scorumers.....