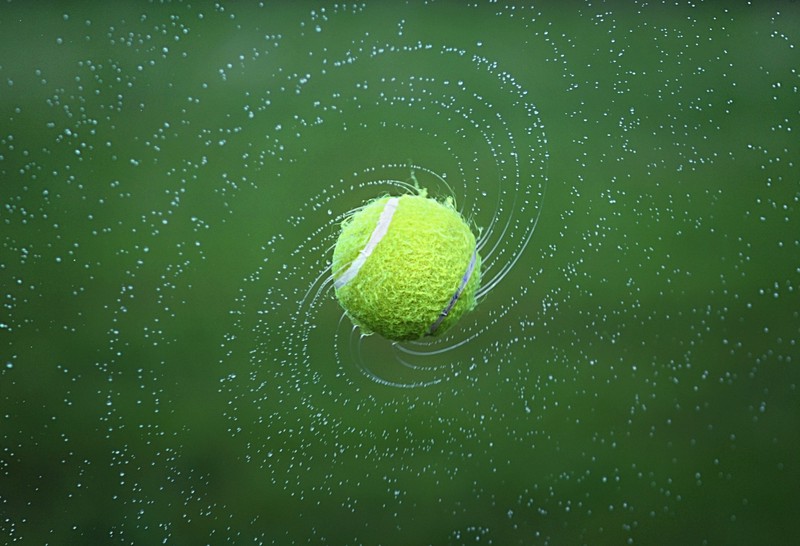 When I hear TENNIS, I can't help but think of two names in particular. Steffi Graf and Boris Becker! And suddenly I feel old, really old!
After her wedding with Andre Agassi, another tennis hero of the past millennium, Steffi Graf did just the right thing and retired from the public stage to enjoy her family life. And it looks she is doing well now.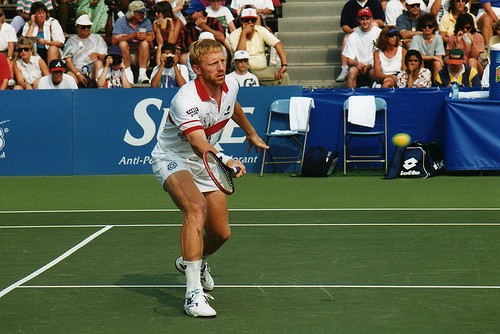 Unfortunately from Boris Becker we hear and see quite a lot these days. Either he appears on some dubious poker websites or all sides of the story of his financial bankruptcy are exploited in the media. But he was once one of the sports heroes of my childhood and younger teenager days. Probably lots of kids and teenager of my generation felt the same, not only in West Germany but also behind the iron curtain in the East. Geographically he was so close, but at that time he couldn't be any farther.

But back to the topic!
In my childhood, for most people around me tennis was never an option. I didn't know anyone who had played tennis and I didn't even know if and where there would be a tennis court in my city ( East Berlin!! ). The only things which connected me with tennis were these two old rackets that dreamed of better times somewhere in the shed. One racket must have belonged to my grandmother, the other to my mother. And although I had never heard of either of them swinging those rackets and rushing across the court, both rackets looked pretty worn. There must have been times when they were also used for some real action.
And one day it just itched too much in my fingers to touch these witnesses of better times and try them out. In our own garden we set out our very special tennis court and me and my little brother tried to play this game of the so-called "High Society". I don't need to mention that our attempts must have been quite strange and amusing for outsiders and possible spectators. We tried to make up for the lack of space with double strength. As much as we could have talked about strength at that time, but the used tennis balls, which we somehow found, were soon spotted in many neighbors' gardens. And of course we had to take all our courage and sneak into the lion's den and try to recapture our round treasures. And since we didn't always manage to do that, sometimes our game was over pretty quickly. But we were heroes, there was always a proud winner and a tragic second. And we were always dusty and dirty at the end of the day. Glorious days!
The first time I really stood on a tennis court was about 10 years ago in Vancouver. For a few months I was staying with some German fellow who was infected with tennis fever at the time. And he dragged me to the court behind the house and made me swing the racket. I must confess, I had great fun playing with the little felt ball! And - in my eyes - I wasn't even that bad. In any case better than my friend, who had been playing the game a bit longer. But as soon as I saw another friend playing who had learned the game many years ago, I quickly realized where I stood with my very modest performance. But it was fun!
Back to Boris Becker and Steffi Graf!
Those were the German tennis heroes of the last millennium. Yes, there's no other way to describe it. For today's tennis offspring, the peak of these two great athletes must have been ages ago. But I still remember exactly how I suddenly lay in front of the TV and watched whole games and tiebreaks.

When Boris Becker played and won, I won too. Youngest Wimbledon champion ever! My cheering in front of the telly must have given him the wings to impress and inspire us with his jackknifes. Oh he could dive and reach and return every ball he wanted.

Suddenly I knew the names of the big tournaments and cities I had no idea where they were and also lots of players by heart. I even knew what a stop ball is. Only the point counting always seemed quite strange, mysterious and not understandable for me little rookie at that time. I still don't know who came up with this.
And don't forget Steffi!

Not as cool as Boris, but she did have some special and unique glamor too. Best player of the word, 377 weeks leader of the world ranking! She won everything what was there to win.

First and only Golden Slam! (all Grand Slams tournaments plus Olympic gold medal)
Always smiling even though she had to deal with quite some family drama. Comeback and one more Grand Slam title in Paris. What a power woman!
But I kept my heroes hidden!

At first, of course, I couldn't brag about my heroes in public. Athletes from the country of the enemy were not really suitable for conversations in the schoolyard and in the classroom. I had to keep the countless victories in Wimbledon and in the whole rest of the world to myself or was only allowed to spread the words in a small and very familiar circle. But for that I cheered all the louder on my own. But fortunately the signs of the times were on change and suddenly we were all in one and the same country, and now were allowed to cheer officially for whoever we want.

German tennis was at its peak and so was my passion for this in my eyes kinda fancy sport. My heroes got older and I also grew up and other things suddenly became interesting. But in hindsight I can only say that Steffi Graf and Boris Becker, with their passion for sports, are among many people who have accompanied and positively influenced my life. I enjoyed those hours watching them sprinting over the court and trying to hit every impossible ball back over the net. Pure will to fight and win!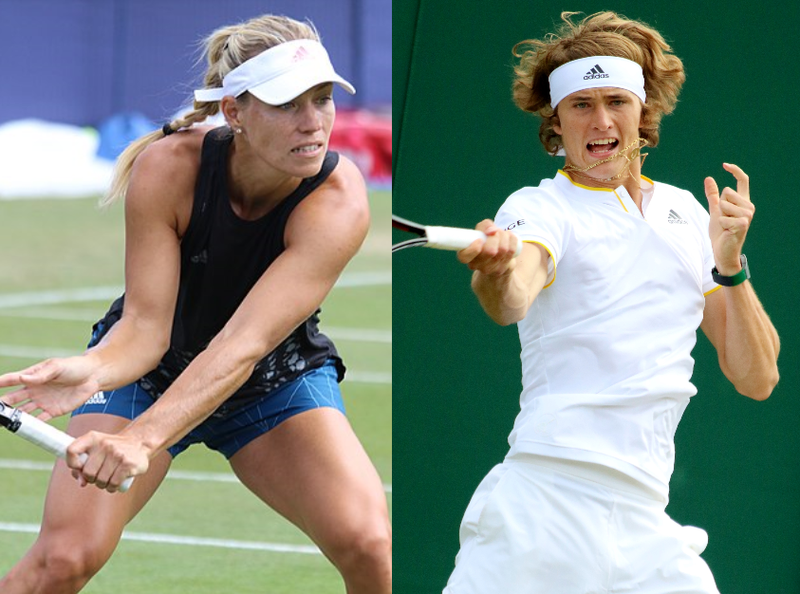 The German tennis had to go through rather bad times afterwards but just this year, for the young fans there are suddenly some new heroes to look up to and to follow.

The Wimbledon success of Angelique Kerber and the victory of Alexander Zverev at the ATP Final in London last weekend give reason for new and great hope. I'm sure that these two great players will inspire and motivate a new generation of children and teenagers, and hopefully make one or the other pick up a racket.
And even if it doesn't work out with tennis, maybe it will be another sport. There is so much to try and our time is unfortunately too short.
The first steps are always the hardest but it gets easier and more fun as farther you go!
---
This is my first entry to @liuke96player 's SCORUM Hall Of Fame Week where he features one sport each week and give new writers some platform to share our work. Their is even some really generous Scorum Coin price for the best contributions.
Big thanks to our host and to everyone who joins writing about some great sport, which I really would like to try out again.