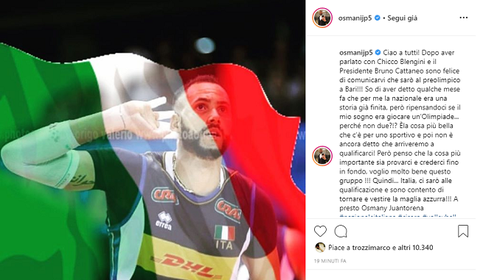 The fans awaited the news with anxiety and trepidation after Osmany Juantorena's recent statements regarding the national team.
Today the official announcement has finally arrived directly from the blue spiker through his Instagram page (which we propose below).
Juantorena returns to wear the shirt of Italy and we will see him in the Bari Preolympic field.
"Hi everyone! After talking with Chicco Blengini and President Bruno Cattaneo I am happy to inform you that I will be at the pre-Olympic in Bari !!! I know I said a few months ago that for me the national team was a story that was already over, but thinking back to it if my dream was to play an Olympiad ... why not two?!? It is the most beautiful thing that there is for a sportsman and then it is not yet said that we will qualify! But I think the most important thing is to try and believe in it to the end, I love this group very much !!! So ... Italy, I'll be there in qualifying and I'm happy to come back and wear the blue shirt !!! See you soon Osmany Juantorena "