I'm making these posts weekly as a way to track my personal pre-game handicapping results along with my live betting action on Belgian Teams. These posts will always contain some insights when it comes down to my general approach and what I do to increase my chance of beating the market.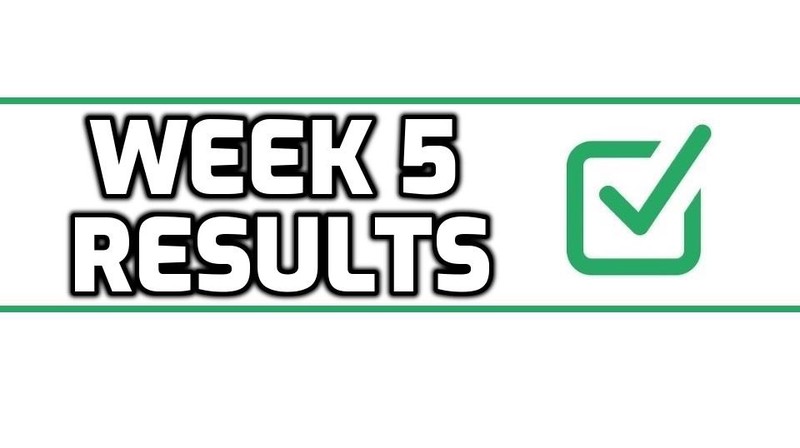 Solid overall week as the 'Official Recommended Bets' performed great. The pre-game posted bet on Waasland Beveren +0 @ 2.707 I took a bit extra on in BTC turned out as a winner and the Live bets on the SBC Discord also did great. It is also nice to have the SBC League back on both Scorum and Steemit. Having a group of real sports bettors who try to improve and beat the bookmakers by tracking their own bets properly really works motivating. I will mostly try to use my upvotes and engagement on this platform in the sbcleague tag and look forward to the first monthly reports being posted around next week!

---
Lots of bets again this week as I managed to watch almost all matches live. There were a couple of interesting betting situations I faced...

Anderlecht vs AA Gent
In Preview post I wrote this about this match "The over 1H, Gent Team total Over, Over in Corners are all options but I'm waiting it out to see what the match itself brings Live. No Pre-Game Bets". Some late info and early match picture showed the complete opposite though and I threw all my pre-game angles out of the window betting (too carefully) on the opposite mentioning some of the smaller positions I took in the Live Betting Discord.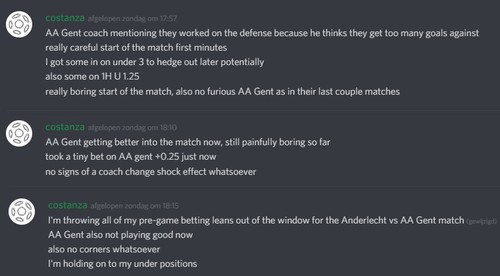 Charleroi vs Beerschot
This was one of those classic extremely frustrating matches where I was on the under 2.75 pre-game to see an extremely boring match being extremely comfortable having the under and even adding some. It was one of those matches as often the case with Charleroi where goals just could come out of nowhere and sure they did at the end. I was torn between just keeping my position seeing how solid it looked and hedging out taking some guaranteed profit which meant taking over bets I would not otherwise take. I ended taking just one cover bet on the over 2 and the 2nd bet was waiting to be approved while the 3-0 was scored. The under corners bet also lost with 2 corners in the last seconds of the match. Overall I only lost -0.6 units on that match so no real harm done but still quite frustrating and it will likely happen again the next time.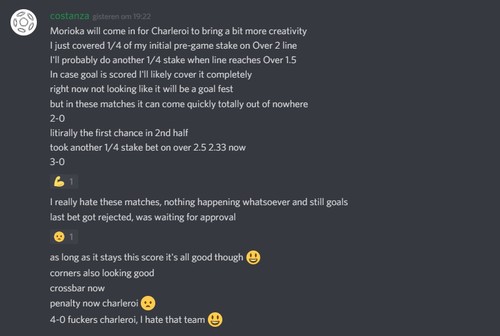 ---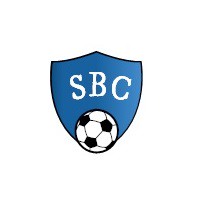 The official live I posted on the SBC Discord Server did great again this week and I will see if I can make another overall live betting results update now that we are halfway through the playoffs. My last record update on these showed 209 Bets | +11.870 Units Profit | +5.68% ROI and I do believe the results have increased since.

---
Discord Live-Bets

Union vs Zulte-Waregem Over 2 @1.85 (62' 1-0) WON
Union vs Zulte-Waregem Over 3.5 @ 2.47 (82' 2-1) WON
Sint-Truiden 1H +0 @ 1.74 (28' 0-0) PUSH
Antwerp vs Club Brugge Corners Over 11 @ 1.90 (73' 5-4) PUSH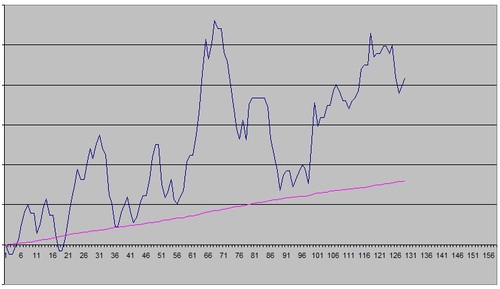 Things continue to go up at a steady pace during the playoffs and I'm quite some above the expected pink line. Overall on the season now I'm quite close to what I realistically expect to win long term. There are still 5 weeks to go along with the cup final and a couple of matches for the last Europa League ticket.

---
Previous Personal Playoffs Results
Week 05 Results 39 Bets | 22W-11L-06P | Staked 14.27u | +2.420u Profit
Week 04 Results 13 Bets | 03W-06L-04P | Staked 06.22u | -1.374u Loss...
Week 03 Results 12 Bets | 03W-08L-01P | Staked 05.54u | -2.021u Loss...
Week 02 Results 19 Bets | 13W-04L-02P | Staked 09.09u | +3.917u Profit...
Week 01 Results 45 Bets | 23W-15L-07P | Staked 17.57u | +1.228u Profit...
---
Playoffs 2018-2019 Total Results

128 Bets| 64W-44L-20P|Staked 49.69u|+4.170u Profit|+8.39% ROI
Regular Season 2018-2019 Results
1090 Bets| 489W-460L-141P|Staked 537.860u|+13.297u Profit|+2.47% ROI
---
Let me know in the comments how your betting weekend was!