There are a lot of posts around at the moment encouraging the promotion of scorum in a bid to help grow our numbers and stabilise the price of SCR as this long crypto winter continues.
Some users such as @battleaxe have thrown down some rewards to incentivize other users to go out and try and spread the word about Scorum as both a blogging and betting platform.
Unfortunately, it looks like uptake on such a kind offer has been slow at present and that got me thinking. Is it because our user base on Scorum are just too lazy to roll up their sleeves, get out there in either the digital realm or real word and start selling the idea of Scorum? Or is it that we are just not sure what exactly to promote?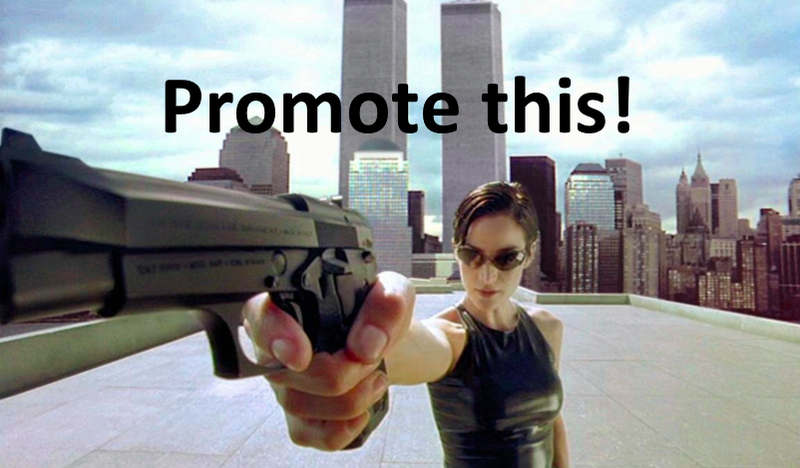 I've decided that I'll give people the benefit of the doubt and assume that they are perhaps just struggling to really understand the true potential of Socrum or else they simply don't know how to express that potential in a way that might attract others.
After all it's not particularly easy to convince anyone of any new idea. That's why companies spend millions of pounds, dollars or whatever every year on big marketing and sales campaigns in a bid to get their brand and concept noticed. So tell me, what is it that you see companies doing when they promote their services?
List the benefits not the features
If you are going to try and sell someone an idea then listing what your product/service does is only half the battle (if that). After all betting and blogging are hardly new ideas so you can assume that a person of average intelligence will not need a description of what these 2 activities actually involve. Furthermore, we are in a very competitive market particularly when you consider the betting platform. I have no idea how many online bookies there are in the UK alone but I would assume we are looking at close to 3 figures. You are unlikely to convince an existing customer of one or multiple betting sites to start using your site simply by telling them it exists.
Instead, why not hit them with some of the benefits that betscorum currently offers?
The below stats are based on this weekends English Premier League games and take as a comparison the largest 2 betting exchanges we have in the UK (Betfair and Smarkets) as well as the best bookmakers prices as detailed on the site oddschecker.
As you can see, the odds being offered on the games this weekend are more than just competitive and in nearly half the cases betscorum would have offered would be punters with greater returns than the other sites.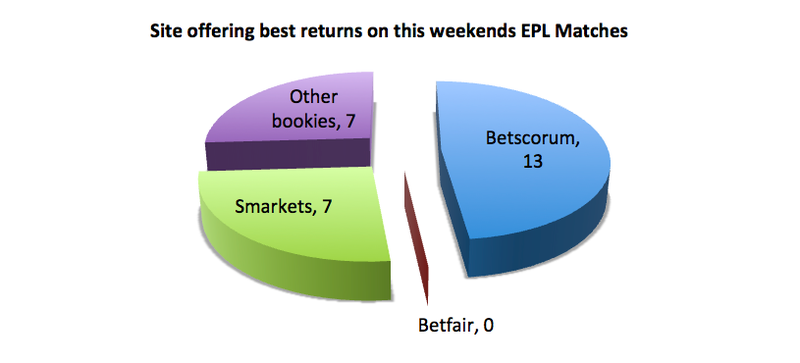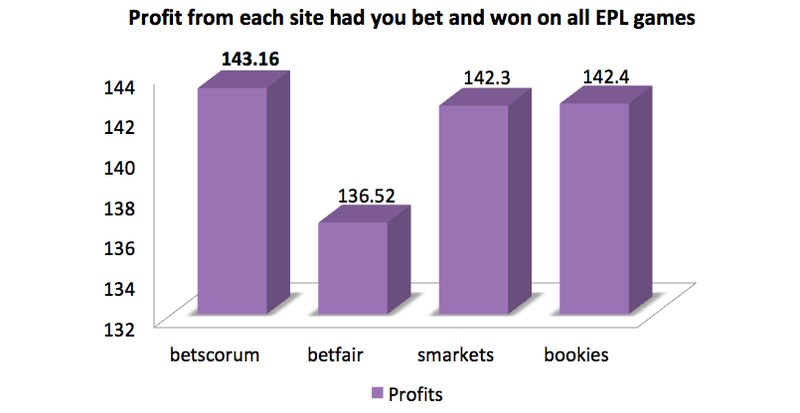 Here you'll see a full list of the odds and potential returns on each individual game but the overall message is this -
If you had staked 10 units on every match in the EPL this weekend and your bets had won then the returns you would have received would be greater with betscorum than on any other exchange or bookie!
Keep the language simple
Let's be honest, even my "if you had staked 10 units......" spiel is a bit wordy. If you are going to convince someone to buy into your idea then you need to use simple but effective language. So based on my above stats how about something along the lines of
Betscorum offers 4.86% higher returns than Betfair
or
Betscorum offers more competive odds than any major bookmaker or exchange
or
Are you using betfair to back EPL teams? Then you've got shit for brains!
You get the idea.........
Go and use this information
Any of the information, stats and images in this blog are free for you to use in any way that helps promote betscorum. So go and post on facebook, twitter, reddit or whatever and tell them in a very simple but effective way that betscorum is the place to be if they like to make money!
Many of you are probably far better than I am at creating eye-catching graphics and images. I was once kicked out of an art class because the teacher thought I was taking the piss. I wasn't, I was genuinely just that shit! So go out and use your god given talents to make something that is both beautiful and informative. I am happy to keep on crunching the figures (I am a massive number geek) if you are willing to get out there and use them
If you have used any of the information in this post to promote Scorum (and I hope you will) then drop a link to the work that you have done on @battleaxe's post - she's got SCR burning a hole in her pocket ready to give those who are willing to take up the challenge!