Welcome back. Well, my picks yesterday returned some awesome results. I don't know if I should start with the positive message or the negative message.
---
Well, 14 picks won out of the 25 I gave yesterday. That's a 56% win rate. That is fairly good at least. The ROI is on a negative currently. A ROI of -0.64% is the return. It means if you staked a flat amount of $10 on each pick, you staked total of $250 and now have a return of $248.4.
That's not so good but there is always room for improvement.

You can see today picks above and a rough statistics of my last picks.
---
I suck at picking a winning team. 5 picks and only one was a success means that type of bet is not my calling. My greatest success came with the goals market. I got 5 out of 6 both teams to score picks right and 6 out of 10 over 2.5 goals right.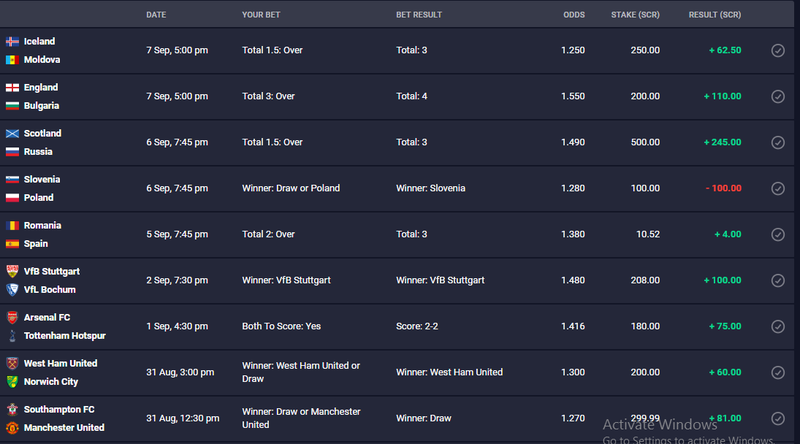 It is not a new thing though as my successful tips tend to lean towards the goal market. This means there will be reduced amount of 1x2 picks from me.
Today picks is strictly the goals market.
Finland vs Italy
Finland face Italy in a top of the table clash in Group J. The match is certainly going to provide some huge talking points. Italy are the favourites here but don't underrate Finland. Finland are second on the table having lost just one match which is against Italy. They have gone on to win their next 4 matches keeping 4 cleansheets in the process. They face a strong Italian side who is unbeaten in the group and have scored a massive 16 goals conceding just 2.
---
Finland may be the smaller team but it is advisable not to underrate them. They are solid at home and have played around 8 home matches scoring atleast a goal in each of the matches. They face Italy who conceded against Armenia in their last away match. This will give them some confidence that if Armenia can do it, they can too. Italy should dominate this match and get one or two goals. However, once the first and second goal is scored by Italy, Finland have no business defending again but to attack and try to find their way back into the game. Their strength at home should play out in this match.
---
I believe that both teams will score in this match.
---
Goodluck and stake wisely