I was tired after learning the Spread Syntax and Rest Parameters Js stuff. I decided to check some of my contacts WhatsApp status. There was a video that made me laugh. A young guy broke 2 Televisions simply because he lost a basketball bet. He even went ahead trying to choke his brother who is calming him down.
I thought of writing this post to know your thoughts.
I have been placing bets for some time now. I love single bets. You should have noticed that most of my picks are centered on single bets. Single bets reduces risk and tension. You know your fate once and accept it.
My highest stake was around N80,000 and that was in 2014 – 2015. The naira to dollar rate then was N183 to $1. This is $437 and it's a considerable amount of money then. I do buy matches from predictionshop.com for €88 then. That means I have to stake high to make profit and also cover for any future loss. The games are mostly 2 odds and the money doubles with a win.
The first time I staked N80,000 $437 on the game bought, I was on livescores.com throughout the course of the match. I refreshed the page, checked the statistics to know who is possessing, and likely to score. From someone that stakes around $30 before and now staking $437, it's a huge moment that needs to be monitored. Well, the bet won in the 60th minute as 3 goals were scored and the over 2.5 goals won. I just doubled my money and I quickly logged in to Paypal to pay for the next game.
It went on and on until the 6th game when I lost. The game was sent to my email as usual after payment and I staked N70,000 around $382 on it. Unlike the first time, I was calm and didn't bother to follow the match. Infact, I went to play 5-aside street football with my friends. It was late in the evening when I came back that I switched on my phone to check the scores. Galatasaray was supposed to win, they could only draw 1-1. I shrugged it off. I already doubled my stake 5 times so the loss is not a big deal.
I went on and won a lot, even discovered kingoftips.com and continued winning and lost a few bets. That was me. I can afford to lose because I already won and have some bucks.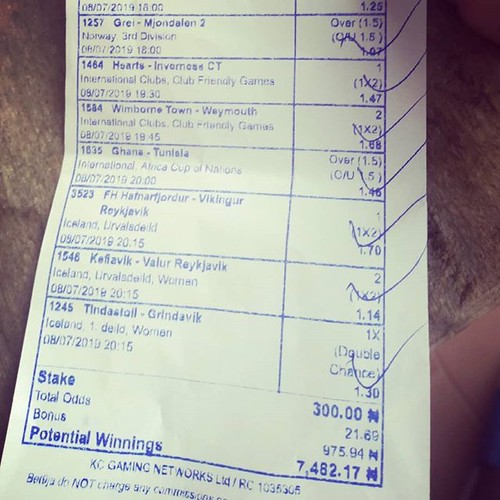 The most common type of bets in Nigeria is Accumulators or what the Americans call Parlay. You pick 2 or more matches. All the events must win for the accumulator or parlay to win. A single loss in any of the events means your accumulator has lost. The popular slang here is The ticket has cut.
Bettors can accumulate 20, 30 games in a single ticket and you see the long betslip. They stake with as low as N100 $0.278 with naira to dollar rate being N360 = $1. You see someone bet with N100 $0.278 to win N20,000,000 which is around $55,555. Hilarious right. That's the truth. Few get lucky while some don't. Most of the time, just a game or 2 games spoils the bet. They try again later but not without reactions.
Swear words are directed at the Club, players, and even fans. Arsenal is a regular culprit here. Someone was about winning N1,500,000 $4,1666 pending the Arsenal vs Crystal Palace match. Arsenal just need to win for the bet to win. Crystal Palace won and I am sure the curses is part of the reason Arsenal couldn't make the top four last season.
Let me know your thought below. What was your highest stake? How do you react when you lose?