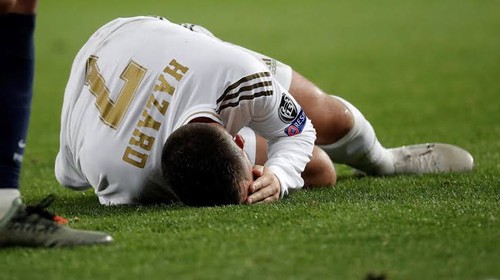 With one palm on my face, I am sadly announcing to the world that the odd of Real Madrid winning against Barcelona in the upcoming El Clasico clash on the 18th of December is fast reducing.
The news reaching us recently is that the injury we very much thought to be minor has appeared to be grave and will be keeping one of our best hopes of subduing Barcelona away from the encounter.
Eden Hazard fell down after he was fouled and ended up leaving the match with the support of two medical attendants. After the match, medical reports stated it was just a knock and the Belgian would need less than 2 weeks to get back onto the pitch. It is almost two weeks already and Hazard is still walking with a stick and an apparent pain, after current diagnosis, it has been officially reported that the Belgian attacker has a broken bone and would be missing the El Clasico with his return scheduled somewhere around January, HOW PITIFUL!
Marcelo, the teams' best left back in a decade and also the world's best left back has also been diagnosed with a calf injury gotten during training and will also miss the El Clasico. Gareth Bale as well is currently training indoors and is likely to miss the Clasico as well.
These are three players extremely important to the Real Madrid attack and they are going to be missing this crucial task. This leaves coach Zinedine Zidane with a delimma as to which formation to utilize because the other attackers available, although with huge potentials are apparently not strong enough to withstand the atmosphere of the Clasico, but what do I know.
Ferland Mendy is a worthy replacement for Marcelo as he will assure a defensive production. However, Gareth Bale and most especially, Eden Hazard will definitely be missed. It is true that Rodrygo can effectively replace Gareth on the right as he has done all season but will he be able to handle Jordi Alba on that right flank?
Vinicius Junior who is a very confident but unfruitful winger might be able to replace Hazard on the left and blend with the Clasico pressure as he did last season but he is also likely to be unproductive in front of goal like last season, also add to what summer signing Eden Hazard has done to his morale this season.
It remains to be seen what and who Zidane unleashes on Barcelona but it is definitely going to be a tough call for the French Coach as Eden Hazard who is fast returning to his former self is going to be found wanting on the day of reckoning, WHAT A PITY.
Thank you for Reading