The game of Football or Soccer in recent times have transcended the barriers of just being a sport for entertainment, pride, profits or trophies. Recent trends and happenings have shown that the game is one of the unifying strands in the world, and have helped in reducing political tensions that may have led to aggression amongst these power blocs.

It's currently one of the fastest growing sector that investors are finding quite interesting. It's economic value to most countries cannot be overemphasized. Countries like Brazil, have become so popular and recognized in international communities, not necessarily because they are First world countries (I stand to be corrected), but because of the impact the game of Soccer have brought to the Nation.
The game have over the years been used to foster peace and other diplomatic engagements around the globe, and to a great extent, is now being used to control some social misnomers or non ethical postures in some societies.
Apart from trying to correct the need for professional players to respect one another's religion, philosophy and other idiosyncratic tendencies, there seem to still remain one area which the war is still far from being won. And that's "Racism" in Football.
Indeed, the word "Racism" is not new to the sports world, especially in football, and am not here to dabble into trying to explain its meaning, connotation or definitions. Nah, am no English Lecturer, you can always check that out, now back to what I was saying.
The Football Governing Body FIFA have been trying its best to curb and take punitive or rather preventive measures in order to curtail this insidious cankerworm eating into the fabrics of the best game in the world. It's already dealing a big blow to the reputation of the game, and if we who are football faithfuls don't do the little we can to suppress this monster, then I fear for the future of not just football, but sports in general.
The psychological, emotional and social effect of Racism on its Victims is worth being condemned with every draconian measure possible. Lots of players careers have suffered due to the after effects of Racial attacks, either in their performance on the pitch, or their social lifestyle or even their emotional wellbeing.
Mario Balloteli has been one of the biggest victims of Racism in the game, and many times we have seen him cry, what else could he do after all. Few weeks ago it was Raheem Sterling in England, well it happens almost in all the Europe's top Five leagues, so am not targeting any Country in particular.
Having said that, I will not also mince word in calling a spade a spade. To be frank, I think the Italian league or Seria A still have a long way to go, not just about racism but also the right attitudes and values that is befitting of the game, and how people support their teams. Remember, these things happen everywhere, buy it's more pronounced in some places.
---
________________________________________________________________________________________________________________________________________________________________________________
The 2018 Boxing Day Drama in Italian Football.
The 26th of December in the Seria A was one those days every football passionate fan would have been waiting for. Juventus have dominated the League for few years now and many fans are beginning to get tired of their winning culture. The hunger for another team to give the Old Ladies a little run for their money have grown so high, that Napoli and Inter Milan seems to be the closest teams to make that a possibility.
Before the game that day, hopes and expectations were high that Napoli could reduce the gap to one point lead if they could beat inter Milan. The Old Ladies were 49 points on the log and Napoli were 45 points. Juventus were earlier held to a 2-2 draw with Atlanta, thanks to a Christiano Ronaldo's Second half equaliser.
The results handed high hopes to Napoli to beat Inter and add pressure on the league, and perhaps make it more competitive for the rest of the season. However, what was supposes to be a day of scintillating football action in the League and to an extent, a fun fill Boxing day celebration, turned into a fracas that tainted the image and reputation of the League. It left a really bad impression, and I hope this is cleared subsequently.
There were some unforseen awkward events that occurred as if it was all planned. It's even more disturbing seeing this kind of happenstances that are very preventable taking place under the watch and scrutiny of relevant authorities. It wasn't the first time, I don't think so. I think the Seria A needs a break for the tempo and tension to calm down, maybe after this Saturday's games.
Though Inter have since been hit with two-match stadium shutdown for what transpired, they is a bigger work on the relevant authorities and every stakeholder of this beautiful game to correct the Perceived impression those events may leave in the minds of posterity.
It wasn't only the perpetrators of these acts witnessed it, they were kids and younger fans who came to witness the games with their parents or wards, and if they are allowed to grow up with that impression, am afraid of the future of football. It's wrong! What you saw was wrong! They need people to correct those images in their subconscious. So they don't grow up thinking that's how to show that one is a passionate fan or supporter.
---
______________________________________________________________________________________________________________________________________________________________________________
And It All Started Happening

Everything seemed to have been wrong with the boxing day in Italy this year, as regards football. It all started with Napoli President De Laurentiis publicly casting doubts on the integrity of the referee that was to officiate the Juve vs Atlanta match. His reasons being that the referee hailed from Livorno, the same town as Allegri, and so there were gonna be some element of bias in the officiating.
Was he suppose to say this, Is it something that should be looked into in the future or should it be swept under the carpet? Though not so many received the concerns of the Napoli President with an ovation, as it triggered some angry reply from people like Allegri after the match. It took a Christiano Ronaldo's second half equaliser for Juve to grab a point from the match.
Allegri expressed his reservations or if you like, his anger towards the remarks of Napoli president's comments, and the bad effect it can have on the game if things like this continues.
"It's normal that people come to the game, that incidents happen inside and outside the ground, and we then complain and cry about these things happening. You talk about bringing families and kids back to stadiums and then you say and do this. We take away their enthusiasm." Allegri said after the match.
But let's look holistically into the remarks of the Napoli President, does it have any reasonability attached to it, should referees whom the public can easily presume a possibility of bias be allowed to officiate certain matches? What's likely to be the public sentiment towards this kind of scenarios in football, I think the public sentiment will be to allow referees that have no attachments with the parties to officiate games (I stand to be corrected). Let's forget the fact that this issue came from the Napoli President and look at its substance.
From the angle of Jurisprudence or if you like, from the legal aspect of it, it's a general principle in Law that a person who has an interest or likely to be biased because of his relationship, origin or even association with one of the parties, should not adjudicate or act as an arbiter. This principle of Law is encapsulated in the Latin maxim, "Nemo judex in causa sua." It's one of the pillars of Natural Justice in Jurisprudence.
Now, if concerns or fears have been raised about the possibility of a referee being bias in a football match because of his place of birth with one of the coaches, I think it is expedient for the relevant bodies to change to referee for that match, and fix another referee.
Remember, Am not saying this is what caused the violence that erupted before the Napoli vs Inter match later the same day. Am only saying that issues like this are not supposed to be overlooked when they come up, because it can disenchant fans and can also cause violence in the future. We don't hope to witness violence in football. Even though these things happen, but they can be curbed and to a great extent prevented.
The future of the game is centred on the mindset we create now, and if the relevant bodies don't act on issues like this immediately they come up, then it may become a bigger issue in World Football. If not, someday, a referee from Germany will be called to officiate a World Cup Final that involves Germany and another country. That's my opinion on this particular issue.
Violence and Racial Chants
Before the kickoff of the would-be most interesting game of the day, which was Inter vs Napoli. A match many saw could change the wave of the Italian league this season, especially with Juventus having played a 2-2 draw with Atlanta earlier. However, mayhem struck outside the San Siro stadium, and it has triggered lots of disappointing reactions around the world.
It was reported that some Napoli fans were ambushed and stabbed on their way to watch the big game at the San Siro. This is to me a big "red flag" and signal that these supporters have a wrong mindset about the game. It's not an impression the relevant football bodies should be allowed to outlive this generation. I am even more disappointed because this is happening in one of the World's top 5 Leagues. It could send the wrong message which misrepresents the notion and proper values of the game.
This isn't the first time things like this are happening in a league the World considers as one of the best. Antonella Leardi, whose son was killed on his way to watch Napoli play Fiorentina in the Coppa Italia final in Rome in 2013, said: "Despite me and a very small number of other people working hard on this issue, it doesn't seem to interest anyone else. There's little interest, if any at all, on the state's behalf in protecting people, like my son, who go to games and don't come back. It leaves me very, very confused and drains me of almost all my strength."
There is need for a sensitisation campaign to correct this impression, even though many concerned individuals have taken to the social media outlets to condemn this events, I think it's high time relevant football bodies around the globe seize every opportunity available to educate football enthusiasts on the values that is befitting of this game. Yah, it's still a game. They can make use of schools, the media, football academies and other means necessary to condemn violence in football.
Security Agencies need to become more proactive than reactive. These clashes always have a build up, if the relevant authorities become more meticulous, I think they will be able to preempt these clashes before they erupt.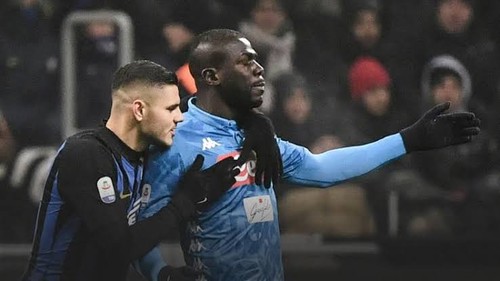 Many thought they had seen it all that day before the worst struck, "Racial monkey Chants" from Inter fans targeted at Napoli defender Kalidou Koulibaly. It was a blg blow to Seria A and everything that football represents. The stench of racial chants suffocates the beautiful nature of this game. Koulibaly was having a nice game, though he was booked twice for committing what many will call some tactical foul, maybe would have been the man of the match, until evil struck.

The racial attack on The defender and the news of one fan being stabbed to death following clashes outside the stadium was a slap on football, and if nothing lasting is done about things like these, then I fear for the future of the game. There were calls for the referee to suspend the match due the chants, but all proved abortive. Many keeps wondering Why the rules regarding racist chanting were not enforced.
"We asked the federal agent to suspend the game three times for the chants at Koulibaly," Ancelotti said after the match. "Announcements were made over the loudspeaker, but the game carried on." So, what happened to the referee calling both sets of players to the centre circle while another warning is read out for a temporary suspension after the second infraction, and then the next step in a three-phase procedure: walking them back to the dressing room and submitting a request for the abandonment of the game?
"We keep being told play can be halted, but when?" Ancelotti asked. "After four or five announcements? Maybe we have to take matters into our own hands next time and stop play ourselves. They'll probably make us lose the game if we walk off, but we are prepared to do it."
Now, I don't think this will be good for the game. If these kind of things are allowed to influence the outcome of a football match, then am sorry, football will die. This is not a fight only the Italian Football Federation and Seria A can handle alone, all hands must be on deck to check this menace. The sports society needs to be educated on the need for tolerance and respect for one another.
What do you think could be the possible means of preventing things like these in ?