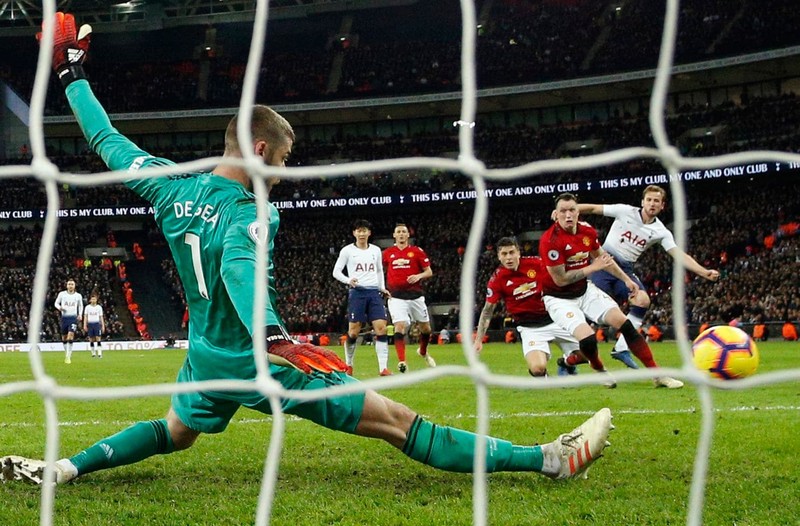 Yesterday, in a very exciting match between Tottenham and Manchester United, two new records were broken by Manchester United goalkeeper David de Gea and their caretaking manager Ole Gunnar Solskjaer. In a match, David de Gea once again proved why he is one of the best keepers of the world, he played his one of the best match of his career to hand a victory for Manchester United. After a win, United's caretaking manager Ole Gunnar Solskjaer became the first ever Manchester United manager to won his all first 6 games in-charge as a manager. He broke the record of 5 wins in opening 5 matches set by Sir Matt Busby in 1946/47 season. In his record-breaking run, Manchester United scored 17 goals and conceded only 3 with a back to back clean-sheets in a row. In his first 6 games winning streak, United beat Cardiff City(1-5), Huddersfield (3-1), Bournemouth (4-1), Newcastle(0-2), Reading (2-0), and Tottenham(0-1). In a yesterday's match against Tottenham, all credit for winning the match goes to their goalkeeper as he heroically made 11 saves in the second half of the match. He made the record of highest number of saves in a single match of Premier Leagues season 2018/19, not only that he made the all-time record for highest number of saves(11) in one half of the game in the Premier League. Last year, he equalled the record of most number of saves in a single Premier League match with the 14 saves in a 3-1 win over Arsenal at Emirates stadium.
The match started with the very high tempo, Manchester United looked better team in the first 15-20 minutes. They played a very attacking game from the very first minute and troubled Tottenham's defence line a few times. Tottenham came so close to score the first goal in the match, Tottenham's Harry Winks failed to hit his shot on target on a one on one with United's keeper David de Gea. Tottenham keeper Hugo Lloris wonderfully denied Anthony Martial's powerful shot in near post. When Tottenham scored the first goal by Harry Kane from the very close range tap in, it was ruled out by the linesman after he raised the offside flag. Just after forced substitution of Moussa Sissoko after picking up an injury, Manchester United took the lead with a goal from Manchester United 20-year-old United striker Marcus Rashford. Paul Pogba perfectly found him with the long ball in a quick counter-attack and his powerful shot from inside of the left side of the box found the bottom right corner of the Tottenham's post. The first half ended Manchester United 1 and home team Tottenham 0.

When the second-half started, it looked Tottenham came to the field with an intention to score the equalising goal as quick as possible and turn the scoreline. Their plan was working perfectly for them, they broke the United's defensive back line many times and played the lots of ball inside the United box but their every shot on United's post was denied heroically one after another by David de Gea. In his 11 saves in the second half, he made 4-5 saves from a close-range shot including his goal-line save of Toby Alderweireld's very cheeky attempt from the near post attempt in the corner. It was not only David de Gea who frustrated the opponent player with his saves, but Tottenham keeper Hugo Lloris also made the great saves in both the first and second half to deny the United's players. He also made 7 saves in the match but was beaten only once with that powerful Marcus Rashford low-driven shot. In a match when 19 shots(Tottenham 11 and Machester United 8) was on target only Rashford found the net. All Tottenham fans, presented on the stadium felt it was not their day. They were so unlucky to not get any points from this match.

Despite making 3 clean-sheets in a row, the problem in Manchester United backline was clearly seen on the pitch on all 3 matches. They gave a lot of spaces to the opponent player in all 3 matches. They were very lucky in all 3 matches to not concede the single goal.
After a lost against Manchester United, Tottenham is now 9 points behind the league leader Liverpool. Manchester United who was 8 points behind 5th place Arsenal just 3 weeks ago after the end of GW17 has now equalled the points with Arsenal with 41 points and is now just 6 point behind from the 4th place Chelsea.

Will Manchester United give the permanent job to Solskajer?? Will they make the top 4 this season? write your thoughts in the comment box.