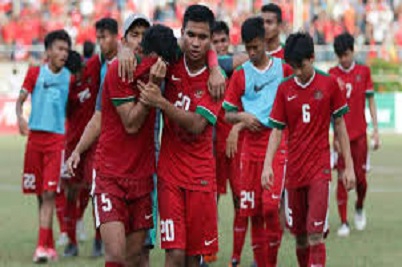 national team Age-19 Indonesia lost to the Malaysian national team in AFF final at Deltras Sidoarjo stadium on Thursday, July 12, 2018. Indonesia's defeat of Malaysia is determined by a penalty shootout.
At the beginning of the first half, Indonesia had destroyed Malaysia's defense. This is evidenced by violating Saddil Ramdani in the forbidden box. Egy Maulana who became the executor managed to score goals. However, Indonesia's advantage did not last long. Lapse 12 minutes, Malaysia replies through Syaiful header through the corner kick room. The first half ended with a 1-1 draw.
Score 1-1pun remain until the second half finished, followed by the penalty to decide the winner. In the penalty shootout, only two of Indonesia's five goalscorers, while Malaysia's three goalscorers scored. Then, with this victory, Malaysia is entitled to perform in the final against Myanmar which has beaten Thailand by 1-0.
Three executives Indonesia U-19 national team, Witan Sulaeman, Firza Andika, and Hanis Saghara failed to enter the ball. Timnas lost 2-3 from Malaysia.