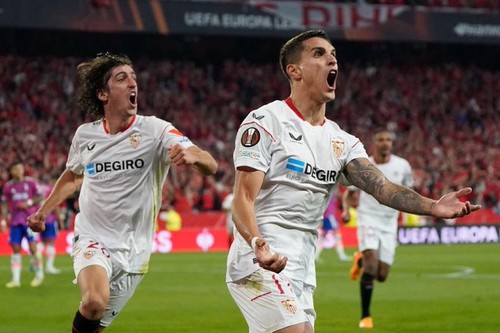 Sevilla FC twitter account tweeted "Everywhere you go" after winning Juventus 2:1 in Europa League semi final. Spanish side won duel with 3:2 on aggregate. Reason for going to the final you can see on above picture with Bryan Gil and Eric Lamela. First one made superb cross from left and last one did great shot on target and scored goal. Do you remember summer 2021 when Fabio Paratici traded Lamela plus money for Gil with I think Sevilla ? They both somehow ended in Sevilla who also received big money from Spurs. :) Gil has been sent on loan there. LoL! So two Tottenham boys made them go to final of Europa League while in this season we are enjoying in masterclasses of Lucas, Danjuma, Richarlison and Kulusevski. What a piece of good business! LoL!
Tragic figure for Juventus was excellent player Federico Chiesa who missed two good chances for "bianco nerri". Question for you is how can Tottenham players win trophies everywhere they go and can't do anything in London club ? Even McDonnald eater Ndombele won Serie A with Napoli. What is nature of force which is preventing them to play at Tottenham ? I think it's so called "driving force" from board room who has to much tolerance toward some bad players who is stubbornly keeping them in squad instead of getting rid of them! Jose Mourinho also went to yet another final this time of Europa League! Roma drew with Leverkusen away 0:0. Will they sack him before final ? What do you think ? I don't think so.
There will be protest against Tottenham chairman on Saturday. Brian Dagul is saying it should be the biggest so far. I hope so, because some guy recently commented this "If Daniel Levy works for Daniel Levy he would sack himself!". Totally agree. He is criminal bad in footballing decisions and there is no sign he will step down from them and let sport and football director decide about football matters like who is coming in and who is coming out.
Meanwhile it's "Everywhere we go, it's Tottenham boys making all that noise everywhere we go!" situation. We didn't give Gil even a chance to play football for us, but we are keeping 30 year old Lucas whose expiration date passed 2-3 years ago. FFS.