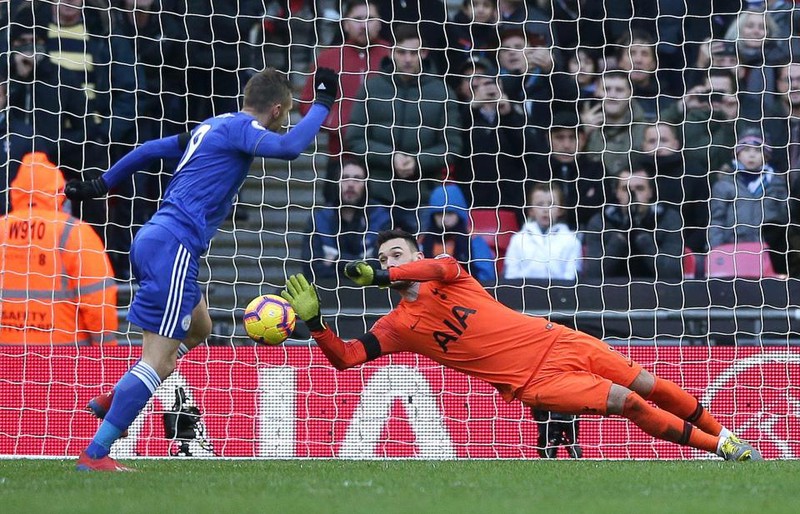 Tottenham Hotspur won against Leicester today thanks to great performance of Spurs goalkeeper Ugo Lloris and a lot of luck. French international saved penalty from Vardy and soon after one on one shot from Leicester player. In the game where Leicester dominated from beginning to the end, made dozzens of chances I can not avoid to say that this win is not deserved, but product of very very big luck.
Pochetino started the game with Lloris, Tripier, Sanchez, Vertongen, Rose, Winks, Skipp, Sissoko, Eriksen, Son and Llorente. Alderweireld was on the bench with Lucas Moura, Foyt, Gazaniga and Wynayama. Poch probably wanted to rest Alderweireld for some reason.

After first 10-15 minutes Leicester took over control of the game completely. They had few very good chances, while Spurs simply could not connect lines and organize serious attack. Lets mention two of them. One was header where Llorente did not follow his player in the box for air duel, but let him shot alone and then open his arms like it is someone else's fault. Other was product of Sanchez who moved toward Vertongen and let gap in defence between him and Trippier where one Leicester player run alone toward Lloris with only Trippier on his back but miss the shot. In the middle of Leicester domination after one corner for Tottenham Eriksen made cross in the box where Sanchez made good header for 1:0 for Spurs. Leicester players complaint for offside but I think that Sancez was in line with defenders and not in offside.

Game continued in same way, Leicester domination was big, but they simply could not score a goal. They walk through Spurs defence like through Swiss cheese mainly abusing Sanchez compromizing position. It is worth mentioning that very bad ref Oliver did not blow for single foul for Leicester players while he was very keen to give yellow cards to Tottenham players like Son who felt in the box after contact. I am not saying it was penalty but it was not yellow card for simulation for sure. Believe or not Leicester players did not make 1 single foul in entire first half like they played ballet or something. Audience noticed that and protest after every foul for Leicester.

In the second half everything looked like Wolverhampton game where Spurs sit and wait to conede inevitable goal(s). Then bad ref gave Leicester a penalty. My humble opinion is that it was not penalty. Vardy came in the game and took the ball to shot, but magnificiant Ugo deflected his shot to corner. Audience got wild screaming Ugo Ugo from all terraces. That was waking up on crowd on Wembely. From one of rare attacks of Spurs Leicester players tried to clear the ball which hit Skipp's arm and deflect to Llorente who passed to Erisken who fired a shot from 16m stright in the net. Second chance second goal for Spurs! Soon after Ugo saved one on one chance for Leicester. It was not so good shot, but save from that close range was awesome. Again crowd on Wembely have gone wild screaming Ugo Ugo.

Poch saw that something is really bad and push Alderweireld in the game to try to play with 5 man in defence, but despite that effort Leicester players had to much open space for attacking. One of them ended with low cross in the box and Sanchez watched the ball instead to make tackle and to clear it to corner and Vardy scored from close range for 2:1 and for drama until the end. Shame that Tottenham players let Lloris down and let Leicester to make so many chances. One of them was volley from Vardy alone in the box despite 5 defenders which went over the goal. Poch finnaly saw that devil took away the joke today and substitute Llorente to increase number of players in midfield. That move did not change a lot as it looked like Leicester will make it 2:2 at any second. Goal was hanging in the air.
Then one clearing by Sissoko, Son finnaly was on his half and not in offside and run alone from center toward Schmeichel. He finished the chance very good for 3:1 and for great celebration on Spurs bench and on terraces. Poch looked like someone took away stone from his heart. He was obvious very afraid of 2:2 as everyone on Wembely.

---
Conclusion is that Tottenham won, but that playing was really bad. Tottenham has been well outplayed by mid table club like Leicester. That is so upseting thing for club who want to join titile race or team who will face Dortmund in Champions League soon. This win was as I already said product of great performance of Lloris and great luck. My opninion is that Sanhez is not ready to take center back position. Alderweireld and Vertongen must play. Spurs should prey for soon Hary Kane return if possible before Chelsea and Arsenal games or perspective for those games will be very dark.