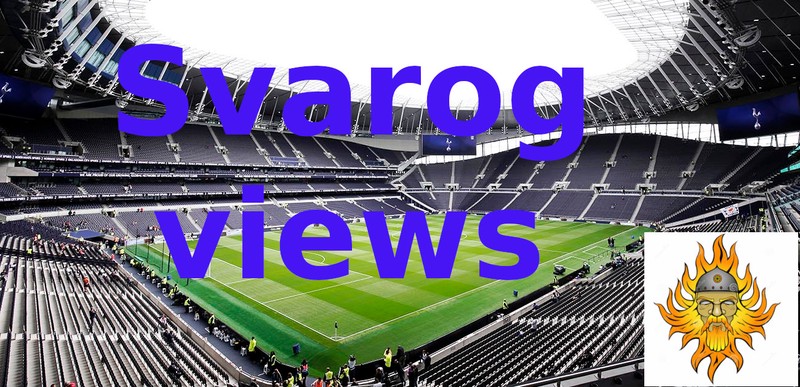 Tottenham won Eintracht with result of 3:2 and I am still very angry night after this pathetic non football non performance from second part of second half. That is why people are stopping to support football clubs. I think about that and stopping to lost my time by writing about players who don't want to play or do effort and earn 100-200,000 per week. I have better things to do in my life than watching such pricks.
First half was good despite school boy losing of ball in dangerous regions. Sessegnion, Royal and finally Dier did that one time each in short period of time. Dier's losing of ball was ridiculous. Someone pass to him and ball deflected like from tree, came to Eintracht player and Tottenham conceded goal.
Soon after Kane founded Son with one through ball and South Korean ran toward goal and easily scored for 1:1. My theory which say when he scored from first chance he starts flying on the pitch was proven right again. He instantly started flying on the pitch. He and Hojbjerg are only players which deserve credit in this game.
Soon after Kane sent ball near defender and run toward goal, but other ran into him and initiate contact with body. Harry felt referee got call from VAR room, looked it again and gave penalty. Captain of England scored for 2:1.
We saw the best action soon after Hojbjerg made cross which was piece of art, founded Son who was little behind players who attacked posts. He was all alone, ball fell on his volley and he kicked it inside the net. Beautiful goal! That is how serious team attacks. One player on first post, another on second, third stand little behind to give more options for cross. It was 3:1 and nice advantage at half time.
Son had more chances, but two of them got saved by Eintracht goalkeeper. He did everything right, but sometimes goalkeeper show his class too. I was excited after first half, expected more good attack and why not couple of more goals in second half.
In second half Son sent off Eintracht player because of two naughty fouls after Korean went around him. Two goal advantage, extra man on the pitch they are ours! That's what I thought. I was very wrong. What I saw after that pushed me to the dark side and make me think to stop watch and support this football club!
Pathetic cowards didn't bother to attack, they just kicked ball backwards, stood on pitch waiting for game to be over. They made just one action when Richarlison crossed toward Sessegnion who was blocked. Conte started to make changes Skipp, Bissouma, Lucas,Sanchez, Gil went in. Anger increased.
Clown Emerson Royal who will never become good football player lost ball once more, they made dangerous shoot which Hugo sent into corner. Then pathetic non footballers Sanchez and Royal lost air duel inside box and Tottenham conceded goal for 3:2.
Brian Gil showed after what kind of fall guy he really is. He got the ball ran alone toward goal and then out of nowhere felt over ball and remind on the ground for couple of seconds. Then after standing up he received heel ball by Eintracht player Jakic. That gift from heaven he used to storm inside the box, make some dribbles and get tripped inside for penalty for Tottenham. Oh Kane is lucky he'll score two goals from penalties tonight I thought. I was wrong again. Harry Kane took the ball and send it 2-3 meters over cross bar like he's playing American football! I was like fried on fire after that. Few minutes after he got ball alone on the left wing, poor Gil was running alone inside the box, expected ball but Harry sent to strong and to high ball over him! WTF! That was pathetic! That was miserable! If I was anywhere near I'd knock out him after that.
Then like chary on the top of cake Eintracht had attack they start to exchange passes near our box. I will shoot, no I will shoot no I will and then one finally shoot and Hugo Lloris saved it.
Is that how you are playing with one extra man on the pitch and two goal advantage ? You are not roosters you are chickens, trembling chickens. Shame on you! I hope Conte will bring you up on hardest training ever today early in the morning until all of you except Son and Hojbjerg fall down on the grass...
Word about some players for the end. Emerson Royal did two good things for 90 minutes. First was cross toward Romero at the end of first half, another was taking ball away inside own box helping Hojbjerg. Everything else he did was pathetic. I am fed up with this guy he will never become serious player and I don't want to see him in squad anymore. I don't care if it's going to be Doherty or Spence or Perisic, this disabled guy without any football IQ need to go out of this club as soon as possible. Sessegnion is not much better on other side too. Those wing backs are poor and unable to do anything useful in attack.
Kane didn't abandon free kicks as I thought he took one and sent ball over wall and 2 meter over goal. Guy is kicking free kicks like clown. All world is laughing at him on free kicks. Way how he did penalty was like some full back stripped of any shooting ability. Way how he sent ball toward alone Gil was shambles. He had few good passes, made few promising attacks, but his pathetic ending of the game denied every good thing he did before. Dier lack basic skill in receiving and doing things with the ball. Richarlison is losing balls and falling to easy. Gil is not a football player, he trips over ball in counter attacks.
In one word that was pathetic, those bad players don't deserve Antonio Conte for coach, he should return to Juventus and abandon those maggots. Son and Hojbjerg should go to Real Madrid to win something because here with those overbearing ignoramuses they will win nothing. Kane should go somewhere where other players can earn trophy for him, like Luka Jovic did with Real Madrid. Maybe to PSG to sit on bench for Neymar and maybe win something. This was nothing. I won't bother to watch match against Everton. Why would I watch those overbearing ignoramuses ? I need to find some other things to enjoy in. I deeply regret why that last shot didn't end up in Tottenham net. FOYS!