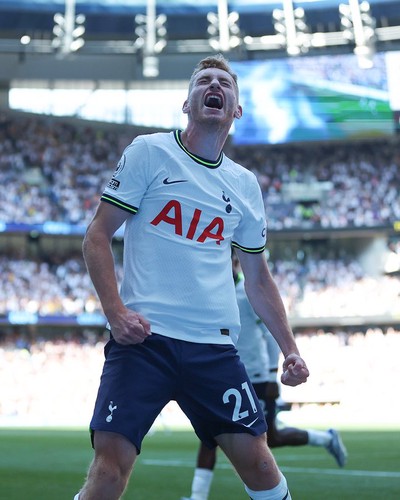 Tottenham destroyed Southampton in first game of 2022/23 season. It was spectacular game, match of Dejan Kuluševski, wing backs Sess and Emerson and Eric Dier. Final result was 4:1 thanks to not given clear penalty after blatant handball and defending clear goal with hand. I am not complaining, let them defend with legs and hands we are to strong for them.
Game started with Spurs players run like robots, it was battle on each part of field without chance until James Ward-Prowse scored a goal from 14-15 meters from it after great Djenepo pass. However soon after hero of the day and man of the match Dejan Kuluševski sent wonder cross on second post where left wing back Ryan Sessegnon tapped it in. Not much later after who knows which harmless corner ball came to Son on the wing, he made cross and Eric Dier scored by head in Harry Kane's style.
Fans were great most of the game, but in first 20-30 minutes they made really incredible atmosphere. I felt like stadium was shaking during "I love Eric Dier, Eric Dier loves me" singing. I noticed that wing backs are determined and flying all over the pitch. Emerson Royal had one world class game, Sess on other side too. Son and Kane had one chance each until half time, but they didn't score.
Southampton scored own goal in second half after Emerson Royal enchanted their defense. Salisu couldn't resist and tapped ball into own net. LoL! We didn't calm down from 3rd goal and Dejan Kuluševski who threw Southampton defense in trance in entire game score 4th from close range. Imagine this. You have dangerous player you must block his left foot, you know that, but you can't because he trick you every time! That's Dejan, Deki. He reminded me on old player from 90ies Dejan Savicevic. I hope he can reach his glory in Tottenham shirt.
Like I wrote in the beginning, there was penalty after, but referee didn't give it, there was one more Son's big chance but he sent disappointing shot and practically sent ball to goalkeeper.
Imagine this. You have world class players Son and Kane, they practically didn't play this game and you win 4:1. How does this sound to you ? That happened! Imagine what will happen when those two start to play like we all know they can! I don't dare to think about that...
Well done Antonio, all on internet knew your first 11, all opponents know that, but they still can't do anything to stop Tottenham! It was Conte ball on it's prime, it was not just win it was rampaging, destroying, ravening... Let's continue to play like this! It's joy to watch! COYS!
For the end song about Dejan Savicevic from 90ies "Dejo majstore pa ti si Bog" (eng. Dejo master you are the God!). I can see our Dejan Kuluševski like Dejan Savićević!