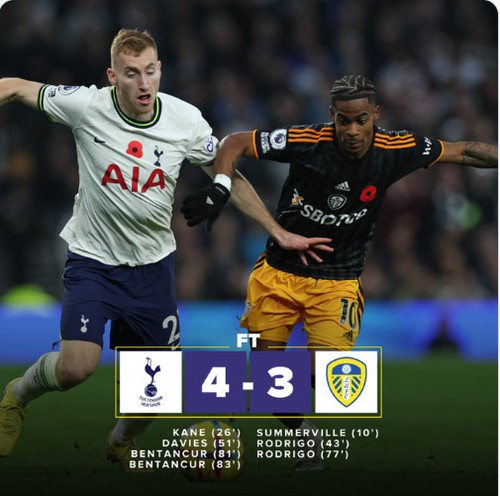 Admin of Tottenham Hotspur youtube account interviewed coach Antonio Conte after win against Leeds United with 4:3. He said literally "We all love those games 4:3". Antonio previously said this on the press conference "I know this result make a lot of people happy." I don't have anything to add. It's my favorite result.
Tottenham defense were bad, Dier looked lost, Emerson missed sitter in attack, sent few bad passes, there was head pinball between Dier and Lloris at some point in first half. We conceded two and could one more, but Hugo saved one attempt. We scored after corner. Result at half time was 1:2.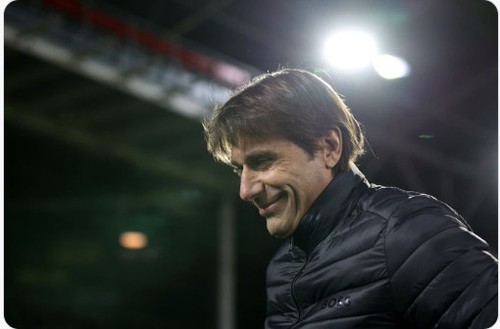 Very early in second half Davies shot on goal and ball luckily ended up inside net after deflections from Leeds goalkeeper and defender. When we conceded third I thought that was it. We looked very poor during result of 2:2. It looked like players moved in defense again. Once we conceded third it looked like doom and gloom.
I just started to think about conspiracy of players and chairman against coach when Bentancur scored for 3:3. Few minutes later Kane founded Dejan Kulusevski who entered inside the box, moves around one tackling defender sending him in trance, avoided goalkeeper who expected shot, but "ginger from Sweden" passed on 5m. in very intelligent way toward Bentancur who tapped in ball for 4:3 and madness on stadium!
Odd on correct result of 4:3 is 100, it was also half time 2 full time 1 which is 30, and seven plus goals which is also high. I am sure a lot of people are happy about this. All love those exciting games which "return faith in football" and might help in future transfer business because players like to play exciting games too. :)
Excitements in Premier League are over until Boxing Day, we will watch World Cup until then. We need to do serious business in January transfer window. Last one set up very high standards with Kulusevski and Bentancur. We really need better and more intelligent players on some positions like right wing back and central defender. COYS!