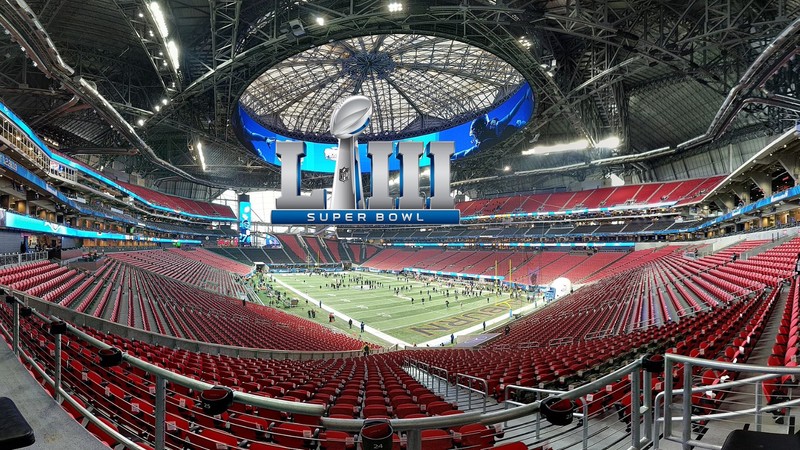 These posts contain NFL bets that I took some extra on in BTC. They are mostly based on information I have from some solid NFL handicappers combined with some market factors.

The NFL betting season this year was quite the disappointment ending in a loss. It is always difficult to say in betting if results are because of not beating the market or because of the natural variance that is always a factor. Especially when having only a couple bets each week it's really hard to get to a sample of 1000 bets or more in order to get more clarity. Thanks to some proper bankroll management limiting myself to bet 1% on each bet I'm actually still up on my BTC bets despite losing nearly 10 units on the NFL since I started. Keeping discipline is key when it comes down to handling these downswings.

One thing is for sure which is that the lines and odds on these huge markets are set really tight and the potential margins that bettors are working with are very small. It is for this reason I strongly believe blockchain could make a big difference. I'm really hoping betscorum will be still around at the start of next season so I can fully switch to it getting better odds systematically.

One more game this evening and I'm looking forward to watching it. My money is on the Underdog, I used to sportsbet.io daily odds boost but will track the ML odds form Nitrogensports which I would also take if it was my only option.

---
NFL Superbowl Bets
LA Rams ML @ 2.280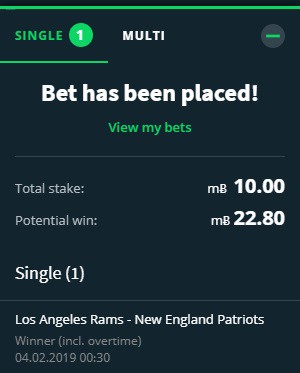 ---
Previous Posted NFL Bets
NFL Conf Champ | 0W-2L | -2.00 units
NFL Divisional | 0W-3L| -3.00 units
NFL WILD CARD | 1W-2L | -0.964 units
NFL WEEK 17 | 1W-3L | -2.004 units
NFL WEEK 16 | 1W-1L | +0.170 units
NFL WEEK 15 | 0W-1L | -1.000 units
NFL WEEK 14 | 0W-2L | -2.000 units
NFL WEEK 13 | 1W-2L | -0.954 units
NFL WEEK 12 | 2W-3L | -1.060 units
NFL WEEK 11 | 1W-0L | +0.880 units
NFL WEEK 10 | 2W-1L | +1.123 units
NFL WEEK 9 | 0W-3L | -3.000 units
NFL WEEK 8 | 1W-1L | +0.036 units
NFL WEEK 7 | 1W-2L | -0.990 units
NFL WEEK 6 | 1W-1L | +0.006 units
NFL WEEK 5 | 1W-1L | -0.004 units
NFL WEEK 4 | 1W-0L | +0.770 units
NFL WEEK 3 | 2W-0L | +1.952 units
NFL WEEK 2 | 0W-0L | +0.000 units
NFL WEEK 1 | 3W-0L | +3.228 units
NFL Season Record
19W-28L-0P | -8.811 units | -18.74% ROI
Total BTC Bets NFL Record
45W-57L-2P | -9.616 units | -9.24% ROI