This will be the last Betman's post… please don't panic! Wait for it… This will probably be the last Betman's post IN JANUARY. For in January, Betman was researching for the arsehopeless… archopeless… you know… in Premiership&Championship, and found all the greatest — mandatory involving Chelsea. The only ones left undiscovered are…
Yes, Tottenham Hotchickens. There is no Mourinho who could help them. After their score specialist was disabled in their defeat against Southampton, they didn't score anything. Zilch. Ask their girlfriends/boyfriends. Zero. Nada. And while a mutiny against their 'Special One' Slave driver is on the rise, nobody really thinks how to put some colorful ball inside a certain net over the white painted posts connected with a crossbar. It does sound ridiculous when you put it like this, doesn't it?

.
Well, it's no more ridiculous than those Bachelor's degree idiots from Chelsea, who had a lead and one player more at the pitch since minute 26'… but at the halftime they were informed that Betman had a tip and stake on their win, and in the second half… You know already:
Have you ever seen a bigger bunch of morons?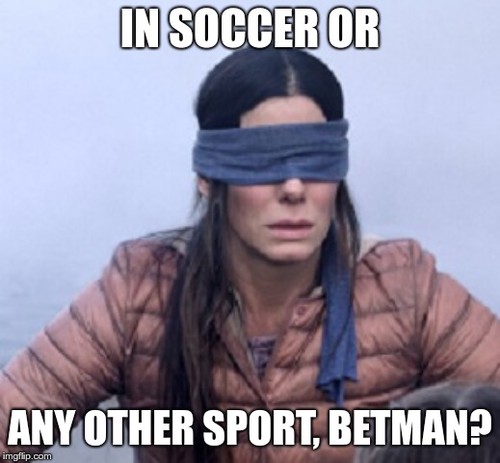 Please Sandra, be my guest, chose what you will or want ever seen on your own. And if you choose to be my guest, the bathroom doors are first from the left in the corridor, you can leave your clothes in Betman's bedroom. You can use touching if you prefer not to take your blindfold.
.
And so, Betman got to the end of his January funds. There is only one more chance left to extend this enormously unsuccessful line of tips: To win this one. Now, we have two ways of thinking on this one:
(1) We can believe that − by probability theory − Hotchickens will have to score at least once while their captain was in hospital under the best possible care. Our @svarogbg made a convincing post saying that they should do it exactly against the least capable of all EPL teams − Norwich.

(2) Or we can follow trends, and since Hotchickens does not lay eggs… I mean doesn't score, and Norwich does on average once every game… Then Betman will take that chance, even with the thin odds at BetScorum!

.
Now, before you organize riots against this tip, just think: Who's gonna score? Delle Silkie Ali? Japhet Tanganga? Bonebreaker Son? Aside of that, with this odds Betman will have to invest only a bankroll leftovers… and qualify for some change at Scorum Loyalty Program (not only) for tipsters, who regularly check their comments almost every month. And have in mind another fact: Whenever Betman makes a back-to-back-to-back-to-back loss, SCR jumps. So, be thankful for his mistakes, in the long run you are bound to earn a majestic cent or two!

Ready for plucking chickens?