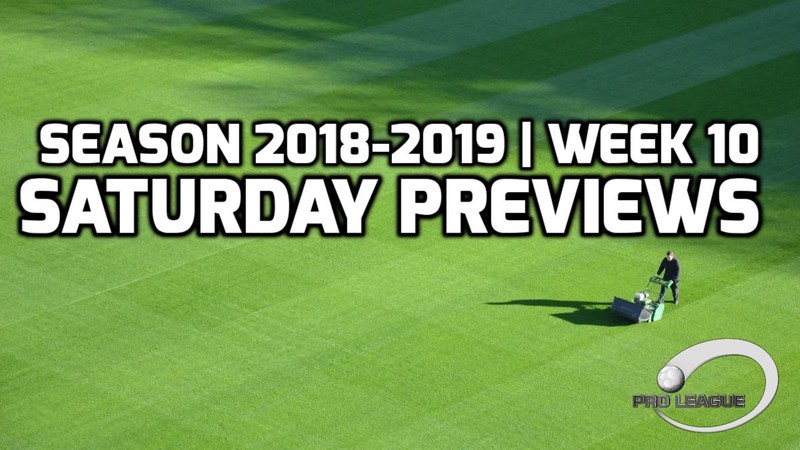 These posts contain previews on matches from the Belgian League with some on my personal bets, live-betting angles, Team Form, Injuries and Team News.

Luck seems to have turned a bit with the pre-game 1H under bet I was on in Cercle vs Charleroi looking like a sure winner when pretty much out of nothing a couple goals were scored. I also took Cercle Brugge +0.25 @ 1.80 Live at 1-1 score, but the bet was waiting to be accepted when the 2-1 was scored. I have some bets on each of the 4 matches today but won't be taking anything extra in BTC because none of them are strong enough and it can't hurt to build in some more safety after the really hot run taking it slower in this regard right now.

---
Eupen vs Antwerp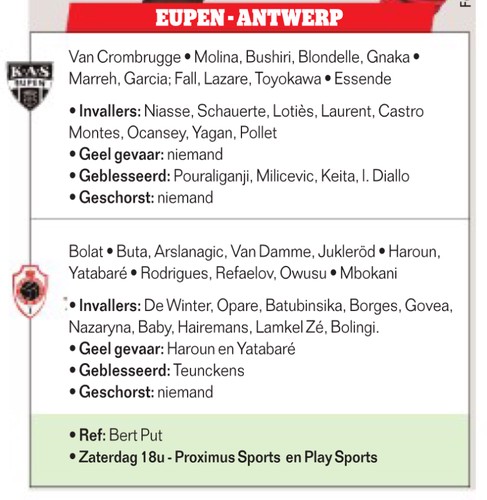 This should be the most interesting match of the day. Eupen picked up some form after a poor start of the season with 3 wins from their last 5 starts in the league. They are a team with the potential of both high scoring matches or 0-0 draws. Still on the season they are 6W-2L-1P against the asian over line. Antwerp are making a transition from a more closed down style only getting 1 goal against in the first 5 matches and scoring 4 times in those themselves to a more forward style since they have more options now in the offense. This has come with a cost of also getting more goals against (6 in last 4 matches while scoring 8). There is no reason to believe they will revert back into the more defensive style in this kind of match (They will against top teams). The way I look at it, the market hasn't fully caught up with the change in playstyle from Antwerp and there is some value on the over. I took some on Over 2.25 @ 1.88 yesterday. I am tempted to also take some on the Over 3 @ 2.70 but I don't see this being a wide open match from the start and the first goal as often will be the more difficult. This match will be most interesting if Eupen scores first. Lots of live betting potential and I'm looking forward to this one.

---
Sint-Truiden vs Moeskroen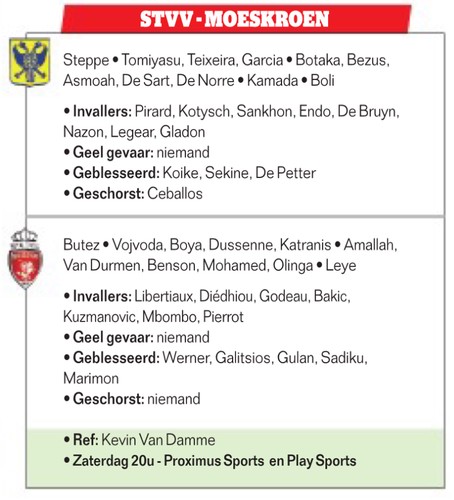 Stvv is playing on a worn out artificial pitch which no longer gives them an advantage in home matches. All 4 of them have seen a 0-0 HT score so far this season and an average amount of 1 goals a match. Moeskroen has huge difficulties to score this season and only managed to make 3 goals from 9 matches. At the the same they also don't overly conceide goals and their new coach starts from a good defense. The difficult pitch along with the teams who are not free scorcing while not getting too many goals against makes me favor the under at current line. I spread some bets between 1st Half Under 1 @ 2.28 | 1st Half Under 1.25 @ 1.77 | Under 2.75 @ 2.04 Sint-Truiden are in a good flow andI do se them winning this match but odds have been set accordingly. I might get involved more live in this one.

---
Lokeren vs Kortrijk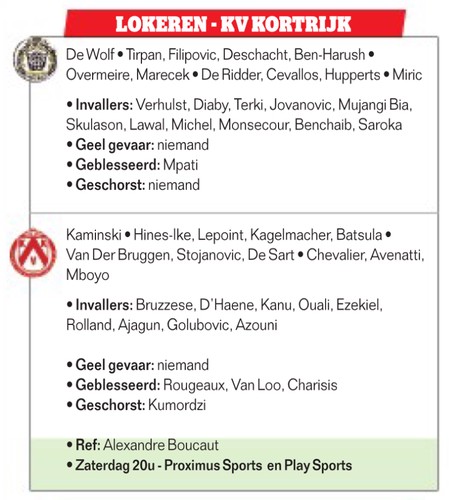 Lokeren are back on my fade list. They showed some promise with Deschacht in the team along with cevallos & Jovanovic, but were poor away against charleroi (2-1) and at home against Moeskroen (0-0). Kortrijk has been poor in their home matches and ok in away matches so far this season. Odds very much reflect this situation similar to yesterdays match and I'm not willing to back Kortrijk as an away favorite. Both are near the bottom of the table and this often turns out in nervous poor quality 1st halves. I do expect this match to start similar to Zulte-Waregem vs Kortrijk 2 weeks back with the match starting with a lot of midfield play and few chances since teams are unwilling to take any risks. The only bet I took is the 1st Half Under 1 @ 2.14 Both are not high on 1st halve goals. Lokeren at home 3W-1L and Kortrijk away 2W-1L so far against this line.

---
Waasland vs Oostende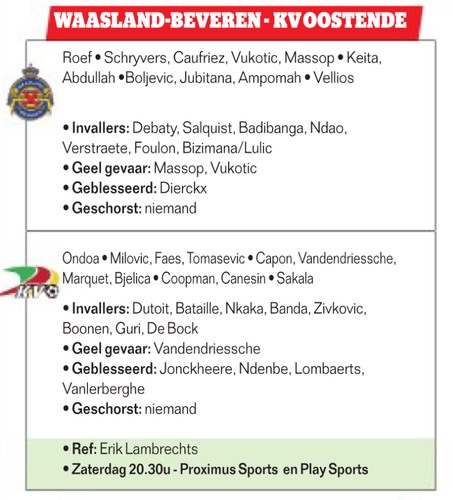 Waasland broke their bad streak with a 0-3 win away against Moeskroen last week. Despite the poor results this season they still managed to beat their asian handocap lines going 5W-2L-2P going +33% ROI when betting them blind in every one of their matches this season. Oostende have been one of the lucky teams that got more points compared to their average performance so far this season. I had this match marked as a potential play on the home side but the opening odds in asia pretty much reflected my view with Waasland being the +0 @ 1.870 favorite. The odds have moved a lot though and now reached +0 @ 2.220 without a direct reason aside from big bets coming in on the visitors. This is one of thoise bets I just have to follow my logic and go against the market without really being overly confident. I took Waasland +0.25 @ 1.90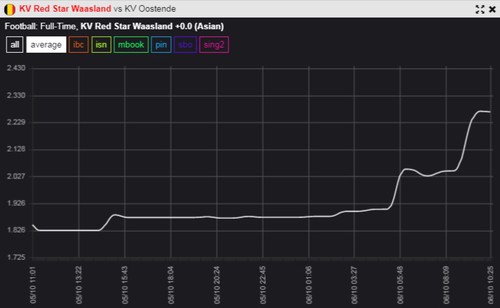 ---
Late team news might change my views on these matches. I take all my pre-game and live bets at Sportmarket Pro which are an European Betting Broker that are aimed towards more serious Sports Bettors. They always offer the best odds on the market with high limits and do not restrict winning player. On some of the bets I take a bit extra in BTC. All these bets are shared exactly as I take them right after having placed them on Nitrogensports which means the odds should be available to follow for those who want. For Live Betting coverage and bets, check out our Discord Server.

Bets October 2018 (Posted on Scorum)
04/10/2018 Racing Genk -1 @ 2.469 LOST
Previous Scorum Bets Records
Sep 2018 | 13W-0L-1P | 140 mBTC Staked | +141.82 Profit | +101.3% ROI
Aug 2018 5W-1L-2P | 80 mBTC Staked | +45.47 Profit | +56.84% ROI
July 2018 7W-4L-0P | 110 mBTC Staked | +44.79 Profit | +40.71% ROI
Total | 25-05L-3P | 0.330 BTC Staked | +0.23208 BTC Profit | +70.33% ROI