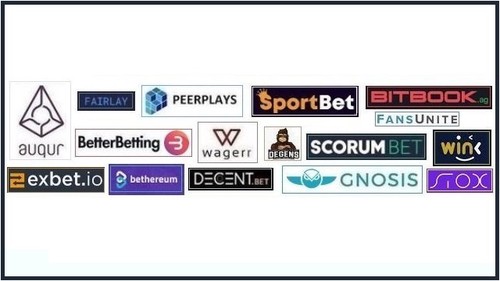 There are many Sports Betting Blockchain projects in development. I'm trying to stay up to date and make a roundup of the listings, price action and news updates on a monthly basis.

Market Overview
This was the 2nd month were the Sports Betting coins on average have gone up in price. There was no major news for what I have seen but most projects continue to make slow but steady progress.
---
Chiliz

I covered this project around 10 months ago (Link). It's not directly sports betting related but tries to connect sports fans to their club giving them voting rights by owning coins. It does very much look like this one is getting adoption and coins from teams are starting to get listed on Coinmarketcap. It is not something I personally am interested in, but I might try the app out as it should be possible to hunt for tokens. It also looks like the tokens will give more than just voting rights and will include a matchday experience with exclusive audio, video, rewards, info for fans.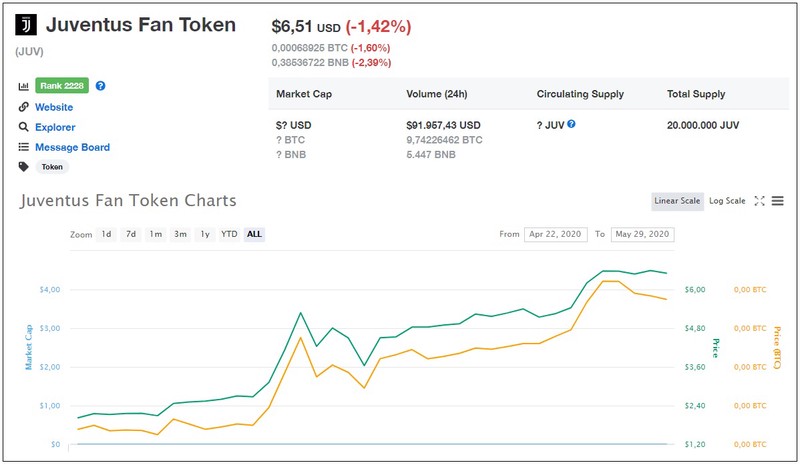 ---
Blitzpredict
This project seems to be back and is set to launch somewhere in September (See blitzpredict.io). As a handicapper who keeps close track of betting results, I will for sure start using their product again. At this point, I'm unlikely to invest in the XBP token though. For more info on this project check my last post on it (Link)

---
Betterbetting

The development seems to be gearing up again on Betterbetting (betr.bet which is one of the products I keep a close eye on as it is something that I would actually use myself. They are implementing the Goldenrace partnership which I wrote about last month (Link) and have become a lot more active again on twitter lately. They are now also listed op dappradar.com (Link). Their main issues remain that they have little to no actual users and that they are covering the Gas cost on the Ethereum network for the people that bet with BETR or EOS on their bookie which might become an issue if more people do start using it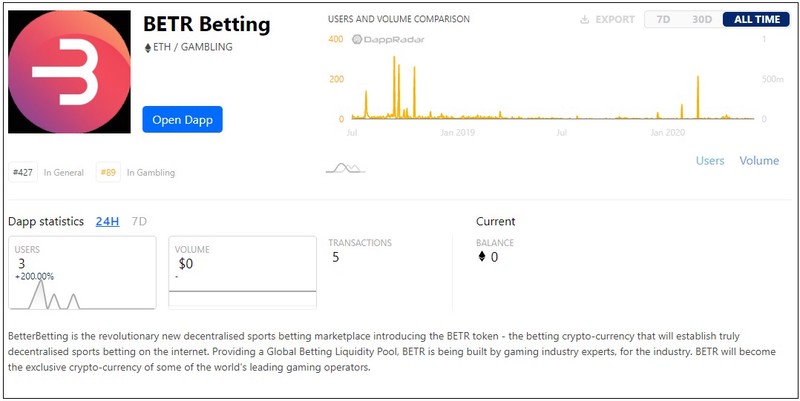 Right now they come in at a total marketcap of 256.000 Dollars with most of their coins in circulation. I'm looking forward to see what they will be able to do the next couple of months.

---
Wink.org

The Sportbook on Wink.org is currently offline. From what I understand, this is because they are working on their new and improved user interface and it will be back soon. I contiue to enjoy the soft poker action on wink and have been keeping close track of the daily dividends that are being paid out (See Post). I stay amazed on how many people are gamblers as the site has earned an approximate total of over 1 million dollars from its players over the course of a month if I did the calculations correctly.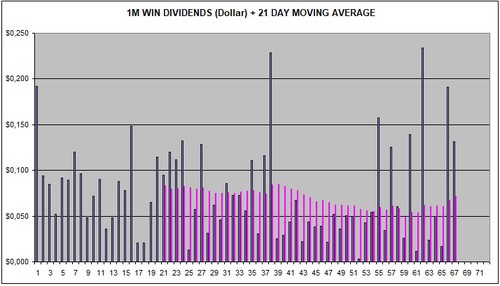 ---
Sportbet.one

Sportbet.one continues its development and the hack I reported on last month (Link) has not affected them negatively in any way it seems. The Lockdown did cause overall betting volumes to drop drastically though and it will take a while for the dividends they pay out to get back to normal. Similar to betterbetting, their main issue is to attract players. They added a really nice feature to their bookie with live streams that work excellent. They are only available for Lower leagues (Bundesliga 2 and such) and not on the Bundesliga itself.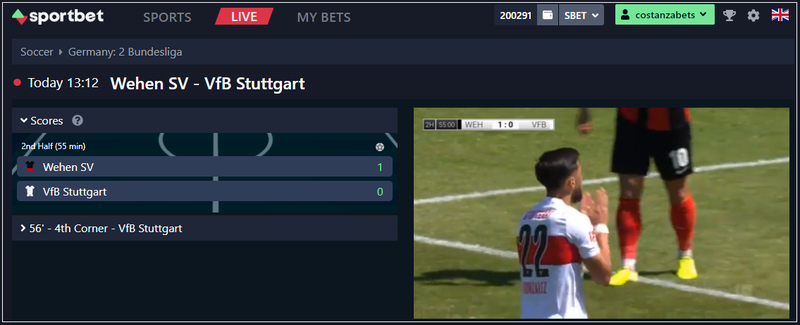 For as far as the price goes, it has been quite low because of the lack of sports and dividends sitting around a 700k marketcap for the circulating supply. It does look like some whale decided to pick it up in anticipation of an increased betting turnover once sports gets at full force again pushing up the price quite a bit.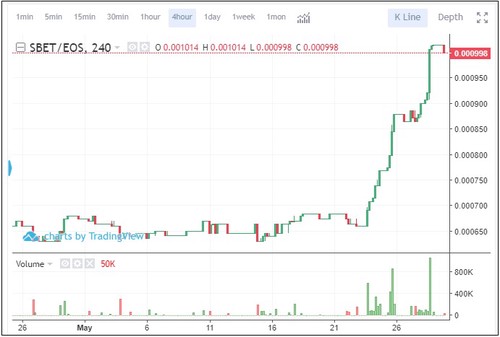 ---
Augur

Augur is still the #1 coin when it comes down to betting and prediction markets yet I never had any affinity and barely tried it out a long time ago. They are set to launch Augur 2.0 soon and I intend to take another look at this project. Similar to some others, obtaining an actual userbase seems to be one of their big challenges. it will be interesting to see how the price reacts leading up to the Augur v2.0 launch.


---
Wagerr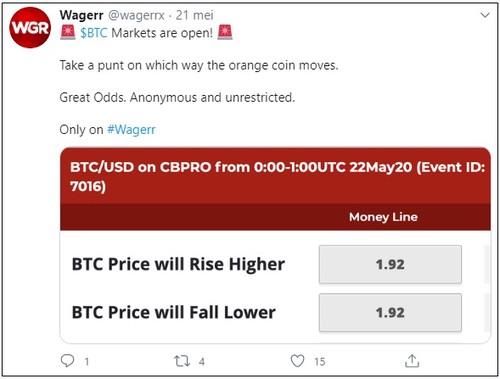 Wagerr as always continues to move forward adding more leagues and sports as time goes by. They also now included a BTC Price prediction market. My main concern with Wagerr is that they simply are not profitable and coins need to be minted in order to pay out winning players. Back in January, I reported that a total of 4 Million WGR at that time had been minted extra (See Report). By now this has added up to 8.5 Million in total. When they started their project they were quite big on value coupling which meant tokens were going to be burned as part of the fees. The fact that sharp bettors have an easy time to beat their odds and rather slow-moving lines completely counters this.

---
Scorum

This might actually be my last post on Scorum for a while as it simply takes up too much time to reproduce them here and nothing about this project indicates that it is ever going to succeed in the long run which I wrote about in my previous post here.
---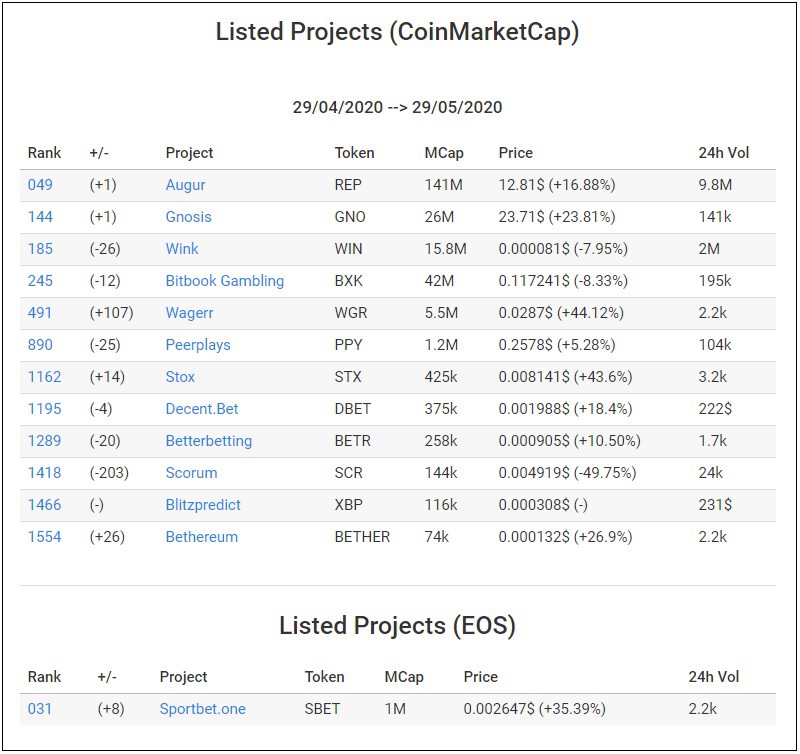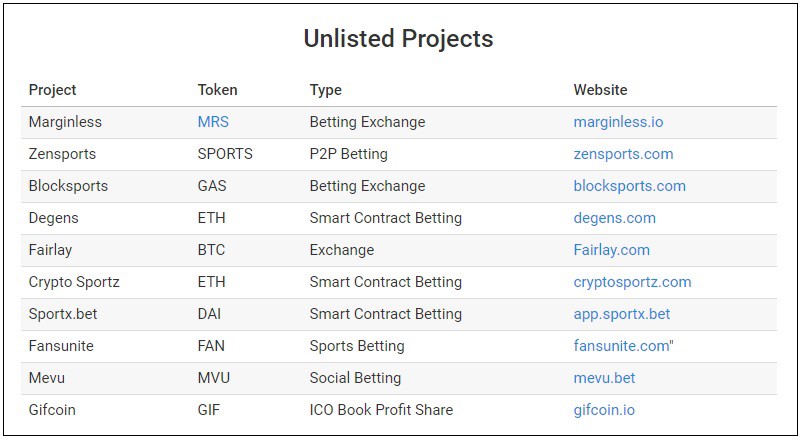 ---
That's about it for this month. Let me know if there is anything major I missed last month or if there are some more promising projects I have yet to take a look at. Thanks!

---