Have you ever played a football match? If yes, have you ever encountered this one player that plays in a way that seems unimaginable and inconceivable? A player that is clearly not playing like others on the pitch, like inhuman. This was the case of Sevilla football club vs Lionel Messi.
This is my entry for the weekly Happy Moan-Day contest organized by @Pete. This is one of the weekly contest he organizes and the main motive is to help build up accounts of struggling bloggers lacking the necessary reward or recognition for their hard works. It is also set up to help give one something to write about each week. You barely find such generosity and amazing individual on the platform. Click on this LINK for more information.
Sevilla were boiling, apparently seeking for revenge after been knocked out of the Spanish cup by the same Barcelona. Both teams were set to meet again for a league fixture and Sevilla sort to get their revenge in front of their own fans and boy did they try.
The match started with Sevilla clearly showing their intentions to take the fight to Barcelona who so much needed the win to further solidify their stay atop the league.
In the 21st minute, their hard work paid off, they scored and went one goal up. "Our goal is going to be achieved, they thought". But then, what Sevilla might have failed to remember or recognize is the man that has always cracked them open whenever they both met was involved in that match.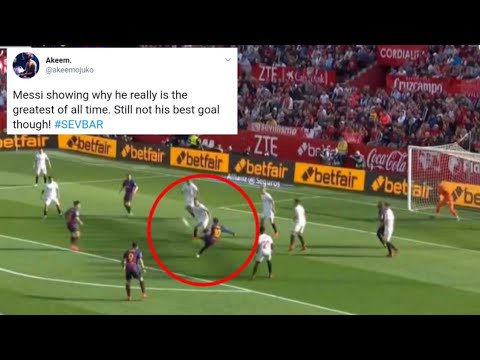 Lionel Messi, five times World Best Player Winner and a player considered to be the best to have ever played the sport was in the battle front with his team Barcelona. Few minutes after Sevilla opened the scoring, a cross flew into Sevilla's penalty area from the left flank and it was volleyed into the net before it could hit the ground by one of those rare players that can produce such unique skill in scoring a goal. Yeah you guessed right, Lionel Messi.
Three minutes before half time, Sevilla restored their lead after the Barcelona defence went to sleep and they went into the dressing room at half time happy they at getting towards their goal with just 45+ minutes to play for.
The second half saw Sevilla sort to hold off any threat from the Barcelona team but they just couldn't hold off that one man, Lionel Messi. The Argentine restored parity after a cut back pass met him and he quickly used his weaker foot to place the ball at an angle the keeper would find it difficult reaching.
The goal clearly weakened the Sevilla team as they could no longer find their way past a Lionel Messi-inspired Barcelona team again, probably harboring the thoughts so long as Messi is on the pitch, he will keep undoing or ridiculing their hard work and they were absolutely right if that thought was legit.
Messi was not done with his favorite opponents Sevilla yet as he got on the end of a pass and chipped the ball over the onrushing goal keeper to complete his hat trick and take Barcelona ahead in the game. He missed a couple of chances before and after that but still made another contribution to the last goal of the game by assisting his fellow South American and teammate Luis Suarez and that was how Sevilla lost the battle.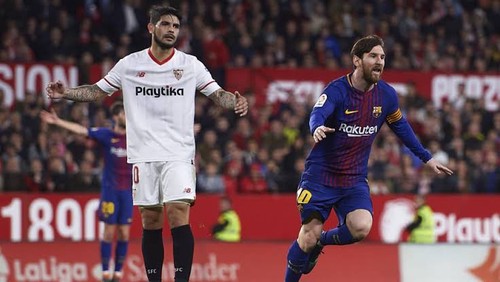 Messi has now scored more goals against Sevilla than he has done with any other team, like Sevilla is his favorite opponent for banging in his goals. The hat trick was also the 50th in his entire football career. 44 in Spanish top flight and 6 with the Argentina team. Too great a player isn't?
My advice to Sevilla is, "We all have that one person that knows our weak points and uses them to their advantage time and time again, but for how long do you intend to remain weak? Man up men of the Sevilla team when next you meet Lionel Messi and show him he is just as human as you all are even if it means allowing others get the goals but restricting or depriving him of taking the spotlight again and putting your names on the headlines for the odd reasons always."
THANKS FOR READING..