Who said it?!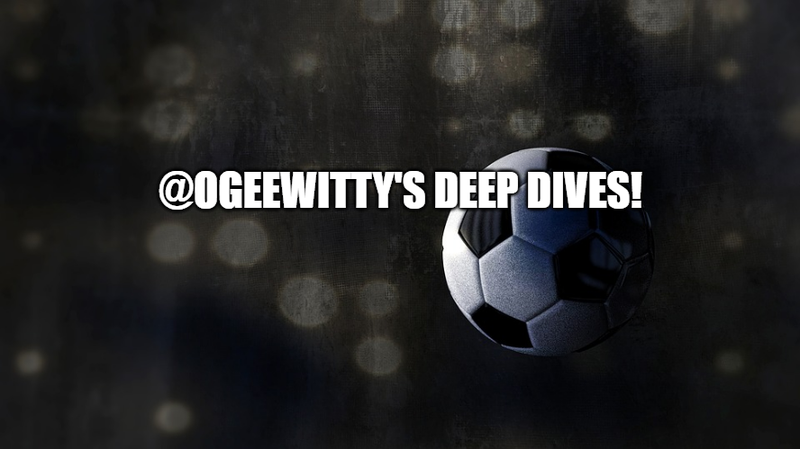 SOME BACKGROUND
It was the second day of Champions league matches for the week concluded yesterday and my emphasis zooms into the multi-billion dollar project in France called Paris Saint-Germain. The [French Champions](https://www.thesun.co.uk/sport/football/team/1250213/paris-saint-germain/) faced a trip to pilgrim/holy land of Israel, particularly the home ground of their most popular one,Maccabi Haifa. Football is the most popular sport in Israel(as [Wikipedia](https://en.m.wikipedia.org/wiki/Football_in_Israel#:~:text=Israeli%20teams%20have%20also%20qualified,in%20the%202010%E2%80%9311%20season) notes) and huge credit must go to Maccabi for bringing their country back to the Champions league after an Israelite club last played therein in the 2015/16 season,that's some 7 years ago(quite a lot of years away).
To the match,they were not fazed by their more illustrious opponents visiting town,they drew first blood and Tjaronn Chery struck in the 24th minute to stun PSG. However,13 minutes later the PSG machinery did the trick and they hit back. 1–1 it became. Mbappe and Neymar came up with the goods in the final 25 minutes of the match,sealing a 3–1 victory for PSG. What of the third man in that famous PSG forward trident? O yes, Lionel Messi is his name.
MAKING SENSE OF IT
May I digress somewhat to pull out an excerpt from a previous blog of mine– HAWKING CRISTIANO. This was written during this summer's transfer window:
"Come to think of it, I don't think it strange that a Ronny playing in Europe, should be thinking of the Balon D'or. Now the great Welsh, Gareth Bale or the Brazilian Neymar even, can overlook this title,but Ronny deserves to think in this line,if he wants to. And at his age, he doesn't have much time on his hands to win more Balon D'ors.
Furthermore, he is experienced enough to know what competition counts more– the Champions league, the Worldcup. The Europa Cup(which United will play in) will in no small way hurt his cause, because the mindset of the judges are already set on d Champions league.
So maybe we can cut him some slack here. Perhaps not that he is too big headed to continue with United, but he is constrained for time, not many years to play with AT ALL. One year means a lot at his age. Playing in the Champions league will give him a much better headstart, in the eyes of the Balon D'or judges.
So if one asks me, if Ronny should still be thinking of the World Footballer of the Year trophy, I would reply,why not,he still is as fit as a 27yr old or young
Another excerpt from my post (RONALDO EXIT) highlights a little portion of Ronaldo's agent( Jorge Mendes) talking with the United heirarchy:
"Mendes: You have spoken absolutely well sir, and in truth we have not throughout this period of my clients absence taken it for granted that you all have gone out of your way to favour us.
In the spirit of your wanting the best for my client,as you have clearly demonstrated, we urge you to go a step further by helping him fulfil his Ballon d'Or dream.
He has absolutely nothing against this his darling club but his age has something against him. He therefore needs to act fast and like I have explained before, the Champions league is the way and ofcourse the World cup. Infact we believe in the new boss to deliver that my client doesn't even need a permanent transfer, a loan move will be okay and he returns next season to play for this club.
Heirarchy: Hmmn,okay you mean he goes on loan and comes back next summer,with an expectation that we are back in the Champions league, meaning no harm to his Ballon d'Or vision?
Mendes: Exactly Chiefs"
Bottomline is firstly, he badly needed Champions league football, as a means to an end. Secondly he wanted it for it's own sake– securing the records he had set therein. For example he is the all-time record goalscorer with 140goals,Lionel Messi is next with 126.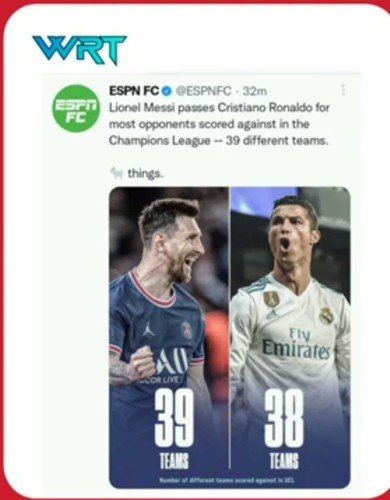 NOW THIS IS IT
So back to Israel. The equalising goal came through the exquisite boots of the all-time record Ballon d'Or holder(8 trophies), Lionel Messi. It was nice a pull-back assist from Kylian Mbappe, but the bigger picture is that, that goal is Messi scoring against 39 different Champions league teams. It is a feat no other player in history has done. Before this match Messi was tied at 38 with Cristiano Ronaldo himself! So now Messi has nudged ahead and ofcourse he could add to that figure as the season wears on. This is the kind of time Ronaldo will say something like, "I talk am"( I said it!).
Furthermore, that means Messi has the opportunity to close the gap in terms of goals(it's 14 between them now) and in terms of trophies. Ronaldo has won 5 Champions league trophies,whilst Messi has won 4. Ronaldo is "caged" in the Europa conclave and he can't do anything about it now till next season apparently.
Maybe not so, Tuchel is out! Or you didn't hear Mr.Boehly wanted Ronaldo, but Tuchel blocked it? Here it is– Boehly wanted Ronaldo
So we jolly well could have Cristiano in Chelsea by January,afterall when the following interprets that the previous manager didn't agree with him on players—
Cheers