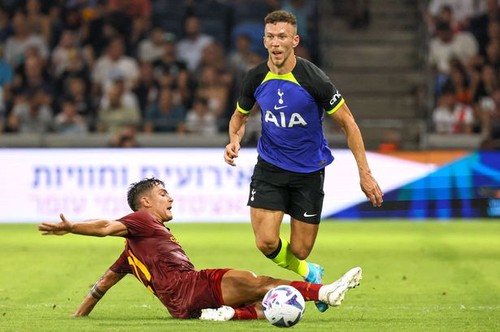 Tottenham played friendly against Roma in Haifa Israel and lost it 0:1. It was pathetic and boring game from Spurs fan perspective. Roma was much better in first 15-20 minutes, could score in 1st minute, could have penalty in early stage of the game. Tottenham made just one or two serious attacks in first half and scored one disallowed goal. Spurs had more of possession in second half, but could't create big chance. Few promising attacks, but without final pass or shot on goal. I think we didn't even shot on goal of Roma. Here are my impression about players who participated in this game.
Lloris saved one big chance in first half, conceded goal after set pieces from close range.
Doherty very bad. He showed once more he's not big threat in attack and also not big obstacle for opponents in defending. Way how Roma players ran away from him in the beginning was shameful.
Romero very good and man of the match for me despite he maybe made non given penalty in first half.
Dier showed he is unable to defend set pieces once more.
Sanchez very good as left central back. Made few crucial last moment tackles just like Romero.
Perisic was danger on left side, but made few wrong decisions to shot ball on goal from long range. He was also bad in corner after which we conceded goal.
Bissouma was more less invisible.
Hojbjerg was unable to create any good action.
Son was absent in this game. He fell to easy couple of times showed once more he's only good for execution of fast counter attacks, but when facing teams defending deep he's helpless and clueless.
Kulusevski was also invisible and helpless thanks to Doherty who was 0 support on that side.
Kane was to isolated and also didn't do much. He convinced me that he's the worst free kick taker in last 40 years. Way how he hit knee of man in wall from free kick from 23-25m made me very angry and convinced me he should be banned from coming near ball on direct free kicks.
Substitutes:
Lenglet was better than I expected, made few tackles. He's not that bad as I thought.
Richarlison was just what I thought he is. He can make few superb moves and make you jump from seat, but just when you expect goal or creation of 100% chance he fells and push you back in seat.
Bentancur was also invisible. I didn't notice him on the pitch.
Lucas same like Bentancur.
Sessegnion made one good cross, but didn't do much.
Emerson proved once more he isn't any threat in attack and he isn't player for Tottenham.
Conclusion: problem with clubs sitting deep and defending in organized way is not solved. We are still clueless and helpless against such teams. We also have great troubles with taking ball on other half when opponents press us high. Our right side is completely not working. I really hope Djed Spence can change this.I know it's just preseason that new players need time to adapt, but this performance was just not good enough.
I was deluded this squad can fight for title next season. I watched City Liverpool game before this Spurs match and must tell that was another level of football compared to this what I saw after. We're not even close to those clubs. We might catch them on counter attacks like last season, but we're going to lose dozens of points against rest of league. Manchester United, Arsenal, Newcastle all look better than us at this time.