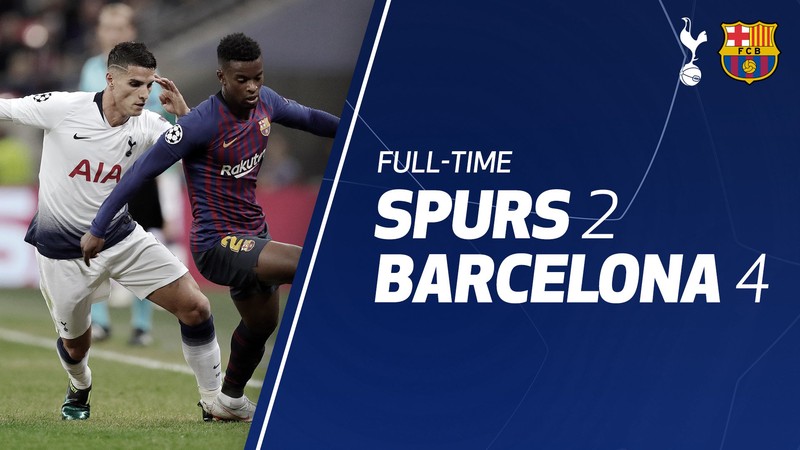 Tottenham lost friendly against Barcelona away with result of 4:2. I was shocked when I saw starting backline for Spurs which consisted of Porro, Dier, Sanchez and Sergio Reguilón. That back line provoked me to tweet we're going to concede 10 goals in this game. It looked like that in the beginning. It was 1:0 for Barcelona after just 2 minutes. One higher ball on other side was only thing which was needed to make a chance and Lewandowski didn't miss it. It was almost 2:0 in 4th minute but luckily someone fired ball over the crossbar.
Tottenham started to play after that. Chances for Barcelona stopped, Spurs have more and more of the ball, had some promising attacks and then Skipp took deflection off the post after Lo Celso attempt and sent it inside the net for 1:1. Yves Bissouma was everywhere doing tackles, ball recoveries etc... We had a lot of corners. After a while Perisic sent cross inside the box and Skipp ran onto it and fired it inside the net for 2:1 for Tottenham! We were much better team until the end and until 75-80th minute.
I don't know what happened then, did our players get tired, Barcelona put some young players in the game and they start to dominate. Our back line was exposed again, "Captain" (!!) Eric Dier did stupid thing he usually does Barca made quick counter attack and result was 2:2. Then young 16 year old kid Lamine Yamal started his show. I am not sure if he is new Messi, or if Regulion picked up some injury but that kid started to work him out like he is amateur player. Yamal turns one side Reggi goes there, Yamal turns other side and goes there, made low cross and it was 3:2. Then late in stoppage time someone worked out badly one of our players on our left side again and I think it was Regulion again. He didn't bother to track player who worked him counter goes on our left side and we conceded new easy goal. F. Torres and Lamine Yamal destroyed us in last 10 minutes.
Worth mentioning is fact that it was Tottenham second squad without Maddison, Kane, Son, Kulusevski, Romero, Emerson Royal, Udogie etc... that we played very good most of the game. Sanchez was surprisingly good. He played like Baresi prime in some moments did blocks, tackles, recovers balls, but Eric Dier was hopeless. Richarlison also didn't do much while he was on the pitch. When we conceded 2 goals Bissouma went out for fatigue, just like Skipp before, Alfie Devine and Djed Spence came in, Scarlett also came in to replace Richarlison.
I don't care much for results in pre season friendlies, but must say again Eric Dier must go out of this club as soon as possible. There is no way player who never tackles and who is not fast enough can play in Ange system. Sanchez at least has pace and can tackle and block. He's notorious for 2 major errors in every game too, should go too, but Dier is the worst and hopeless.
Let's hope we'll play good in first week of new season against Brentford. There are not a lot of teams who can with second crew throw Barcelona in "save who is alive" mode on their ground. Lamine Yamal remember that name!