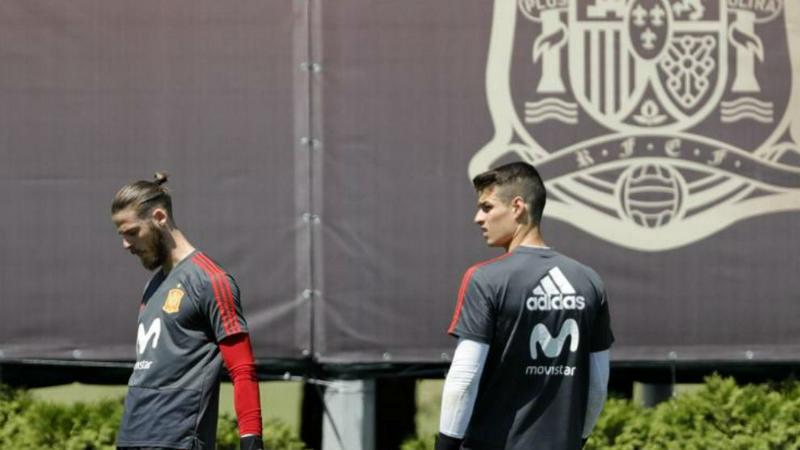 There has been a debate on Spain on whether De Gea should still be Spain's first choice goalkeeper. the doubt was generated after his poor perfomance against Portugal. There is a candidate who could take his place, Kepa Arrizabalaga.

KEPA
A survey carried by MARCA (A spanish newspaper) after the match against Portugal shows that 41% of the fans want De Gea and 49% for De Gea, even though the difference is not abismal, it shows that some fans has lost faith on him, as he was a clear favourite before the World Cup started.
This loss of faith from the fans may not be only because of his mistake against Portugal but also the one against Switzerland in a friendly before the World Cup.
Kepa is a promising youngster from Athletic with only 23 years of age and this is his first international major tournament. Are De Gea's mistakes big enough to open Kepa's door to the starting line-up?
DE GEA
Despite his poor form for Spain recently, we should not forget what he has done over the season with his club, Manchester
United, he won the Player of The Year award in his club for the fourth time, overtaking Cristiano Roanldo who won it 3 times. De Gea also appeared in the PFA team of the season for the fourth time in 5 years.

Captain Sergio Ramos showed his support after the match:

The manager, Fernando Hierro, also showed support and gave him confidence by saying:

"We do not have any doubts with De Gea"
MY THOUGHTS
I think De Gea should still be the main goalkeeper, Kepa lacks of experience on big tournaments and his quality still behind De Gea's.
I am sure De Gea will redeem himself with good perfomances in the following matches.
So, who do you think should play, De Gea or Kepa? Was De Gea's mistake acceptable? Will he redeem himself in the following matches? Let me know in the comments.
If you liked me post please consider following, upvoting and commenting. Thank you.