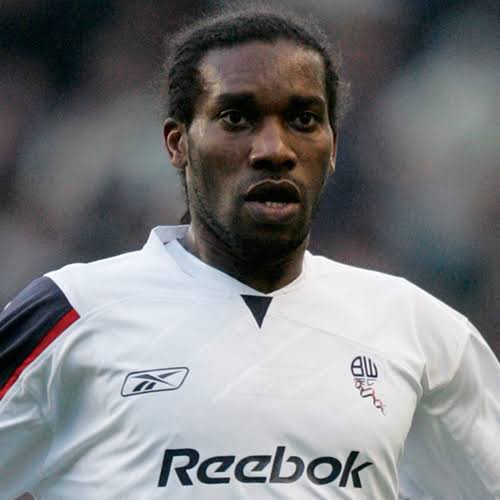 I know this topic would definitely be the subject of debate for many on who is the greatest Nigerian ever to have played the round leather game. Several names like Nwankwo Kanu, Victor Ikpeba, Mikel Obi, even the late war horse, Rashidi Yekini, who scored Nigeria's first ever gaol at the world cup would pop up.

If you look at the names I have mentioned above, for those familiar with African cum Nigerian football, you'd realize that a name is conspicuously missing. Yes, it's that same person you're thinking, Austin Azuka Okocha, popularly known as Jay Jay Okocha, an uncle to current Everton attacker, Alex Iwobi. I think he's the greatest player to ever come out of the continent in terms of an individual player's ability. Some people do not even know his real name to be Austin and not Jay Jay, which is a nickname he got from young. Growing up, even I thought that was his name.
Yes, there's obviously the argument of him never winning any major titles at club level, not even the coveted African Footballer of the Year. He, for me is one of the best products from the African continent. Arguments may arise as to Mikel even winning the Champions League and more titles, but we can't compare him to the player he was meant to replace in the Nigerian national team.
Huge respect to the duo legend - Cameroon's Samuel Eto'o Fils and Ivory Coast's Didier Drogba, arguably the most decorated African players in history. They were pacesetters in terms of leading African football and showing it to the world. Listening to a radio program recently and someone was trying to bring up the debate of who is the greater player between Ghana's Asamoah Gyan and Okocha. What? Gyan and Okocha? They're incomparable because Okocha was miles ahead of Gyan. I guess that must have stemmed from the perennial rivally between Nigeria and Ghana, but Okocha is not to be compared to Gyan. Apologies to my Ghanaian friends. 😁
Nonetheless, Okocha for me was an amazing talent that I feel, were he white, he'd have played for the biggest clubs and nominated for the highest awards.
Okocha's style of play is one that you'd pay every dime to watch because it gives you joy and is the definition of "entertainment" that football is meant to be. His quick feet, trickery, style were almost second to none. His trademark move was his step overs, which was almost like the opposite of the regular step overs we have come to know. I'm not sure any player does his style of step overs.
He was born in the eastern part of Nigeria, precisely in Enugu and grew his football on the streets. I think every nation has their own version of street football, but if you talk about Nigeria's, it's a survival of the fittest thingy. You survive by having two things: you're either physically able to cope with the hardness or you have "mad" skills to entertain and work your way through the hardness. Okocha was obviously the second.
I believe the fact the he was a mentor to Brazil great, Ronaldinho is an open secret. Okocha was a mentor for "Gaucho" as Ronaldinho was fondly called after the young Brazilian joined PSG in 2001.
To speak to the quality of Okocha, back in 1998 when PSG signed him, they paid a whooping £14 million, making him the most expensive African player then. Imagine a club at that time and age paying such amount for a player. This tells a lot about the quality such player would bring to the team and of that quality was serving as a model to Ronaldinho, who eventually became more successful as a player than the Nigerian. Well every prosperous teacher prays that his students better his feats.
Okocha would go on to captain the Nigerian national team and Bolton Wanderers, where he became a cult hero after guiding them to their first cup final in almost a decade in 2004.
I think one thing that didn't really work in his favour was his playing style. He was more of an entertainer than one who chased glory. Not to get me wrong, this is not to say that you should play football without the aim of being successful, I feel he just played football to enjoy himself. He rarely scored but when he did he did them beautifully.
As mercurial as Okocha was, he sadly never won the much coveted African Footballer of the Year award which I believe was more politicized against him. If there was any year he should have won it, it definitely was 1998 when he won two trophies (one each with Fenerbache and PSG). Not just that, he was named of the reserve of the FIFA World Cup All-star team in the same year, but the award was given to Morocco's Mustafa Hadji, who wasn't anywhere near Okocha's accomplishments, especially in that year. He (Okocha) eventually went on to be runner-up in 2003 and 2004, same years he won the BBC African Footballer of the Year awards. You can imagine such paradox.
He was also a specialist at free kicks. He scored a lot of free kicks, but the one that has stuck with me was the equalizer against Cameroon in the quarterfinal of the 2004 African Nations Cup in Tunisia. I remember this fondly because growing up, I had to leave my house in search of places to watch Nigerian games due to power outage.
Eto'o had given Cameroon the lead, but Okocha leveled with a sublime free kick on the stroke of half time. Although Nigeria went on to win the game 2-1 courtesy of John Utaka's goal, we eventually came third at that tournament and Okocha won the highest goalscorer and best player of the tournament awards. This was another year he could have won the African Footballer of the Year award, which he controversially lost to Samuel Eto'o. There were rumors of influence from the then president of CAF, Issa Hayatou, who is also a Cameroonian.
<iframe width="560" height="315" src="https://www.youtube.com/embed/qgz-UFuy5kY" title="YouTube video player" frameborder="0" allow="accelerometer; autoplay; clipboard-write; encrypted-media; gyroscope; picture-in-picture" allowfullscreen></iframe>
The breakthrough for him could have been when there were reports that Manchester United were interested in his signature, but the then theory flying around about Sir Alex Ferguson no liking black players dominated the space.
One of his greatest goals was the one he scored for Eintracht Frankfurt against Germany great, Oliver Khan, who was then between the sticks for Karlsruher. He turned the entire defence and goalkeeper before firing into the net with his left foot. Even his coach after the game mentioned that Okocha is the kind of player you just had to allow play his game. The goal was the Goal of the Year award in Germany that year.
<iframe width="560" height="315" src="https://www.youtube.com/embed/GUPiMFHbbFU" title="YouTube video player" frameborder="0" allow="accelerometer; autoplay; clipboard-write; encrypted-media; gyroscope; picture-in-picture" allowfullscreen></iframe>
Even after retirement, Okocha's trickery and skills were never diminishing. He was a real entertainer. I remember a charity match that involved African stars, Eto'o had to call for him (Okocha) to be substituted (of course jokingly) because he was a menace to Eto'o's team with his dazzling skills.
African football and even world football at large would never forget the unsung hero that Okocha was. His story could have been different were he a white player.