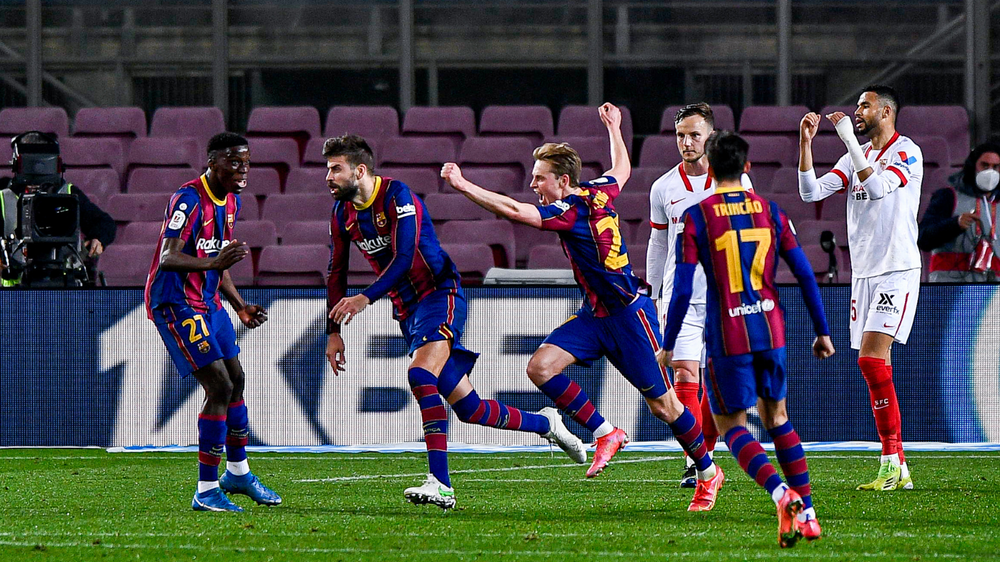 FC Barcelona had an uphill battle today at the Camp Nou for the second leg of the Copa del Rey against Sevilla. The Blaugranas had lost the first of two games by losing 2-0 at the Sanchez Pizjuan stadium of the city of Seville. But the last thing Barcelona loses is their courage and willingness to overcome a difficult scoreboard, and today's game was not the exception.
FC Barcelona faced Sevilla in their last LaLiga match on February 27. A game where Ronald Koeman experimented with a new formation (3-5-2) and the Catalans came on top with a scoresheet of 2-0. That game FC Barcelona left a great sensation in every fan and everyone wondered "Will today's win boost FC Barcelona to a comeback in La Copa del Rey?". Given the Barca's top performance on that LaLiga match, the Dutch coach decided to come out with the same 3-5-2.
Even though Sevilla had a taste of Barcelona's new formation, Koeman decided to come out onto the pitch with the 3-5-2 and with the exact same lineup. Despite only having 3 defenders, Busquets and De Jong gave Pique and company great support by recovering balls in the center of the pitch, and at the same time supplying passes upfront. The incorporation of Alba and Dest to the winger positions gave Barca a greater depth into attack by creating more space and chances from corners and cutbacks into the area. Barcelona's first goal came after a extraordinary strike by Frenchman Dembele from outside the box and into the left upper corner.
Even though the were on top on this game, FCB still had a lot of work to put in because of the 1-2 aggregate score. Both teams gave their best on the pitch and the game grew in intensity. Sevilla could not let their advantage slip out of their hands, so everything was valid for them. Unfortunately for them, at the 90+2 minute of the game, Fernando got sent off after receiving a second yellow card. Right at the last seconds of the game, Pique scored a magnificent header after a cross from Griezmann, sending the game into extra time. Barcelona was now motivated and Sevilla desperate to resolve the game. It was Braithwaite who, at the 95th minute of the game, scored another header, sending Sevilla home and FC Barcelona to la Copa del Rey final.
The Catalans are like the Phoenix who rises from the ashes; they come onto the pitch to fight and give their all, and today they conquered. This victory gives both players and fans the motivation and hope to go against Paris Saint Germain, who has a 4-1 lead, and fight until the last whistle!