This is my Monthly Results Roundup post on the pre-game bets I posted on Scorum.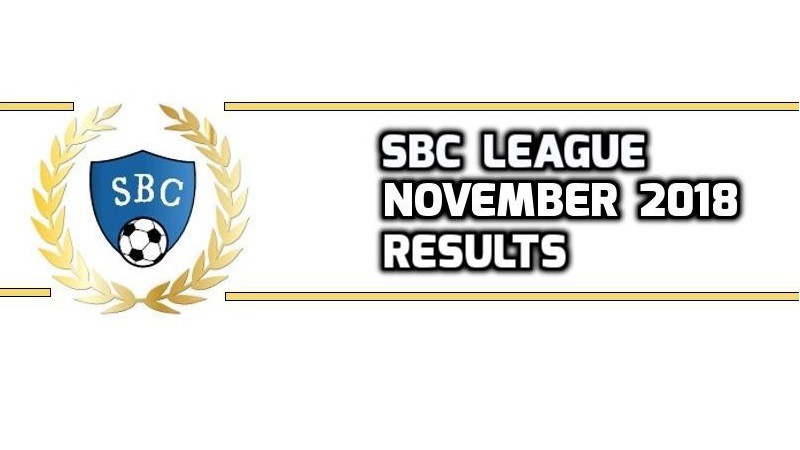 The regression to the mean continues in November making it a limited losing month.
Longer-term profit is what it is all about for me and there is escaping the ups and downs along the way. I always include actual bets that should be possible to follow into my post and will always keep very close consistent track of the actual results. There are very few people that seem to be willing to do this which to me just results in a completely random post without taking any kind of accountability. The SBC started the SBC League on Steemit in order to encourage people who want to make posts with their bets to do this in a proper way and we will be bringing this League to Socrum also.
---
SBC League Concept
The concept of the SBC League on Steemit right now is pretty simple and actually works. We have unified ways of posting our bets and keeping a proper record. Everyone who wants to blog about the actual bets they take can join us if they are willing to do it properly and will get upvoted by the support account. When the month is over, we all make a results overview post (like this one) and a monthly guaranteed prize pool is split between contestants based on the results. The idea is also that contestants start supporting each other in order to grow together.
The format will probably be tweaked a bit for Scorum, but the basic idea will likely remain very similar with more focus on making people actually use the Betscorum Exchange.
---
Some of the accounts currently keeping close track of the bets they are taking and posting here on Scorum...
Let me know if there are more accounts that also keep their personal betting stats or if you plan to do the same so I can include it in my December post and give some support.
---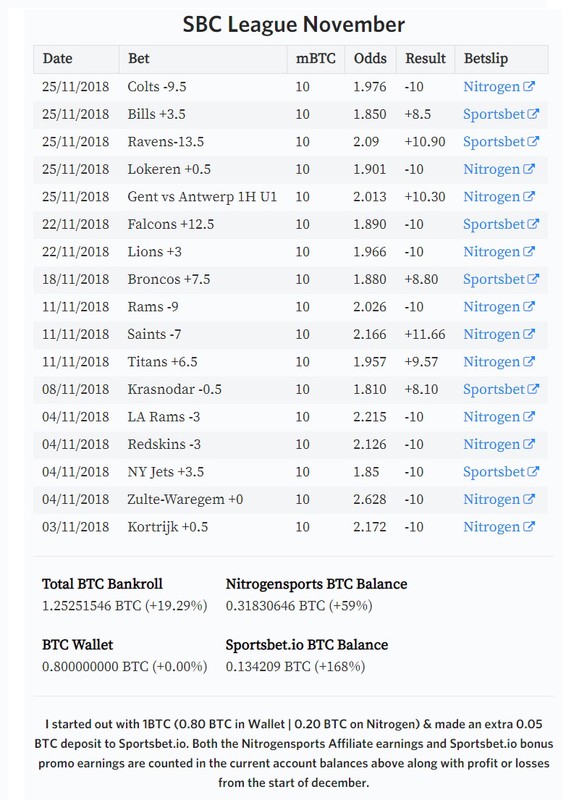 November 2018 Record

07W-10L-0P | 170 mBTC Staked | -32.17 Loss | -18.92% ROI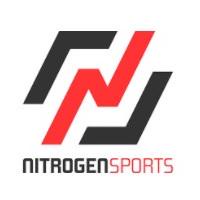 I have been using Nitrogensports as my main BTC bookmaker for over a year and have had a very good experience so far and also get a solid B+ rating on Sportbookreview. They offer market leading Pinnacle odds, have good limits. I place all the pre-game bets just before posting. affiliate link / normal link

---
Previous Scorum Bets Records
Nov 2018 | 07W-10L-0P | 170 mBTC Staked | -32.17 Loss | -18.92% ROI
Oct 2018 | 06W-09L-0P | 150 mBTC Staked | -28.29 Loss | -18.86% ROI
Sep 2018 | 13W-0L-1P | 140 mBTC Staked | +141.82 Profit | +101.3% ROI
Aug 2018 | 5W-1L-2P | 80 mBTC Staked | +45.47 Profit | +56.84% ROI
July 2018 | 7W-4L-0P | 110 mBTC Staked | +44.79 Profit | +40.71% ROI
Total | 38W-24L-3P | 0.650 BTC Staked | +0.17162 BTC Profit | +26.40% ROI